The magic of turning a bland piece of meat into an appealingly flavorful dish is solely in your hands! So, that is why we are delighted to share the best seasonings for pork chops through this feature.
Whether you grill, roast, fry, or bake the meat, seasoning is an essential part of the process. Thus, the best seasoning and spice blends for pork chops include:
How will these seasoning mixtures and spice blends add flavor to your pork chop dish? We are ready to educate you on that from the rest of this feature.
What Seasonings Go Well With Pork Chops- The List Detailed.
Seasoning blends or spice mixtures made with spices, herbs, and other powerful, aromatic flavorings with a rich flavor profile are ideal for pork. So, here's the list of the nine best of them.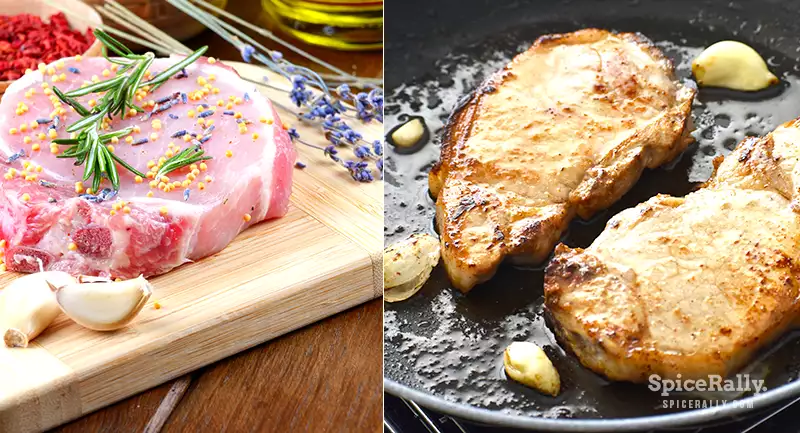 01- Taco Seasoning
Who said taco seasoning is only for tacos! In fact, this is a rich blend that could typically include ingredients like:
Onion powder
Red chili flakes
Paprika
Dried oregano
Salt
The zesty flavor profile of this mix flavor your meat, particularly when you need to grill, roast, fry, or bake them. You can either buy taco seasoning from the store or easily put it together at home.
Just a little tip – if you are buying taco seasoning from the store, try to use a high-quality one with less sugar and no MSG included. Because too much sugar and MSG can ruin the genuine flavor of the spices added and it might end up giving your dish a more sweet-tasting artificial note.
Did you know that taco seasoning is also a good substitute for chili seasoning? If you are interested in learning more about the best chili seasoning alternatives, click on this link and refer to this post.
02- Cajun Seasoning
Smoky, hot, earthy, and flavorful cajun seasoning could give an incredible punch to your meat. It usually comes together with ingredients like:
Paprika
Black pepper
Cayenne pepper
Garlic powder
Dried thyme
Dried oregano
Salt
This combination is great when you grill, pan-fry, deep-fry, roast, or bake the pork and blends really well with oily bases like olive oil and butter. Cajun seasoning is readily available as pre-packaged ones, or else you can make it at home.
On your way to learning the best seasonings for pork chops, it might excite you if we shared the best seasonings for turkey. So, for more information, click on this and refer to this article.
03- Fajita Seasoning
A staple in Mexican cuisine, the content in Fajita seasoning gets along with pork so well that you would want to try it every single day! This seasoning blend will be perfect for frying, roasting, or grilling – no matter what you want to make with the chops.
This is very similar to the taco seasoning. But, they aren't the same since Taco seasoning is much spicier. However, Fajita seasoning generally has flavorings like:
Paprika
Onion powder
Garlic powder
Ground cumin
04- Creole Seasoning
Planning a backyard barbeque party for the weekend? Then we bet that seasoning your pork chops with a Creole seasoning blend will be the best you could do! Its ingredients give an amazing flavor to the meat, especially if you need to dry rub for grilling or roasting them.
You can get the best grilled or roasted Creole seasoned pork chops when infused with Worcestershire sauce and accompanied by some vegetables like celery, onions, tomatoes, etc.
Creole seasoning mix could have slight variations from recipe to recipe but typically contain spices, herbs, and other flavorings like:
Red chili peppers
Garlic powder
Paprika
Onion powder
Dried herbs (thyme, rosemary, oregano)
Cayenne pepper
I love South American food, and I haven't really been down there. I really need a vacation.

Nate Silver
05- Jamaican Jerk Seasoning Blend
As you know, jerk seasoning is very rich in flavor with its many spices and herbs. This blend consists of ingredients like:
Chili powder
Garlic powder
Ground cumin
Black pepper
Onion powder
Ground allspice
Dried herbs (thyme, parsley)
Cayenne pepper
Salt
 You can use this as a dry rub or even throw a dash or two with marinade when roasting, grilling, baking, or frying the pork chops.
06- Berbere
Since we are talking about every possible seasoning for pork chops, we should not miss out on the berbere spice blend. Dry rubbing is one of the main uses when it comes down to this mix. Thus, you can use it as a dry rub on pork whenever you need to grill, pan-roast, or bake them. 
Berbere actually holds a profundity of flavor with many spices. Accordingly, it generally contains:
Black pepper
Ground cumin
Red chili powder/ cayenne pepper
Cardamom
Garlic powder
Ginger powder
Cinnamon
Cloves
Nutmeg
Turmeric
Salt
You can either put this together at home or buy it from the store. Nevertheless, the ingredients could vary depending on different recipes. And, when dry rubbing, mixing a bit of brown sugar and olive oil will double the flavor!
07- Ras el Hanout
Ras el Hanout could seemingly give a similar flavor to pork as berbere would do. In fact, this spice blend is also perfect as a dry rub when grilling, roasting, pan-frying, or baking. Moreover, you can also make saucy dishes from pork chops by incorporating this spice blend to enjoy as a side dish.
This blend is a mixture of highly aromatic and intensely flavored spices and herbs such as:
Ground cumin
Cayenne pepper
Paprika
Ground cinnamon
Garlic powder
Ground coriander seeds
Dried herbs ( basil, thyme, oregano, rosemary)
Salt
Ras el Hanout also could be bought from the store or easily put together at home whenever you need it.
Did you know that Ras el Hanout can include up to one hundred different spices and herbs? So, if you are interested in paddling along your curiosity voyage, we have shared many important facts about this flavorful Mediterranean blend – click here for more information!
08- Montreal Steak Seasoning
Montreal steak seasoning is not only for steak. Hence, this is a perfect flavoring for pork chops to be dry-rubbed or mixed with marinades. It has bold flavors that will give your meat a hint of earthiness and a great taste.
This seasoning blend is readily available in the store, or you can make it at home. However, the ingredients may include:
Black pepper
Red pepper flakes
Salt
Garlic powder
Onion powder
Ground coriander
09- Chinese Five-Spice Mix
You can never go wrong with the amazing combination of the five spices in this mix! The Chinese five-spice blend usually comes together with spices like star anise, fennel seeds, cloves, cinnamon, and Szechuan peppercorns.
And thus, this combination is such a match made in heaven for pork chops especially when grilling. In addition, you can also use this with marinades for roasting, pan-frying, or baking.
10- Homemade Seasonings For Pork Chops
You don't always have to count on store-bought products when you have access to make them at home. In fact, without a lot of ingredients, you can use a few spices and herbs in your spice rack with some salt to make a go-to seasoning mix for an ultimate flavor to your pork chops.
Here are some perfect combinations that you could try at home. And on the bright side, you are free to alter their quantities upon your taste preferences!
A combination of smoked paprika, garlic powder, cayenne pepper, black pepper, salt, dried thyme, and oregano
Make a blend by mixing onion powder, garlic powder, ground mustard, cayenne pepper, smoked paprika, and salt
A combination of paprika, ground sage, dried thyme, marjoram, garlic powder, and salt
A blend of ground cumin, garlic powder, smoked paprika, onion powder, salt, brown sugar, black pepper, and chili powder
You can use these seasoning blends with simply anything you do with your chops, like grilling, roasting, frying, or baking.
If this meat is among your favorite foods, then you would not want to miss our article on the best spices for pork chops. Click here for our detailed feature.
How Long Does It Take To Season A Pork Chop?
Pork chops are generally lean and tender cuts of meat. Therefore, allowing the seasoning to sit on the meat for 20 minutes to 2 hours will be sufficient for them to absorb the flavors of the spice mixture or seasoning blend you use.
However, you can also leave this in the refrigerator overnight if you need a more robust flavor. But, if you are sensitive to the intense taste of the spices and herbs, leaving it overnight can be overwhelmingly flavorful. Therefore, you can go anywhere between 20 minutes to two hours in such cases.
Summing Up
Flavoring with these spice blends and seasonings for pork chops will take your meat grilling, roasting, frying, or baking experience to the next level. In fact, all these blends are enriched with flavorful spices and herbs to give the meat that perfectly juicy, tender, zesty taste you always crave for! 
Related Topics