We are a few months ahead of summer, and you might already have plans by now! We are sure obvious that grilling outdoors is one thing top on your list, so let's show you some best grilling spices this time.
Flavorings you use in grilling need to be powerful enough to give a concentrated flavor that penetrates the essence of the juices of meat, fish, or vegetables. Hence, the best grilling spices include:
We are delighted to bring this ultimate list of spices that gives you the best grilling experience. So, read till the end to learn how they unleash their flavors on your grilled platter!
The 11 Best Grilling Spices
Is it steak or ribs that you hope to grill? Or barbecue chicken? If not, does your family love grilled eggplant, zucchini, or mushrooms! Whatever you wish to put on the grill, always remember that their tastes and qualities depend on the flavorings you use beforehand.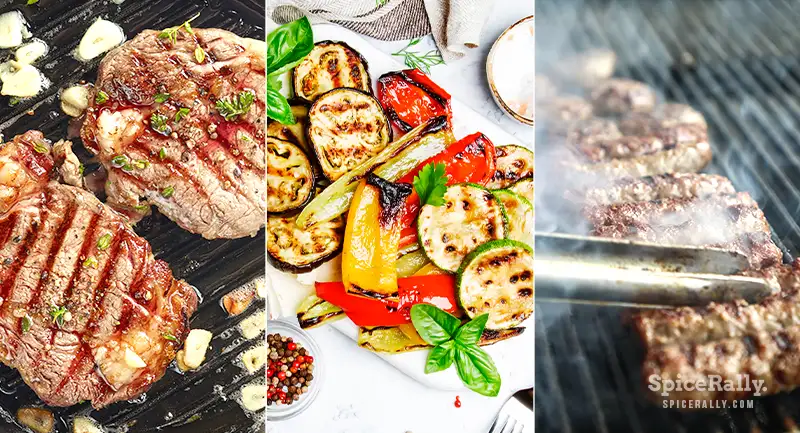 These spices themselves will not work alone. Therefore, you know that salt is a staple to bring out the real taste. Not all the spices that you have in your spice cabinet go well with grilling; that is why you need to pick the best out of them. So, here's the helping hand to mix and match them upon your creativity!
01 – Black Pepper
Black pepper is actually the most versatile spice when it comes to grilling. Its earthy, piney, and peppery flavor elements provide the perfect smokiness to grilled items such as:
Steak
Chicken
Ribs
Lamb
Vegetables 
Fish
Seafood
And, this spice simply goes with any other flavorings!
02 – Paprika
Grilling is about heat, fire, and sometimes wood and smoke. Thus, smoked paprika complements the ingredients more than any other variety of this spice. But that doesn't mean you can't use other paprika types. Mild, sweet, hot, hot smoked paprika- anything would work pleasingly well with a lot of food like:
Meat- chicken, steak, ribs (smoked paprika goes well)
Fish and other seafood
Vegetables (sweet paprika or a milder version is used often)
This flavoring has a depth of flavor that easily penetrates anything within a short time.
03 – Red Chili Flakes
This red-hued flaky spice particularly gets along with dry grilling rubs or marinades. And it pretty much goes with any meat. But if you love your steak especially, do not forget to incorporate red chili flakes with your steak rub. Moreover, it gets along with other food like:
They are sharp, spicy, and pair well with other spices and ingredients like garlic powder, black pepper, and onions.
If summer had one defining scent, it'd definitely be the smell of barbecue.

Katie Lee
04 – Chili Powder
Carrying a profundity of flavor, chili powder complements meat and seafood equally in the grill. This spice can be mild to moderately spicy varying upon the types of chilies used. American cuisine would hardly fail to use this flavoring in many of their grilled delicacies, including:
05 – Cayenne Pepper
The amount of cayenne pepper can always be decided more or less depending on your personal preference. As you know, it holds a depth of flavor with hot, fiery, and spicy notes with earthy elements. In fact, this spice goes well with your:
Barbecued steak
Lobster tail
Ribs
Chicken
Corn
Lamb chops 
You either be generous with amounts you blow your head off- that's totally up to you but still worth using this!
06 – Mustard
Dry mustard seeds are used in different forms. They are either pulverized to a fine powder or used coarsely cracked. However, their flavor actually unleashes when exposed to heat, which is quintessential for grilling. These tiny seeds carry so much pungency with a slight bitterness that gives a zenith flavor twist specifically to:
07 – Coriander
Dry coriander seeds work pretty similarly to mustard seeds as they are used either cracked or ground. Coriander has this superpower of balancing the intense flavors of many other spices used for grilling. It is nutty and slightly sweet with citrusy and floral notes, best with dry spice rubs. Generally, coriander seeds make good fixes with foods like:
08 – Garlic
Garlic plays a predominant role side by side with black pepper when it comes to grilling. Powdered or granulated garlic goes in many dry spice rubs while minced garlic accompanies marinades. The distinctive pungency, intensity, and strong aroma of this spice is quite "the addition" to anything that you wish to grill in this upcoming summer!
If you put your love for salmon on a scale, how much would that be? Since we know that you lookout for ways to prepare your salmon dish in the best way, here we bring you the ideal seasonings and spices for salmon.
09 – Onion Powder
The powdery consistency of this spice is its main plus point apart from its unique, sulfur-like, robust flavor. When it comes down to dry rubs specifically, onion powder is the best flavor enhancer that could disperse its taste throughout your :
Steak
Rib
Chicken. 
Eggplant
Fish
Seafood
Bell peppers
Asparagus
10 – Cumin
If you need to appreciate your barbecued chicken or grilled steak truly, ground cumin should never leave your spice cabinet! In fact, the immaculate warming, slightly sweet, and nutty flavor elements of this spice bond with your food on fire. It incorporates the juices of the meat while grilling while pairing well with other spices.
Did you know that cumin is a great flavor enhancer for pork chops? So, to learn about all the ideal spices for pork chops, click here and refer to our detailed article.
11 – Cinnamon
Cinnamon just doesn't appear everywhere when you want it for grilling. But still, it is another ridiculously best flavoring among the grilling spices perfect for barbecues. Ground cinnamon holds a unique woody flavor and sweetness that could definitely pat on the back of meat,  holding hands with other flavorings like cumin, paprika, and cayenne pepper.
Are you ready for the most phenomenal dry-rubbed grilled chicken experience with us? Click here right away and refer to this exclusive article on how to dry rub chicken for grilling.
Rounding Off With Grilling Spices…
So, you just discovered the ultimate list of grilling spices that you can use with anything you need to put over the fire! You can actually mesmerize your loved ones with cuts of juicy meat or flavorful vegetables when you use flavor enhancers like:
Black Pepper
Paprika
Red Chili Flakes
Chili Powder
Cayenne Pepper
Mustard
Coriander
Garlic 
Onion Powder
Cumin
Cinnamon
Thus, to get your summer kick-started, get your pantry filled with these spices right away!
Related Topics