What are your dinner plans for the upcoming days? Well, we are pretty sure you will come up with something new for the family. So, if a pork chop dish is among your dinner ideas, this episode will enlighten you with the 8 best spices for pork chops.
This meat can be prepared in a number of tasty ways like grilling, roasting, baking, frying, etc. Thus, the spices that are used for seasoning should be flavorful and robust. Accordingly, the best spices for pork chops include:
Black Pepper
Garlic
Ginger
Onion Powder
Paprika
Cayenne Pepper
Cinnamon
Cumin
So, how do these flavorings enhance the taste of meat? Let's dig in further!
What Are The Best Spices That Go Well With Pork Chops?
Meat-lovers always have a thing for pork chops- isn't that so? As mentioned earlier, this meat can be prepared in many ways.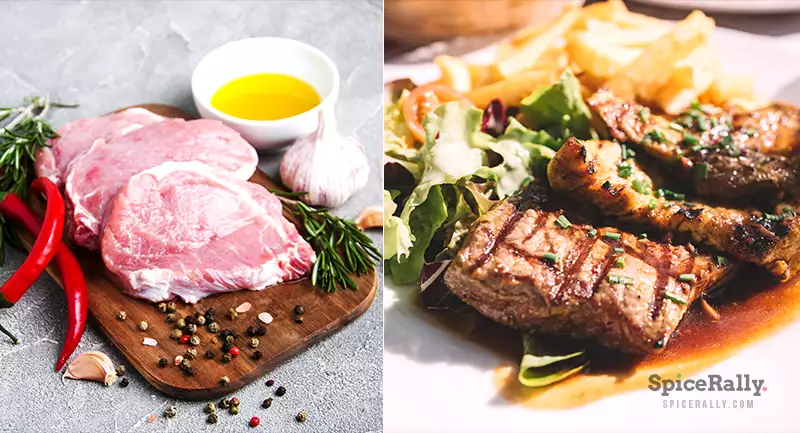 However, pork chops need to be seasoned well before you prepare. Thus, the spices you use should be strong-flavored, rich, and pungent to get a better taste.
So, whenever you prepare your dish of pork chops, make sure you use these spices to make it taste heavenly!
01- Black Pepper
Versatile and universal black pepper gives the meat the perfect peppery kick. This spice is either used alone or incorporated with dry rubs, marinades, or seasoning mixtures used to grill, roast, fry, or bake pork chops.
Black pepper is often freshly ground, and sometimes even pepper powder is employed. However, the earthy, piney, and peppery tones of this spice has its own way of enhancing the flavor of the meat.
Did you know that black pepper is also an integral ingredient in adobo seasoning? So, if you are interested in discovering more about this flavorful blend, click here and refer to this post.
02- Garlic
Garlic and pork are such a match made in heaven! In fact, this is one of the best pork chop spices that complement the meat with its powerful pungent and sharp flavor notes.
Moreover, while fresh garlic is used in marinades and curries, garlic powder takes over pork chop seasonings and dry rubs. This spice is often paired with ginger and onion powder for the best taste.
03- Ginger
Like garlic, ginger is also a spice that goes well with this meat. Fresh ginger is an excellent taste enhancer for marinades and curries, while dried ginger powder is great with seasonings and dry rubs.
Slightly peppery-sweet, warm, zesty, and savory flavor notes of ginger give a distinctive taste to meat, particularly when grilled, roasted, or fried. This spice pairs well with garlic, onion powder, and cumin.
04- Onion Powder
Onion powder is used with many dry rubs and seasoning mixtures used in pork chops. This spice is ideally paired with garlic powder, dried ginger powder, and black pepper when the meat is roasted, grilled, pan-fried, or baked. This spice holds an intense flavor profile with sulfur-like notes and a slight sweetness.
05- Paprika
This spice is a spotlight flavoring for pork, giving a unique flavor in many aspects. Actually, the taste of paprika varies depending on the variety used. We found that smoked paprika is the star in most seasoning blends made for pork chops.
In addition, sweet paprika, hot paprika, or mild paprika also could add a depth of flavor to the meat whenever they are prepared as a curry, roasted, grilled, fried, or baked.
06- Cayenne Pepper
Cayenne pepper gives an unparalleled hot, fiery, and spicy punch to the meat in either way they are prepared. It is pungent and pairs well with most of the other spices used in pork chops when marinating, seasoning, or dry rubbing. Cayenne pepper is often used moderately since the hotness could sometimes be overwhelming.
07- Cinnamon
Ground cinnamon is usually used in dry rubbing pork chops. This spice gets along well with other flavorings like black pepper, paprika, cumin, and cayenne pepper.
However, unlike many other spices for pork chops, Cinnamon does not possess an overpowering flavor. In fact, it is relatively gentle, sweet, and warm with a citrusy bite. This spice could complement the meat, especially when grilling, roasting, and pan-frying.
08- Cumin
Cumin works incredibly great with this meat! Whether you wish to make a curry or a dish from grilled, roasted, baked, or fried pork, cumin will complement them all.
Ground cumin gets along well with cinnamon, paprika, black pepper, and ginger, particularly when it comes down to dry rubs, marinades, and seasoning blends. In fact, the nutty, slightly sweet, and warming elements of this spice, enhance when incorporated with those flavorings.
Like spices alone, there are seasoning blends that go pretty well with pork chops. We are ready to enlighten you with all of them. Click here and check out this article right now!
Best Spices For Pork Chops In a Nutshell…
Your cooking journal can be extremely productive with small changes that you do with your regular dishes. So, try to blend in pinches from these spices in pork chops like black pepper, paprika, cumin, cayenne pepper, ginger, garlic, cinnamon, and onion powder when you make them next time. And let us know what your favorite way of preparing this meat is!
Related Topics