The subject leader of this SpiceRally episode is one of the most complex spice blends we come across. So, here we present a complete guide on the exotic Ras el Hanout and its ingredients!
Ras el Hanout is a popular spice blend commonly used in Moroccan, North African, Tunisian, and Algerian cuisines that come together with ingredients ranging from ten to hundred spices. Each Ras el Hanout recipe may have slight differences, but some common spices show up in most such as:
In addition to these primary spices, some recipes may also have nutmeg, mace, cardamom, anise, and exotic ingredients such as cubebs, orris root, hibiscus, rose buds, ajwain, etc.
So, calling it absolutely one of the most flavor-loaded spice blends, let us take you on the delicious journey of Ras el Hanout!
Jump to Recipe
What Is Ras El Hanout?
Ras el Hanout is a blend of pungent and aromatic spices often used as a spotlight in the Mediterranean region, particularly in North African, Moroccan, Tunisian, and Algerian cuisines. The term "Ras el Hanout" translates to "head of the shop," which really implies "top shelf".
This is actually a one-of-a-kind spice blend since two recipes would never have the same content. In fact, Ras el Hanout could contain as few as ten spices to a variety of up to a hundred, depending on the merchant, cook, or family. 
Most significantly, it might contain the essential ingredients to the exotic stuff making it more and more intricate in terms of its flavor.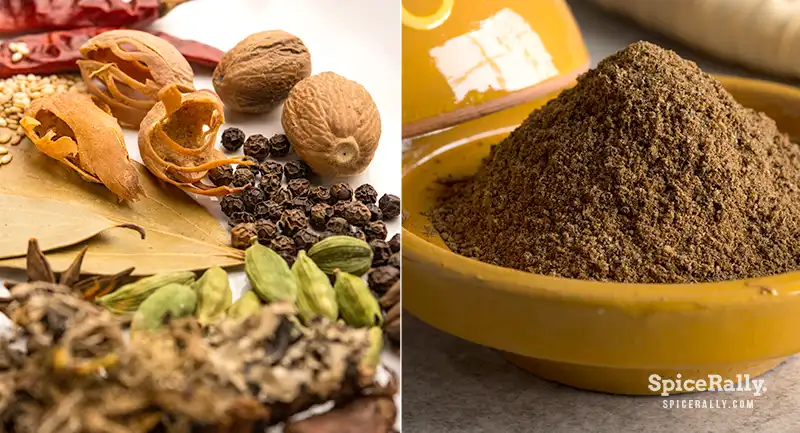 Origin And Usage…
However, this spice blend's origins date back to Morocco's ancient spice trade. The country was the main gateway by which goods sailed from Africa to Europe for a long time. 
Consequently, spices from around the world encountered their way into Morocco and were incorporated into its food culture. Those spices are portrayed in the virtually infinite variety you see in Ras el Hanout.
This spice blend is primarily used in dishes like tagines that contain fish or lamb. In addition, when it comes to Western cuisine, it is a delicious season used with pork, chicken, and steak.
In addition, It is also mixed into ground meat mixtures made with turkey or bison to make sausages, burger patties, meatballs, etc. Options are simply endless when Ras el Hanout can tantalize your taste buds with its rich, spicy, and irresistible taste elements.
Suppose you are cooking something that requires Ras el Hanout but suddenly realize you have run out of it. In such a situation, there are some substitutes that can come to your rescue. So, click here and refer to this post to learn about the best replacements for Ras el Hanout.
Spices In Ras El Hanout
As mentioned previously, this spice blend does not come with a standard recipe. Each recipe is different, with diverse ingredients and proportions. But, some primary spices can be seen in almost every recipe.
01- Coriander – The delicate flavor profile of coriander seeds gives a lovely nutty, earthy, and citrusy undertone to the mix. It pairs well with other spices like cinnamon, cloves, cumin, fennel, and nutmeg, complementing foods such as chicken, beef, pork, etc.
02- Cumin – Tiny cumin seeds pack a punch offering our topic leader a distinctively warm, earthy, and slightly bitter-sweet flavor. This spice also has a lovely aroma and teams up with other ingredients in the mix, like nutmeg, cinnamon, cloves, allspice, coriander, etc. Collectively, it adds a depth of flavor to dishes made with lentils, potatoes, meat, and seafood.
03- Cloves – This ingredient has an intense flavor with an astringent, sharp, bitter-sweet bite. It adds a profundity of flavor to this mix, pairing well with other spices like cinnamon, nutmeg, allspice, and ginger to complement any dish that calls for a richer taste.
Clove is an integral spice used in both Ras el Hanout and Sri Lankan curry powder. But these two spice blends vary in terms of their flavor profiles. Click to learn more about their differences.
04- Black Pepper – Ground black pepper is one of the most pungent spices in this blend that bestows its unique peppery hint with piney, earthy and woody undertones. It also adds a touch of heat, teaming up with other heat agents in the mix, like cayenne pepper and paprika. Working as a ubiquitous seasoning, black pepper complements most foods to its best level!
05- Allspice – This is another spice often appearing in most Ras el Hanout recipes. Allspice has a multidimensional flavor profile, combining cinnamon, nutmeg, and cloves. This warm and earthy little berry teamed up with the majority in the blend to complement spicy and super savory dishes.
06- Cinnamon- This versatile and universal spice is a significant part of our spice blend since it has the capability to pair with the bulk of the ingredients. The contrasting sweet, woodsy and warm flavor element of cinnamon adds a different dimension to this blend, enhancing the flavor of many dishes.
Cinnamon is one of the main ingredients featured in Sri Lankan curry powder as well. Follow up on this link and discover some great facts about this flavor-loaded Asian spice blend!
07- Ground Ginger – The piquant flavor of ground ginger boosts the spiciness of Ras el Hanout effectively. Ground ginger has the ability to disperse its unique ginger flavor evenly throughout the mix, pairing efficiently with other spices like black pepper, cumin, turmeric, cinnamon, etc.
08- Turmeric- Ground turmeric holds a depth of earthiness with a slightly bitter undertone. It gives the mix a beautiful golden tint, making it more visually appealing when incorporated with other colorant spices like paprika and cayenne pepper. This spice goes really well with most ingredients and virtually complements anything that calls for our topic leader.
09– Cayenne Pepper – More or less, cayenne pepper is the heat factor of this spice blend in many recipes. It holds a neutral flavor yet gives some depth to the mix when associated with other spices. This ingredient is adjustable in most homemade recipes and can provide the right amount of heat to our topic leader without overpowering.
10- Paprika– There is no specific type of paprika to be used in the mix. Still, typically at least one variety takes a prominent place in the mix, especially for the profundity of flavor and color it offers. Smoked paprika has the power to provide a unique smokiness to Ras el Hanout, which many spicy food lovers adore.
Apart from tagines, there are many other delicious ways to incorporate Ras el Hanout into our daily cooking. So, click on this link to discover the best ways to use this spice blend.
Other Ras El Hanout Ingredients
In addition to the primary ingredients discussed on top, some premade and homemade options may include salt, even though it is not a traditional ingredient. Moreover, different recipes could have various other familiar and exotic spices, such as:
Cardamom
Nutmeg
Mace
Saffron
Galangal
Bay leaves
Cubeb pepper
Dried hibiscus flowers
Dried rose buds
Nigella
Aleppo chilies
Celery seeds
Caraway seeds
Fennel seeds
Dried lavender flowers
Anise seeds
Star anise
Grains of paradise
Juniper berries
Fenugreek
Mustard
White pepper
Licorice
Lovage root
Long pepper
Orris root
Monk's pepper
Some premade options could also include additional ingredients like:
Rapeseed oil
Sugar
Yeast extract powder
Maltodextrin
Carrot powder
Garlic powder
Onion powder
Vegetable bullion
Other preservatives and color additives
A Simple Ras El Hanout Recipe
While going through our article, you must have gotten the feeling that Ras el Hanout is so complicated and that you have no other option than to buy it from the store. 
But you can be wrong- by using a few simple ingredients, you can easily make your own fresh and flavorful batch of Ras el Hanout and who knows, it could be even better than any of those premade ones! 
Is Ras El Hanout Spicy?
Ras el Hanout is known for its spiciness, which is not as overwhelming as you think. It has pungent, bold, earthy, and smoky undertones with the right amount of spiciness and heat that would complement the rich dishes that call for it.
Does Ras El Hanout Contain MSG?
MSG is not an ingredient that is traditionally used in Ras el Hanout. In fact, homemade blends don't usually have MSG in them, but sometimes you could find it in certain store-bought options. So, check the label before buying if you are concerned.
Does Ras El Hanout Contain Gluten?
Originally, Ras el Hanout was merely a blend of spices. Therefore, most recipes keep gluten out of their versions. But occasionally, there could be premade options with certain gluten-related elements. The best thing would be to watch out for the ingredients on the label before purchasing.
Is Ras El Hanout Vegan-Friendly?
The spices used in Ras el Hanout are usually vegan-friendly. But if you have any concerns about animal derivatives or dairy extracts, check the label and read the ingredient list before buying.
The Mediterranean diet is rich in fruits and vegetables while low in sodium. It is also enriched with olive oil, high in antioxidants as well as monounsaturated and polyunsaturated fats.

David Perlmutter
Flavor Your Specialty Dishes With Ras El Hanout!
Hailing from tantalizing Mediterranean cuisine, Ras El Hanout is indeed a special blend of spices, and its name implies that it contains the best spices in the spice shop. This combination often comes together with primary spices like cumin, coriander, cinnamon, cloves, ground ginger, allspice, etc., along with about 80-90 other common and exotic spices.
Related Topics