There's this meme that we recently caught and confirmed at the very instant that we should bring you an article about tacos after seeing it. It said:
"You cannot please everybody. You are not a Taco".
So, is there even anything really left to say about tacos? Of course, this food is a fabulous creation that has tantalized the taste buds of millions and billions of people all over the globe. Many of you may crave a taco at the moment and even wonder how it becomes so delicious. In that case, taco seasoning enters the stage to play a significant role.
Flavorful and aromatic, taco seasoning is a real star when making tacos. It is a blend of a few ingredients, including main spices such as:
Chili powder
Cumin
Crushed red pepper flakes
Garlic powder
Onion powder
Black pepper
Paprika
So, let us see how all these taco seasoning ingredients come together to make the perfect combination that complements tacos and many other foods. We would not dare to waste another second of your precious time; let's get started!
What Spices Are In Taco Seasoning?
Tacos originated in Mexico, and it is one of their traditional authentic street foods that has now achieved vogue in most parts of the world, especially including the USA. 
They are basically tortillas topped with a filling, then tucked in once and eaten by hand. However, the carrier or the base of tacos may change when it comes to the US since the taco shell in America is primarily hard and crispy. At the same time, traditional Mexican taco shells are much softer.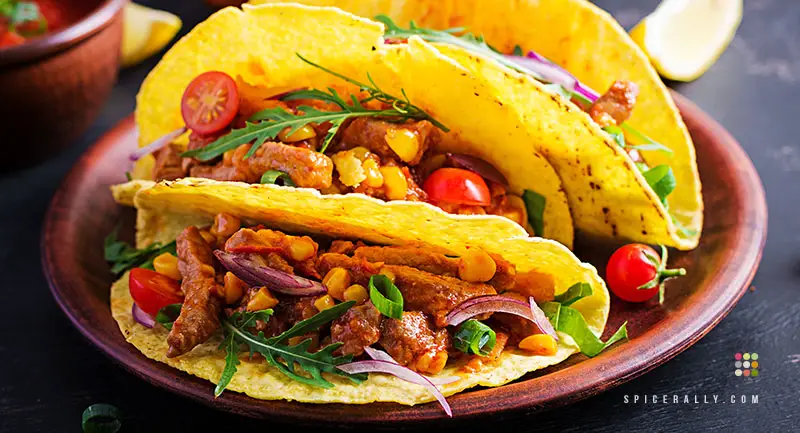 Tacos are considered to have become famous in the US in the early portion of the 20th century. And, towards the central part of the century, the hard-shelled taco was created, and Mexican food began to succeed all over America. Consequently, it was at this time that Mexican-themed cafeterias like Taco Bell started to expand in popularity.
If in case you follow a gluten-free diet, tacos come in handy! The tortilla can be made either wheat-based or corn-based upon your preference, and they are probably delicious either way.
The charm of the taste of the filling, however, proceeds to taco seasoning most of the time, even though you can push simply anything inside. This blend of flavorings is readily available in any US store, but most taco-lovers are now interested in making their own batches at home.
You don't always have to count on pre-made taco seasoning packets when you have the capability to make your own healthy batch at home. Click on this link and refer to this article to get the best homemade taco seasoning recipe ever!"
The versatility of homemade taco seasonings mainly comes with the ability to control the ingredients that go in, particularly the amount of salt. Moreover, you can even adjust the spiciness, which you cannot usually do with the store-bought ones.
Just a sprinkle of taco seasoning can go a long way and make your tacos taste more scrumptious and healthy. You can also try the taco seasoning in authentic Mexican dishes, soups, dips, salad dressings, chili, and even rub on pork, beef, lamb, and chicken before going into grilling. So, without further ado, let us discover what spices in taco seasoning that usually go in. 
01- Chili Powder
Chili powder is actually a seasoning that comes in a seasoning! It is a mixture of a few spices combined together and adds perfect heat to the taco blend.
This is loaded with the goodness of many spices and herbs like cayenne pepper, cumin, oregano, garlic powder, paprika, and occasionally salt to make a savory and decadent flavor when added to the taco seasoning.
02- Cumin
Ground cumin is a hotshot in the taco seasoning blend, and it is another staple that gives a beautiful flavor to it. Cumin pairs really well with spices like red chili flakes, onion powder, garlic powder, and herbs like oregano to counterbalance the flavor profile of the taco seasoning.
This tiny seed has a little warm and sweet flavor with a nutty hint, and these features mean it is usually regarded as a spice substitute to cinnamon.
Apart from the distinctive flavor of cumin, it is also a spice that is rich in Iron, Calcium, Magnesium, and Phosphorus.
03- Crushed Red Pepper Flakes
Red pepper flakes are produced from an assortment of peppers. And, the most typically employed pepper for crushed red pepper flakes is the cayenne pepper. However, the majority of red pepper flakes will be a blend of peppers, with cayenne carrying up the bulk of the share. The assembly might have variations, depending on the brand you choose.
Most of you might mistake between crushed red pepper and chili flakes. But, there is a significant difference between the two. Chili flakes are usually made from a single variety of pepper and used to give out the flavor of that particular type of pepper.
Crushed pepper flakes are an ideal complement to the taco seasoning that adds intensity and hotness. 
On your way to discovering the spices used in taco seasoning, wouldn't you like to spend a few minutes to know the difference between fajita seasoning and taco seasoning? We have a detailed article right here.
04- Garlic Powder
Overwhelmingly versatile, garlic powder is the perfect additive that can enhance the flavor of any seasoning. Just like cumin, this is another spice used as a key ingredient in taco seasoning.
Powdered garlic pairs really well with onion powder, cumin, crushed pepper flakes, and herbs like oregano. Its texture is easily blendable and helps to give an overall garlicky taste when added to any food.
Packed with nutrients, garlic powder gives some significant health benefits like lowering cholesterol, promoting weight loss, and regulating high blood pressure.
05- Onion Powder
This spice is another winner among the all-around flavorings that you can find in your kitchen. Making a lovely couple with garlic powder, onion powder will definitely take the taco seasoning to the next level.
Onion powder provides a similar bite to fresh onions with a strong flavor profile and nutrient scope. A necessary base profile for zesty recipes, the seasoning should have a powerful aroma with a tinge of sweetness. The taste of onion powder is sharp with touches of sulfuric sweetness and a hint of garlic.
Moreover, this spice is a good source of Vitamins and minerals and possesses health advantages like alleviating headaches, mouth sores and regulating blood sugar levels.
06- Black Pepper
Fresh finely ground black pepper makes taco seasoning extra special with the spicy, warm, and earthy hints it adds. Assembled with crushed red pepper flakes, garlic powder, ground cumin, and onion powder, black pepper balances the flavor profile of this blend.
Freshly ground black also gives the robustness that goes perfectly when we use the taco seasoning to rub on meat that is needed to be grilled.
This spice is abundant in Vitamin B, C, B6, and K, Riboflavin, and Thiamine, which will help in regulating harmful cholesterol levels. And it also acts as folk medicine to treat upset stomachs and the common cold.
07- Paprika
Paprika powder is versatile and flavorful that provides the ultimate color to the taco seasoning. It is way milder than other varieties of red chili peppers but could give the perfect taste and shade when added to any dish that it calls for. 
Usually, it is regular paprika that is used in the taco seasoning recipe. But, if you use smoked paprika or a hotter version, the taste may change.
However, this spice contains capsaicin, and it is rich in Vitamin E and Iron that have potential health benefits to reduce inflammation, promote healthy eye health, and control blood sugar.
Just like Tacos, Burritos are another famous Mexican food that is loved by millions all over the world. So, if you are interested in getting many essential facts about what burrito seasoning is made of, click here.
Authentic Taco Seasoning Ingredients
The evolution of tacos has reached new degrees, and they are way more innovative when compared with traditional Mexican tacos.
Likewise, we can see that many chefs and home cooks would include various spices, herbs, and other flavorings to make the taco seasoning blend more appetizing. However, the authentic taco seasoning ingredients have not apparently left the scene since many would still use them.
So, what actually does authentic taco seasoning contain? Here is the list of basic elements that you would find in a store-bought taco seasoning packet:
Paprika
Chili Powder
Cumin
Potato Starch or Cornstarch 
Onion Powder
Whey – Milk
Sea Salt
Sugar
Salt
Garlic Powder
Citric Acid
Just because taco seasoning and chili season seem similar, they are not the same. If you need more insights into the difference between these two seasoning blends, click here and refer to this article.
What Can You Use Instead Of Taco Seasoning?
Knowing about alternatives and substitutes is very important when you cook. So, whenever you run out of taco seasoning, you should know what to use. 
Accordingly, chili powder and cumin together, Fajita seasoning, and sriracha sauce are good options when you don't have this condiment in your kitchen. In addition, you can use each spice included in taco seasoning individually and add some salt whenever it is out of your spice rack.
Summing Up
Created in Mexico, a taco is an absolute pleasure that can satisfy your street food cravings whenever you want. 
Interestingly, even though Americans enjoy tacos any time of the day, in Mexico, they are available on the streets only in the morning and late at night.
However, although taco seasoning was first made to flavor the fillings that go into the taco shells, it can be used with many other foods like meat rubs and chili, salad dressings, soups, etc. There is no standard set of ingredients that you should include in this seasoning, but the spices that we have mentioned above, do make a lasting impression with your tacos!