Juicy and decadent grilled ribs are a craving of many who need to have a great summer kickstart. So, we think it is the perfect time to share with you the best techniques to dry rub ribs for the grill. 
You should start by cleaning your ribs and then applying the dry rub with your hands. While you sprinkle the rub with one hand, you will have to massage it on the meat with the other. The rub should sit on the meat for at least 1-2 hours before hitting the grill, while some prefer leaving it overnight.
No matter if this is going to be your first dry-rubbed rib grilling experience or the hundredth- you still got to learn a lot of things! So, make sure to stay with us till the end.
How To Dry Rub Ribs For The Grill?
Perfectly dry-rubbed grilled ribs are not a dream anymore when you expertise the proper practices. At the end of the day, all you need is to make flavorful, unburnt, not-so-dry ribs that are juicy inside out with an awesome crusty coating.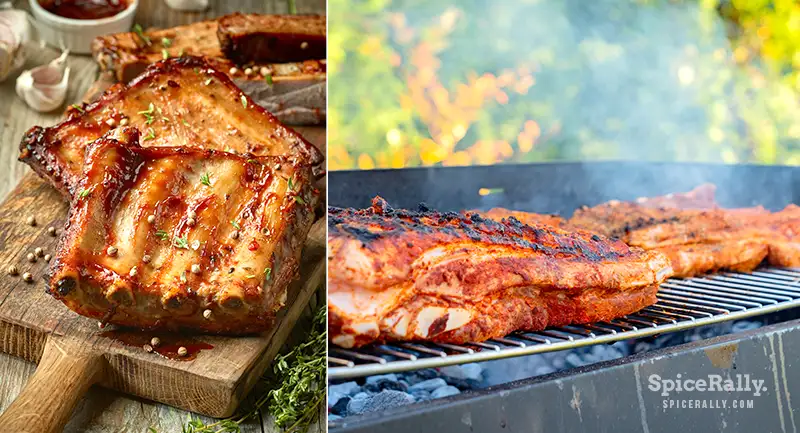 Generally, there are a lot of types of ribs consumed by people around the world such as goat, bison, alligator, lamb, and buffalo ribs. But, in our feature, we will be focussing on beef and pork ribs, enjoyed among a majority for grilling.
1 – Choosing The Meat
You can go with either beef or pork ribs. However, while the taste is obviously different, beef ribs are also generally bigger in size.  
In addition, beef ribs have a comparatively more fat content than pork ribs, while pork is leaner and meaty. Nevertheless, the fat in beef allows it to tenderize the meat and give it a depth of flavor. 
The beef rib options you can choose for grilling are:
Chuck short ribs
Back ribs
Plate short ribs
Are you interested in knowing about the best grilling spices that you can use with your next grilling session? If so, click here for a comprehensive article on grilling spices.
Pork ribs that are best for grilling are:
St.Louis ribs
Baby back ribs
Spareribs
Consequently, choosing the meat is totally up to your personal preference. If you like it leaner, you can go for something like baby back ribs. And if you want it fattier, you can simply pick one from the beef.
 02 – Preparing The Meat To Dry Rub
Get your rack of ribs and clean it first. Then you will have to remove the membrane that you find at the underside of the rib rack. 
While holding the portion from one hand, using a paper towel, just pull the membrane from the other hand onto the opposite side. This step is a must-do before applying the rub.
Then, after getting rid of the membrane, peel off any chunks of excess fat if you want. Keeping them is completely fine, and you can skip this step if you like the fat content.
03 – Applying The Dry Rub 
When you dry rub ribs for the grill you can massage your homemade or store-bought dry rub directly into the meat once you prepare the ribs by cutting off the membrane and excess fat. First, you can place the rib rack on a tray and then start off to avoid any mess. 
Since the meat itself contains good moisture, it is not necessary to apply an oil or a liquid base before applying the rub. You can pat the surface of the meat slightly with a paper towel (which is also not a must).
Work by sprinkling the rub with one hand and massaging with the other. Coat all the sides and edges generously, rubbing and pounding down using the fingers, palm, and wrist. 
Remember that the rub is the key to the overall taste of your ribs. Hence, make sure that you are open-handed with coating and don't mind going with a second round.
A Tasty Tip – If you need more flavor, stab your stack of ribs with a fork to well absorb the flavors of the spices and flavorings in the dry rub.
04 – Putting On The Grill
When you finish dry rubbing ribs for the grill, keep them for at least one to two hours or overnight. Then, place them carefully on the cooking surface on the preheated grill and get your ribs done until cooked through.
Can You Grill With A Dry Rub?
After keeping your rubbed ribs to season for some time, you can directly put them onto the grill while the rub is still on the meat.
In fact, a dry rub can be used to grill ribs or any kind of meat. And the dry ingredients in any of the mixtures you use will quickly penetrate the meat and give a profundity of flavor within a short time.
Sweet potato is a vegetable picked by many healthy eating enthusiasts for tasty meal preparations. So, click on this link to learn how to season this vegetable to get the best flavor!
When Should You Apply The Dry Rub? 
It is always better to let the essence of the spices and flavorings of the dry rub penetrate meat at least one to two hours before it hits the grill. Therefore, instead of applying it right before grilling, season your ribs at least one or two hours ahead.
How Much Dry Rub Should I Use On The Ribs?
Generally, one tablespoon (8g) of dry rub is used with one pound (450g) of ribs. However, relying upon simple logic, we understand that the amounts can vary if we are attempting to go with a second coating.
Therefore, if you are an amateur at grilling, you can go according to the book, using one tablespoon per one pound. But, you can always use more or less depending on your preferences.
Do You Dry Rub Ribs The Night Before?
You can dry rub the ribs the night before. But that does not certainly mean that keeping your slab of ribs seasoned overnight is a must. 
Allowing the dry rub to sit on your ribs a night long (probably 10-12 hours) will enable the flavors of all those spices or herbs on the rub to penetrate deeper into the meat. And this means you can get more richly flavored ribs. 
Chicken can be equally delicious when grilled, just like ribs. So, if you plan to incorporate grilled chicken with your next backyard party, just tap here and refer to our ultimate guide on how to dry rub chicken for grilling.
 Most importantly, if you are someone who is sensitive to spices and intense flavors, leaving the ribs to season for not longer than 2 hours will be your best bet.
However, it would be best if you did not let your dry rub sit on them for more than 12 hours. If you do, it can turn into a curing process more than seasoning.
Do You Wrap Ribs In Foil When Grilling?
Wrapping your stack of ribs with one or multiple layers of foil essentially helps with flavorful and better-grilled ribs in several ways. It will lock in the moisture, safeguard juiciness and flavor, and not give the burnt aftertaste and effect on the meat. 
You can use either one, two, or even three layers of aluminum foil twice as big as your ribs. Then, wrap each of your rib portions unsparingly and place them on the grill to cook through.
A Little Tip – Do not cook your ribs on direct heat. In fact, cooking them over indirect heat will save your precious ribs from burning!
Do You Flip Ribs On The Grill?
Flipping is necessary when you grill ribs. And you will have to flip each side every 20-30 minutes. You can get the help of your tongs to get this done. Flipping the ribs will ensure that each side is cooked evenly.
How Long Should Ribs Be On The Grill?
When dry-rubbed ribs on the grill, the grilling time can vary upon two factors. Number one is the heat of your grill, and number two is the size of your ribs.
However, in general, an average-sized stack of ribs takes from one and a half hours to two hours to cook in standard heat. If your rib portion is larger, like a stack of beef ribs, then it might take up to three hours.
Grilling is an art that you should master over time. From choosing the ribs, chicken, or any other meat to picking the right spices for the dry rubs, you have a long, yet interesting journey

SpiceRally
How To Smoke Dry Rub Ribs On The Pellet Grill?
Pellet grills, also known as pellet smokers, are popular outdoor grills. So, if you are using this pellet grill for grilling your ribs, there are some special things that you should know about. Follow these basic steps to get the best dry-rubbed ribs from your pellet grill.
Start by preheating your grill/smoker and setting the temperatures accordingly.
Place the thickest part of the unwrapped rib stack on the hottest part of the grill.
Close the lid and cook for about one hour.
After one hour, open the grill door and moisturize your ribs. You can use a sauce of your choice, apple cider vinegar, juices, beer, or even water.
You can use a spray bottle to apply these liquids or a sauce applicator. Keep the ribs inside the grill itself and proceed with this step. 
Then, close the lid and grill for another one hour.
After 2 hours of cooking time, get your ribs out and wrap them with one to three layers of aluminum foil.
Gently Spray the foil and the ribs with oil before wrapping. 
 Pop the meat back on the grill and cook for another 45-50 minutes.
Then check for tenderness using a toothpick or a temperature probe. If you think it is not tender enough, grill for another 15-20 minutes.
After 15-20 minutes, you can open the wrap and spray some oil or apply a glaze of your choice (like barbeque sauce).
Then, close the grill door and cook for another 15 minutes, and this time, you should keep the foil open.
Now, get the ribs and enjoy in the way you like!
We bet that dry rubbed steak is something you want as much as ribs in your outdoor party. Happy news alert! We have a great article about dry rubbing steak for grilling, and you can check it out here!
Rubbed Ribs Are Worth Giving A Go!
What is the purpose of having a barbecue or a grill party without grilled ribs- isn't that so? In fact, this is such a scrumptious delicacy that one will not resist after savoring once! 
So, this article was all about bringing you about how to dry rub ribs for the grill perfectly. After choosing the type of ribs you want, you have to clean them, prepare them by cutting the membrane, and coat each side and edge generously with your dry rub using both hands. After rubbing, you can keep it for one hour, two hours, overnight, or depending on your preference.
Thus, This is all for this feature this time, and happy grilling until we meet with another spicy episode!
Related Topics