Do you have plans to make chili for dinner but just realized that you are out of chili seasoning? Not to worry, we'll be sharing five excellent chili seasoning substitutes in this episode.
The possible options that you could use instead of chili seasoning include:
So, if you are ever worried about not having this seasoning blend around, you can try one of the replacements. Continue reading to learn how to use them!
The 05 Best Chili Seasoning Substitutes
Chili seasoning is a very flavorful, spicy, and hot blend of spices and herbs. It typically includes ingredients like:
Chili powder
Paprika
Red chili flakes
Onion powder
Ground cumin
Dried oregano
Dried basil
Thickeners (wheat flour, cornstarch, rice flour, etc.)
Salt
Sugar
It has a vivid flavor profile, and there's actually nothing like chili seasoning. But these substitutes can bring the closest flavor replication, so you won't feel the absence of the original blend in your pot of chili.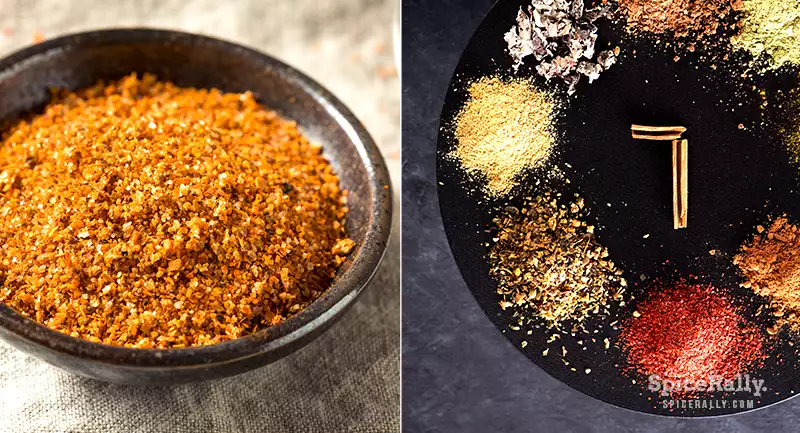 01- Taco Seasoning
Taco seasoning is one of the most available seasoning blends that usually comes under many brands and could be easily made at home. So, if you don't have chili seasoning in hand, this option can take over its place since it has a similar flavor profile.
This seasoning blend shared a set of identical ingredients with our topic leader, which includes:
Paprika
Chili powder
Ground cumin
Garlic powder
Onion powder
Black pepper
Dried oregano
Salt
However, chili seasoning might include more chili powder and other pepper powders than taco seasoning. Thus, taco seasoning can be a little less hot and intense than our topic leader. 
But still, it will make delicious chili dishes for you, and you can adjust the heat by adding a pinch of additional cayenne pepper or chili powder if needed. A 1:1 ratio will work with this alternative, but you can alter the amounts based on your preference.
If you need to know how exactly taco seasoning differs from chili seasoning, click here and refer to our fully explained article.
02- Fajita Seasoning
Fajita seasoning is another option that would work just as well as taco seasoning would do. This also includes common ingredients such as:
Ground cumin
Garlic powder
Onion Powder
Cayenne pepper
Dried oregano
Salt
Corn starch
In addition to these spices and herbs, most fajita seasoning options would also contain souring agents like citric acid or lime juice powder. And, this blend does not pack a serious punch of heat, like our topic leader would do.
Therefore, you might savor a slight flavor difference. But this is still good to go with the bulk of ingredients. You can add in a pinch of chili powder, cayenne, or hot paprika if you need more heat. However, it is best to start with a small amount and then proceed as you need.
If life gets too boring with bread and butter, you should try some chili!

SpiceRally
03- Creole Seasoning
Creole is a seasoning blend that holds a depth of flavor featuring many elements, as in our topic leader. It shares ingredients such as:
Cayenne pepper
Paprika
Onion powder
Garlic powder
Ground black pepper
Dried oregano
Salt
This option may sometimes include chili powder, ground cumin, and other ingredients like dried thyme, bay leaves, rosemary, etc. If you need a better flavor approximation, we suggest adding some chili powder along with Creole seasoning to spice up your chili dish.
Nevertheless, you can use this option in a 1:1 ratio or more or less until you get the desired flavor.
04- Chili Powder
If you can't find the rest of the options mentioned in our list but are equipped with chili powder, it can still help you come up with a good chili! 
In fact, most chili powder varieties include additional elements other than chili pepper powder, such as garlic powder, onion powder, ground cumin, and salt. So, you can get a very close flavor replication if you have one of those types in hand.
Begin with a little amount and adjust the flavor until you get the desired taste. If you need more heat, you can make alterations by adding some paprika, cayenne, Mexican, or Ancho chili powders.
Did you know that chili powder is also a great substitute for adobo seasoning? So, if you need more information and need to discover more alternatives for this blend, click here and read this article.
05- Homemade Chili Seasoning
Last but not definitely least, if you are not satisfied with any of the alternatives mentioned above, making your own batch of chili seasoning would be your best bet! It will be as effective as what you usually buy from the store. And it only requires the ingredients which are readily available in your pantry.
So, to help you with a simple and tasty homemade chili seasoning recipe, we have shared a step-by-step guide right in this post. Go- check out!
How Do You Store Chili Seasoning For A Long Time?
Like pretty much many other dry, ground spices, chili seasoning can have a longer shelf life when stored in an air-tight glass container. And it will retain its freshness and flavor when kept in a cool, dry place with zero direct sunlight.
Leaving The Final Words…
Chili seasoning can add a great kick to any chili dish, starting from the classic to your own family recipe. And, it might bother you when you don't have this blend around.. But substitutes like taco seasoning, fajita seasoning, creole seasoning, chili powder, etc., will always come to your rescue!
Related Topics