We often worry when we run out of the essentials in our pantry. Curry powder is one such important ingredient if you make curries frequently. On that note, let's check out the best substitutes for vindaloo curry powder that will help you when the original blend is not around.
If you don't have this spice blend, making your own batch at home is your best bet. Also, you may try the secondary options that will give a closer flavor and effect, such as:
Vindaloo curry paste
Other types of curry powder
Garam Masala with red chile powder
Tandoori Masala
Sambar powder
Tikka Masala powder
Read away to learn how these substitutes can be effectively used instead of vindaloo curry powder and match them according to your dishes.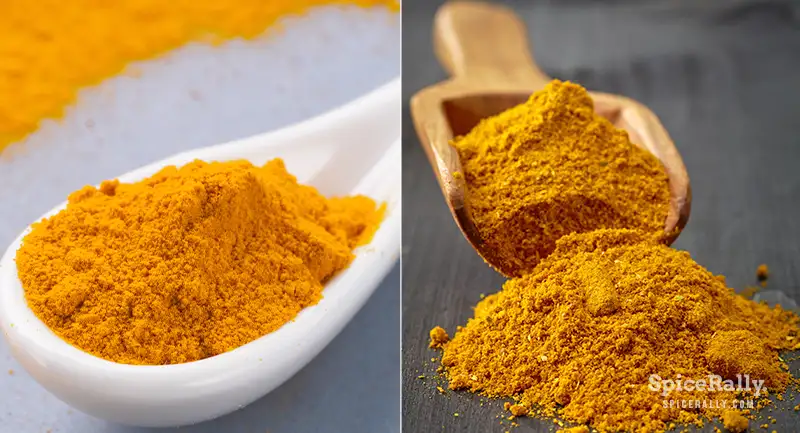 The Best Substitute For Vindaloo Curry Powder- Making Your Own At Home!
A homemade recipe of vindaloo curry powder is the best possible replacement for what you usually buy from the store. Making this curry powder at home is easier than you expect. Also, you can get the desired results using only the basic ingredients.
Why is this option the best one?
A homemade vindaloo curry powder recipe is the only thing that can replicate the exact taste and characteristics of a store-bought one. 
Most importantly, you can control what goes in your curry powder, especially taking over the amount of heat. 
If you have concerns about store-bought products and their content of artificial additives and gluten, a homemade recipe is probably your best bet.
Homemade vindaloo curry powder is suitable for any application and does the exact job that your shop-bought product did.
How to use it?
The best thing about this alternative is that you can use it like you did with your jar of store-bought vindaloo curry powder. 
You may use it in any vindaloo curries and anything that originally calls for this spice blend.
However, if you adjust the spiciness and heat, you must use the relevant quantities according to the recipe to get the specific flavor.
The flavorful output!
Homemade vindaloo curry powder effectively masks the absence of regular vindaloo powder you bring from the store. It may also give a more concentrated, fresh flavor to your dishes.
Concerns of Using Homemade Vindaloo Curry Powder as a Substitute
It takes time and effort to make this spice blend at home.
A homemade blend could taste differentIf if you're used to store-bought stuff.
Sometimes, finding certain ingredients required to make the spice powder at home could be hard.
Buying individual spices to make a homemade spice blend might cost more money than spending on a single product.
If you want to try out an easy recipe to make vindaloo curry powder at home, we are ready to assist you with an excellent recipe. Click on this link and refer to our post for a step-by-step guide!
Other Recommended Substitutes For Vindaloo Curry Powder
01- Vindaloo Curry Paste
If you're looking for a flavor replacement to make vindaloo curries, then the vindaloo curry paste is one of your best options. This substitute comes as a paste, unlike a dry powder. Therefore, you may not be able to use it with everything that requires the powder in the first place. 
But still, since the base ingredients are similar, you can swap this with traditional vindaloo curries, other cream-based curries, and as a marinade or wet rub for meat, fish, or seafood.
 Most shop-bought vindaloo paste options could contain a considerably concentrated flavor. Thus, the amounts used should be decided mindfully. We suggest beginning with a small amount and proceeding as you build up the flavor.
02- Other Types Of Curry Powder
When you don't have vindaloo powder at home, many other types of curry powder can come to your rescue. The main thing you should consider when using other types of curry powder is the equality in the heat level.
Vindaloo powder is naturally a hot curry powder therefore you might want to mix a little red chile powder with the curry powder you use. The best types of curry powders to use instead of our topic leader are as follows:
Madras curry powder
Japanese curry powder
Thai curry powder
Jamaican curry powder
Sri Lankan unroasted curry powder
Regular curry powder used in Western cuisine
Each of these curry powders possesses different spiciness and heat levels but their base flavor is similar to vindaloo curry powder. Therefore, when you use one of them as a substitute, you may have to adjust the amounts accordingly.
03- Garam Masala With Red Chile Powder
This is one of the most effective replacements you can easily find in your pantry and shops. Garam masala typically holds a rich spiciness that can be compared to that of the vindaloo curry powder. But, it is mild and does not contain a lot of heat, unlike our topic leader. 
In this case, you need to balance out the flavor by mixing a considerable amount of red chile powder with Garam Masala. This way, you can use this replacement with traditional vindaloo curries and any other dish originally called for vindaloo powder. 
The content of Garam Masala can vary depending on the product. Thus, when replacing this with vindaloo powder, you may have to revise the amounts depending on the nature of the dish. It is always advisable to start moderately to fix the quantities later.
04- Tandoori Masala 
Tandoori masala powder is another popular Indian spice blend that can give a similar flavor effect to the vindaloo powder. This substitute contains similar ingredients like cardamom, cinnamon, coriander, Kashmiri red chiles, etc. 
This might not be as hot as the vindaloo mixture, but the spiciness is quite the same. Moreover, sometimes, tandoori masala can also contain food coloring additives which you don't usually find in our topic leader. But using this alternative can give a good color to your dishes. 
This might not be the perfect substitute for traditional vindaloo curries. But still, you can use this in other dishes like meat, fish, seafood, and in curries in pinches. It is always better to start off with a small amount of tandoori masala and then adjust the quantities accordingly.
05- Sambar Powder
Another spice blend from Indian cuisine, sambar powder known as Sambar Podi can be one of the most effective vindaloo curry powder substitutes. This spice mixture is not very robust but still has a decent spiciness.
Apart from the base flavors that include red chiles, coriander, fenugreek seeds, etc., it also can complement many curries. This spice blend typically contains lentils like chana dal and urad dal. These are not featured in our topic leader. So, once replaced, you might sense a considerable difference in the texture of the dish.
This might not be the perfect addition to traditional vindaloo curries. Yet, you can incorporate this with other curries, especially the ones made with vegetables and lentils. We recommend you start with a small amount and then develop the taste as you proceed.
06- Tikka Masala Powder
This is another wonderful ingredient that can successfully replace the flavor of vindaloo curry powder. Tikka masala powder contains robust spices like coriander, cardamom, cinnamon, and red chiles that can be compared to the taste of our topic leader.
It provides enough warmth and spiciness to go side by side with the vindaloo blend and effectively mimics the flavor in most applications. Tikka masala is specifically used to make traditional tikka dishes. But still, when used accordingly, it will not ruin your vindaloo curries either! 
It usually contains a hint of dry mango powder, imparting a subtle sour note. This will taste great in other complex curries and even in stews and curry soups. You may use this blend in a 1:1 ratio. Still, if you're uncertain of substitution, begin slowly and then adjust correspondingly.
Now since you know the effectiveness of homemade vindaloo curry powder, you may want a great recipe to start. We have a simple, authentic recipe you can try at home right here!
Spice Blends That Are Already In Your Spice Cabinet Can Help You When Vindaloo Curry Powder Is Not Around!
Vindaloo curry powder is known for its robustness and heat. This can be a special ingredient in your spice rack and it might bother you when it is not around. So, we hope all these effective vindaloo curry powder substitutes can help you whenever you run out of it. You can use a homemade blend as your best bet while others like vindaloo paste, Madras curry powder, tandoori masala, etc also work wonderfully!
Related Topics