Seasoning is basically a blend of spices, herbs, and salt included in foods in order to enhance the taste of a particular dish. 
There are many well-known and unknown types of seasoning all over the world that could make your meals go rocking! For the time being, the spices, herbs, salt, or any other ingredient in seasonings heighten the taste of foods; they also contribute to a sound nutritional value.
Creole seasoning is a popular condiment that goes in really well with endless dishes. It is a perfect taste enhancer that counterbalances the flavor with many types of peppers. This seasoning mainly contains spices like:
In addition, there are other ingredients included in the spices that have been used from the classic creole seasoning blend. In fact, there aren't any standard ingredients used in this. Therefore, they can be either other flavorings or herbs from the original recipe or ingredients that people added over time. 
However, this blend will add a bounty to whatever it calls in. Thus, discover in-depth how creole seasoning spices and herbs would enrich it and how you would incorporate them in the dishes you prepare.
What Spices Are In Creole Seasoning?
Creole seasoning is a combination of ground spices that typically appear in Creole cuisine. Creole cuisine makes the food that derives principally from the New Orleans region of Louisiana.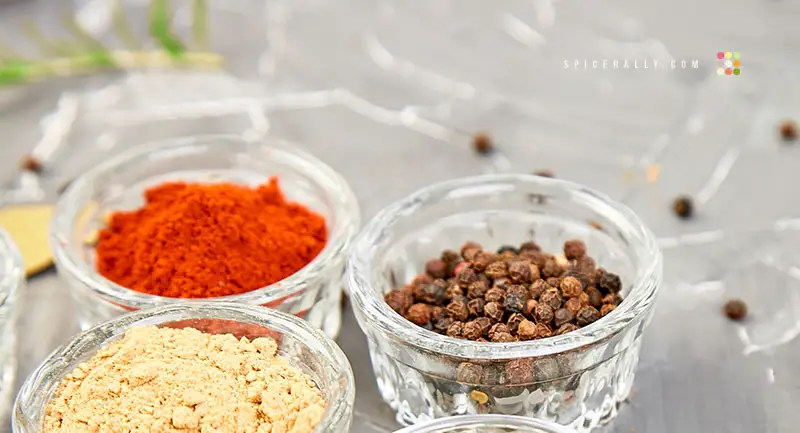 This seasoning pushes the procedure more comfortably since you don't have to weigh each ingredient that goes into your meal. In fact, the flavor of spiciness, pungency, and everything is just balanced so well that you only have to sprinkle it on your food. 
The key spices and herbs used is the prominent factor that makes this blend so versatile to put together. And they are the life of this rich spice mixture. 
On that note, without further ado, let us move on to the creole seasoning spices. Well, when talking in terms of the spices, we can see that this seasoning blend has a pretty lot of peppers in it. While they typically use black pepper, white pepper, and paprika, sweet paprika, cayenne pepper, or smoked paprika are entirely optional.
Generally, the creole seasoning is not hot or spicy, but it does have a warm bite. Hence, study the table of ingredients if you purchase one from the store. So, if you like it a bit spicy, you can get one with cayenne pepper.
Let us have a quick overview of the main spices used in this delicious seasoning mix.
Onion powder is an asset to the creole seasoning blend, which is why it has become a key ingredient in this. It lays out evenly throughout the dish for a decadent, all-over onion flavor. 
01- Onion Powder
Onion powder is versatile where no peeling or chopping is required, like when you use fresh onions. It gives a sharp aroma and sweet flavor to the creole seasoning and counteracts all the flavors from other spices and herbs.
Apart from its great taste, aroma, and texture, onion powder has potential benefits in regulating blood sugar levels, preventing infections, and reducing heart problems.
02 – Garlic Powder
The next staple among the creole seasoning spices is the incredibly piquant garlic powder. This flavoring pairs so well with onion powder to provide the richness and mouth-watering taste to the seasoning blend.
Although garlic powder does not taste as intense as raw garlic, still, it is pungent and has a strong aroma. Usually, when making creole seasoning, onion powder and garlic powder are used in equal quantities to balance the flavor.
Over and above, garlic powder benefits cardiovascular health, reduces harmful cholesterol levels, and aids in weight loss.
Have you ever gotten to use Creole seasoning and old bay seasoning together and wondered how they differ from each other? Click on this link- we are ready to clear your doubts through this article.
03 – Black Pepper
It is not a thing to mention that all ingredients in a seasoning mix typically come in their ground form. Thus, in creole seasoning, too, black pepper is included in its powdered form. And, in most recipes, freshly ground black pepper turns out to be the best of all!
Black pepper is an essential spicy agent used in this seasoning blend. While all the other ingredients used in this mix are generally benign and delicate, black pepper, known for its nickname, "the king of spices", creates an overall mild spiciness with its sharp aroma and earthy and spicy flavor. 
It combines well with onion powder and garlic powder and is perfect when added to any savory recipe it calls for. While it maintains its position in any dish, black pepper possesses some significant health benefits. It has the potential to support brain health, improve blood sugar levels, and alleviate bad cholesterol levels.
04 – White Pepper
Creole seasoning is famous for its use of several peppers. And, that is one reason why it becomes so striking among other seasoning mixtures.
However, white pepper is milder than black pepper, and it pairs well with other spices and herbs used in the creole seasoning. It has a musty and earthy flavor with a less pungent aroma when compared with black pepper.
With regard to the quantity used, a similar quantity as black pepper is employed in the seasoning blend in order to balance the flavors of the two peppers of the same family. 
Creole seasoning is so much better when you make it at home with fresh ingredients. Click here and get our simple recipe from this post.
05 – Paprika
Paprika is regarded as another must-have ingredient among the creole seasoning spices. In fact, it is a ubiquitous element used by tonnes of people for the bright-red hue and mild warmth it provides to food.
Although there are many varieties of paprika around the world, a mild version is used in this mix. This is where the manufacturers or cooks find the effectiveness of balancing the spiciness and warmth of this palatable seasoning.
Paprika does not make the mixture spicy. But instead, it contributes through the color, mild flavor, and provides a slight warmth. Meanwhile, we can see some recipes have smoked paprika in them, which is an optional ingredient. If you need a smoky kick to your creole seasoning, you can just go- ahead add a bit of smoked paprika without hesitation.
Additionally, paprika is a great source of Vitamin E and Iron. And, capsaicin, the natural chemical compound contained in paprika, is known to have numerous health benefits.
06 – Cayenne Pepper
The cayenne pepper does not really show up in the classic creole seasoning recipe. But, people tend to include in it their own homemade versions and even in commercially made ones for an extra kick of spiciness.
However, cayenne pepper is an optional spice that can only be added if you desire more hotness in the mix. 
And we can see that many new recipes are coming up with this ingredient. Plus, it would be great when you want to use the creole combination in foods like dry rubs or marinating meat, fish, or other seafood.
Cayenne pepper is extremely hot, fiery in flavor, and has a mild, neutral aroma. In addition to its spiciness, cayenne pepper helps with digestion, supports weight loss, and reduces migraine pains.
What Are The Other Creole Seasoning Ingredients?
In addition to the main ingredients that we have mentioned from the above section, creole seasoning could contain other optional ingredients like:
Sweet Paprika
Bay leaves
Smoked paprika
Moreover, creole seasoning ingredients consist of other dried herbs and flavorings such as:
Salt
Oregano
Basil
Thyme
Rosemary
What Is The Taste Of Creole Seasoning?
Since the creole seasoning blend has a bright-red color, most of you might think it is spicy. Well, sometimes it could be spicy, and sometimes it may not. But, however, the ruddiness is due to the content of the paprika used.
The taste of creole seasoning is subtle and flavorful, thanks to the various spices and herbs used. 
However, the flavor profile can slightly change depending on the ingredients used. For example, if you use salt, smoked paprika, and cayenne together, it could give a salty-smoky-spicy flavorful kick. But most of the time, this seasoning blend gives a nuanced gusto with every bite. 
Creole Seasoning Substitute
If you expect us to give another substitute seasoning, we would suggest that Cajun seasoning would be best to use as a replacement for creole.
In fact, Cajun seasoning could give the warmth of the peppers used, but most of the time, it may not use herbs. If not another seasoning alternative, you could use all the ingredients used in the creole seasoning individually as a substitute for creole seasoning. 
Store-Bought Creole Seasoning Vs Homemade Versions
When you buy a container of creole seasoning from the store, one thing is that you have no idea about the ratios of the ingredients used. 
Therefore, many people around the world are so enthusiastic about making their own homemade versions since they can control the things that go in their mixtures.
Notably, most store-bought creole seasonings have a relatively high salt content, while when you prepare it at home, you can handle the amounts easily. 
Like Creole Seasoning savors your meals, ranch seasoning also would be an ideal additive. If you are interested in learning what is in ranch seasoning, just click here.
However, we suggest that you check with the label before buying as there are brands without any salt in them. So, if you love it with salt, you can go ahead and buy them, but if you don't, you can just bypass them! 
In addition to salt, you can take control of all other ingredients, including pepper powders. If you like it zesty, you can use more cayenne pepper, and for a bit of smokiness, you can add smoked paprika.
Ultimately, homemade versions are free to be customized, whereas you can't do it with store-bought ones.
The Seasoned Wrapping-Up
The Creole seasoning blend is flavorful and rich in taste with all the spices and herbs to give the best blow to any dish you add it to.
Depending on your preference, you can either readily purchase it from your local store or make your own at home. However, there are no standard spices used in this flavoring mixture. We have just brought you some of the key ingredients used in it. And most cooks do not omit these ingredients in their DIY versions too.
Consequently, we hope that you perceive the importance of adding those spices into the creole seasoning mix. And do not think twice about buying one for yourself when you go grocery shopping next time!