Salmon is a very versatile fish. It has a mild flavor, which means that it pairs with most spices. This versatility makes it a great fit for all flavor pallets. Therefore, the best spices for salmon really depend on your personal preferences.
With that in mind, some certain spice combinations work particularly well with salmon. In this article, we will cover some of the best combinations of spices to season your salmon, along with other tips to have to leave your salmon tasting great!
What Spices Go Best with Salmon?
You have quite a few flavor options when deciding what spices to add to your salmon. Your creativity is your only limit when deciding how to add flavor to salmon since the fish itself doesn't have much of a flavor, to begin with.
If you are looking for some new flavor combinations, we've provided five of our favorite spice mixes to add to salmon.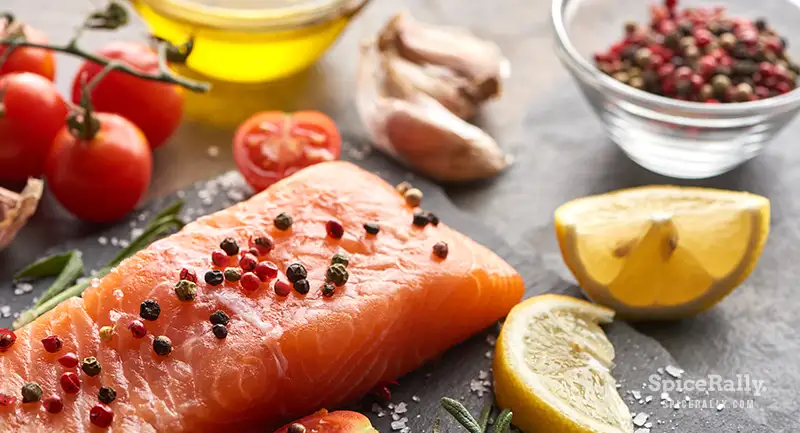 01 – Old Bay Inspired Seasoning
Old Bay is a popular spice that is used on a wide variety of kinds of seafood. However, it's not always available. Additionally, it can be too spicy for some individuals, so we prefer to cool it down with a mixture of the following ingredients:
Paprika (smoked or sweet)
Onion powder
Garlic powder
Allspice
Thyme
Celery seed
Cumin
Salt
You can play around with proportions but in general 1 Tablespoon of each ingredient per ½ pound of salmon.
02 – Sweet and Smoky 
This mixture works great if you are planning on grilling your salmon. The ingredients per 1 pound of salmon include:
Brown sugar (2 Tbs.)
Black pepper (2 tsp.)
Sea salt (1 tsp.)
Dried Basil (1/2 tsp.)
Garlic powder (1/2 tsp.)
Smoke paprika (1/2 tsp.)
Zest of 1 lime
Make sure to save the lime for after the salmon is cooking to squeeze on the finished meal.
03 – Italian Style Salmon
Looking for a great pairing with a side of buttered noodles? Italian-style salmon is such a great compliment. The ingredients per 1 pound of salmon include:
Italian seasoning (2 Tbs.)
Lemon juice (1 Tbs.)
Salt and pepper to taste
You can either mix the salmon with pasta or keep the two separate.
If you wish to learn something more about the spices used in Italian seasoning, click here as we have a complete feature here.
04 – Cajun Style Seasoning
Looking to add a little spice to your salmon. Try Cajun-style salmon seasoning. The ingredients per 1 lb. of salmon include:
Cajun seasoning (1 Tbs.)
Garlic powder (1 tsp.)
Onion powder (1 tsp.)
Smoky paprika (1 tsp.)
¼ lemon zest and juice
Black pepper to taste
If the mixture is a little too spicy for you try adding less paprika or cajun seasoning.
Cajun seasoning is a versatile additive that can be used in a variety of dishes. So, to discover everything about Cajun seasoning, just tap here and we will take you to our exclusive article.
05 – Herb and Lemon Seasoning
Sometimes the best seasoning is a nice mixture of some fresh herbs. Dill and parsley work really well with salmon. A basic recipe for this includes the following ingredients per 1 pound of salmon:
Freshly chopped dill (1/4 cup)
Freshly chopped parsley (1/4 cup)
Minced garlic (1 clove)
2 lemons sliced (for on top of the salmon while it cooks)
This mixture really brings out the flavor of the salmon. It tastes wonderful but isn't recommended if you don't like fish flavor.
How Should I Season Salmon?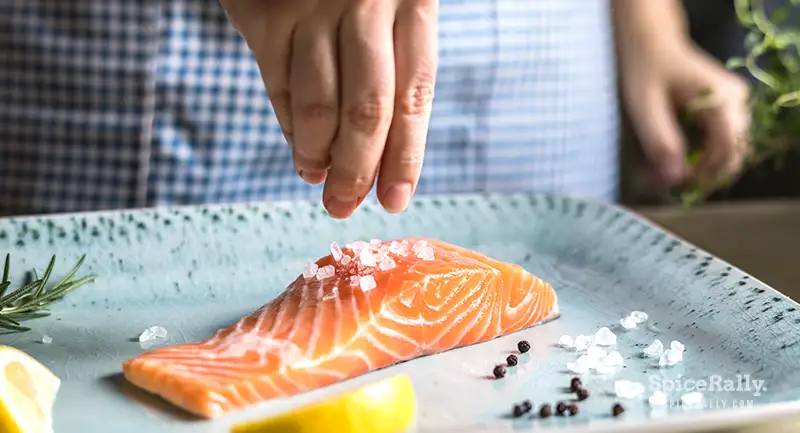 Now that you have a few new spice mixes to try, you may be wondering what is the best way to season the salmon. There are three basic ways to season salmon:
Sprinkling
Using a rub
Adding a glaze or marinade
Sprinkling Seasoning
Sprinkling seasoning is the easiest way to apply to season, but it also results in the least amount of flavor. 
In order to season your salmon using a sprinkling method, you first need to add fat like oil or butter to the salmon to help the salmon absorb the spices.
What do you like to put on the grill? Meat, fish, or veggies? Whatever it is, you need to have flavorful spices to season them and get the best taste. We would love to help you with an ultimate guide to the best grilling spices. Click here!
Once you have placed your fat of choice on the salmon you simply sprinkle your seasoning mixture on top of the salmon. This method works best with herbs that already have a strong flavor.
Use a Rub
A great way to add a large blast of flavor is by rubbing your seasoning mixture onto your salmon.
You again need to start by adding fat to your salmon. You should rub or brush your fat so it covers the entire fish. 
Then, take a large pinch of the seasoning mixture and rub the seasoning mixture on the salmon. This method is a great way to add a lot of flavors and works very well when you choose to grill your salmon.
Adding a Glaze or Marinade
If you want your spice mixture to be absorbed by the entire fish it's best to prepare a glaze or marinade.
This method involves mixing your spices into some sort of liquid, usually either oil or vinegar, and then letting your fish sit in it for a few hours.
This is a great way to add a lot of moisture to your fish and really infuse it with a few key flavors.
What Seasoning Method Works Best?
The best seasoning method really depends on personal preference, cooking style, and the type of seasoning that you are using. 
If you like the flavor of salmon, but just want to add a flavorful undertone to it then sprinkling works best.  If you'd rather have a burst of flavor on the outer skin of the salmon, then adding a rub works best. Likewise, flavor throughout the entire fish is best achieved using a marinade or glaze.
If you like pork chops as much as you do with salmon, click on this link to go to our article to discover the best seasonings and spice blends that work the best with pork chops.
What Flavors Go Well with Salmon?
There is no wrong answer when it comes to adding flavor to salmon. It's a rather mildly flavored fish and its fatty nature absorbs most flavors very well. 
That being said, all flavor combinations don't work well together. The first couple of times that you cook salmon it's best to use one recipe or one of the spice mixes that we have suggested.
After you get an idea of how the flavor profile of salmon works with spices you can explore different flavor combinations to see what works best for you.  As we mentioned at the top of the article, when it comes to adding flavor to salmon, your creativity is the only real restriction.