Whenever Thanksgiving is around the corner, a delicious, juicy turkey is something we all love to have on the dinner table. Thus, in this episode, we hope to share the 11 best seasonings for turkey, which will be helpful in grilling, roasting, frying, or baking.
Turkey seasonings are readily available in the store, or you can easily put them together at home. So, here are some ideal store-bought options:
In addition to these pre-packaged seasonings, you can try homemade options like:
So, keep reading to learn about the content and how these blends are being used with turkey.
The 11 Best Seasonings For Turkey
The seasoning blends and rubs that we have listed below usually come together with aromatic herbs and flavorful spices. Some of them contain salt, while most of them come as salt-free options.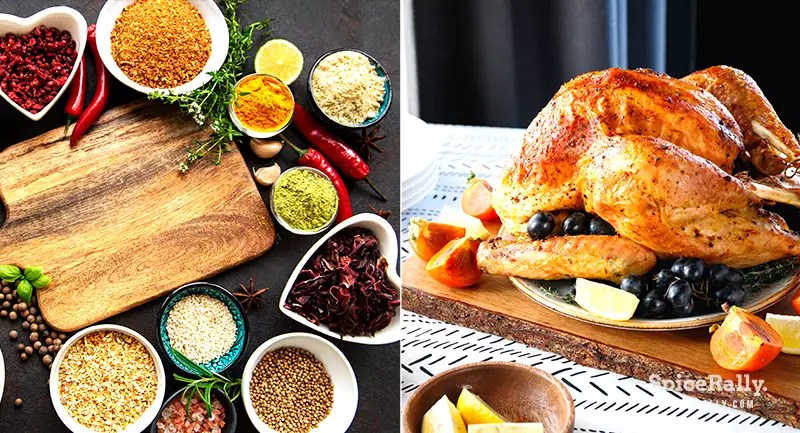 So, check out this list and pick what is best for you!
Store-Bought Options
01- Fire & Flavor All Natural Turkey Rub
This versatile, gluten-free combination can be used as a rub and a seasoning for turkey. It includes spices and herbs such as:
Pepper
Other spices
Dried orange peel
Thyme
Maple
Brown sugar
Salt
Rice flour
This rub is usually available in 2.6- ounce containers, and you can easily purchase it online or from the nearest grocery store. Simply rub your turkey with olive oil and season it with a generous amount of Fire & Flavor All Natural Turkey Rub before roasting, baking, or grilling.
02- Frontier Poultry Seasoning
Featured with many herbs, Frontier Poultry Seasoning will give a significant herbal, earthy, and savory flavor to your favorite turkey dish. This is one of their traditional salt-free blends, which usually contain organic ingredients like:
Sage
Thyme
Marjoram
Celery seeds
Onion
This is available in leading online shopping sites, supermarkets, and even at your local grocer. Based on your convenience, it comes in 1.2 and 1.34-ounce packages.
Did you know that poultry seasoning is also great with many sweet potato recipes? Click on this link to discover more seasoning and spice blends to season sweet potatoes.
03- Historic Lynchburg Tennessee Whiskey Gobblin Good Turkey Rub
If you need a real taste twist, we suggest that Historic Lynchburg Tennessee Whiskey Gobblin Good Turkey Rub is something you should definitely try this Thanksgiving! This rub has a distinctive flavor combination enriched with Jack Daniel's Black Label Whiskey as a signature ingredient.
Other flavoring elements include:
Rosemary
Thyme
Sage
Paprika
Garlic
Onion
Lemon peel
Parsley
Turbinado sugar
Kosher salt
To grill, fry, roast, or bake your turkey meat, you can usually buy this rub in 5-ounce containers. Try this at the supermarket or mainly with online sellers.
Apart from these seasonings, we have posted a complete step-by-step guide to a flavorful homemade turkey seasoning recipe. Try now!
04- Simply Organic Turkey Rub
Super-versatile Simply Organic Turkey Rub is ideal for turkey if you need to make it extra special for the whole family. It contains many organic ingredients such as:
Garlic
Onion
Sage
Thyme
Rosemary
Black pepper
Coriander
Oregano
Fennel seeds
Bay leaves
Cane sugar
Sea salt
You can use this blend as a rub, seasoning or incorporate it into a marinade. You can have best results by marinating your turkey and leaving it overnight. This is widely available in grocery stores, supermarkets, and online shopping sites in 2.43-ounce packages.
05- Zatarain's Cajun Injector Creole Butter Recipe Injectable Marinade with Injector
Working as an all-rounder, this ready-to-use marinade works wonders with turkey! It is loaded with spicy, buttery, savory, and robust Cajun flavors, which adds a great taste when frying, roasting, or grilling your meat.
This marinade comes together with ingredients like:
Dehydrated garlic
Red peppers
Natural butter flavoring
Salt
Xanthan gum
Citric acid
Water
Other spices and preservatives
It comes with an injector to give a fully seasoned turkey with bold, tender, and succulent meat. You can easily find this in the spice aisle of the supermarket and purchase it from online sellers in a big 16-ounce jar.
What I love about Thanksgiving is that it's purely about getting together with friends or family and enjoying food. It's really for everybody, and it doesn't matter where you're from.

Daniel Humm
06- Organic Turkey Brine Kit
If you are hoping to impress your guests on the night of Thanksgiving with brined turkey, this brine kit would be a perfect choice! It comes with a spice bag that contains many flavorful organic spices, herbs, and apple flavors.
Consequently, this spice kit includes:
Sage
Ground allspice
Ground ginger
Orange peel
Dehydrated apple
Apple cider vinegar powder
Apple flavor
Cane sugar
Sea salt
This kit works ideally with an 18-22 pound turkey. You can either fry, roast, smoke, or grill the meat after brining it for about 12-24 hours. 16- ounce Organic Turkey Brine Kits are widely available on online shopping sites, and you can also check this out at the supermarket.
Roasted turkey is an asset to the Thanksgiving table, wouldn't it be? If you like to make the perfect spicy turkey roast and are looking for a place to start with, we have a great recipe for you in this article. Check it out!
07- Chairman of the Bird Gourmet Holiday Turkey Rub
This is a savory herbal blend that usually comes in a handy little 2-ounce tin. Your turkey will have that "restaurant quality" since it combines with a number of potent flavorings.
This turkey rub comes together with ingredients like:
Thyme
Rosemary
Sage
Parsley
Turmeric
Pepper
Organic lime and orange peel
Diced cranberries
This is one of the best blends for those who are looking for salt-free options. Rub olive oil all over your turkey and apply the Chairman of the Bird Gourmet Holiday Turkey Rub generously before you roast, grill, bake or fry the meat. This is usually available in supermarkets, grocery stores, and online shopping sites.
Homemade Turkey Seasonings
If buying seasonings for your turkey is not your thing, making your own batch at home is the next best possibility. In fact, you can even make better blends and customize them based on your taste preferences.
01- Full-of-herb Seasoning
This homemade seasoning recipe comes together with nothing else but aromatic and flavorsome herbs! The best thing about this is that you can use the readily available herbs and spices in your pantry. 
Full-of-herb seasoning is usually made with fresh herbs like thyme, rosemary, sage, and parsley. And black pepper, salt, butter, and olive oil can be added for extra flavor.
02- Mexican Rub
Loaded with robust spices, this Mexican turkey rub will give the perfect spicy and hot kick to your turkey that you have always wanted. You can easily make this mix using ingredients like:
Cumin
Chipotle ground pepper
Black pepper
Oregano
Chili flakes
Ancho chili powder
03- Rosemary Seasoning
Go hands-down with delicious and fresh rosemary-flavored roasted turkey with this seasoning! The secret flavor weapon for this blend is Italian seasoning. To make this, you can simply blend fresh rosemary and fresh basil with Italian seasoning, black pepper, and salt.
04- Savory Turkey Seasoning
This savory turkey seasoning is packed with powerful spices and herbs. You can easily make this blend using the ingredients already in your spice rack.
You will only need:
Garlic powder
Smoked paprika
Black pepper
Dried thyme
Coarse salt
Dried oregano
Dried rosemary
Brown sugar
You can add or omit these spices and herbs based on your liking. And, this is good to go, even with or without salt. This blend will give your turkey a smoky and spicy flavor, working as a seasoning, dry rub, or wet rub.
Rounding Off With The Best Turkey Seasonings…
As a staple on the Thanksgiving dinner table, we always try to come up with a juicy and tender turkey. 
Hence, the above-mentioned pre-packaged turkey seasoning options and homemade blends like the Mexican rub, rosemary seasoning, savory turkey seasoning, etc., will give you the ultimate satisfaction of best-flavoring turkey!
Related Topics
This post may contain affiliate links. If you use these links and make a purchase, We may earn a small commission. However, there's no extra cost to you. Also, as an Amazon Associate, we earn from qualifying purchases. Thanks!