Flavorful, aromatic, vibrant, and often spicy Thai food comes with a sophisticated variety that could always tantalize our senses. Here we hope to share some of the best Thai dishes for dishes that will come in handy!
Out of the wide range of authentic Thai dishes, we picked out some of the best recipes you can have for a complete evening meal. They include the following:
So, let's dive right in and see how these Thai dishes bring indulgence to your dinner table!
The Best 11 Traditional Thai Dishes Suitable For Dinner
Food is an important asset in Thai culture. The variety, well-balanced flavor, and visual appeal of their recipes are one of the key reasons for ranking as the top cuisines in the world.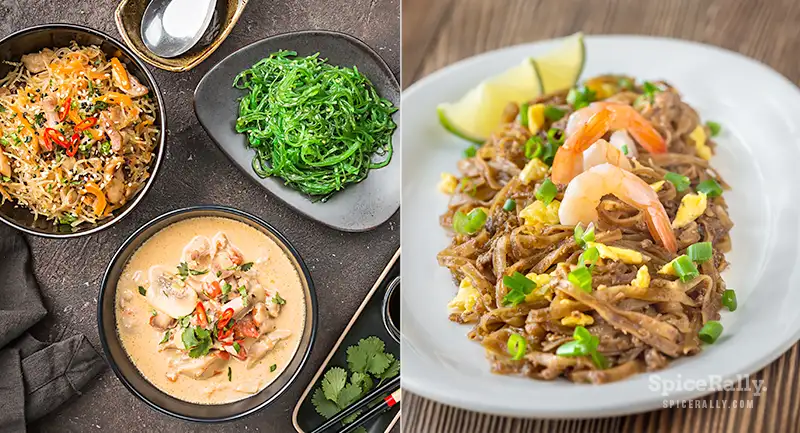 However, a Thai dinner menu comes together with various meat, fish, or seafood dishes, soups, rice, and noodle dishes. While the seasoning of most traditional Thai dishes can be exotic to the Western palate, it is a key element that ensures the harmony of flavors.
So, here we bring you a list of the best Thai dishes you can also enjoy for dinner.
01- Laab Gai- ลาบไก่ (Thai Minced Chicken Salad)
This famous minced chicken salad is inherent to northeastern Thai cuisine. It comes together with main wholesome ingredients such as ground chicken, toasted rice flour, fresh mint, cilantro, kaffir lime leaves, etc.
These ingredients are typically seasoned with chili powder, lime juice, and fish sauce. This dish is considered one of the healthiest dishes in Thai cuisine.
The salad is often served in lettuce wraps so that you can get an extra dose of vitamin K without much effort. Laab Gai is a very easy recipe to put together at home, which will make an excellent weeknight dinner.
To learn more about this dish and to get an easy recipe to make it at home, click here and go to our post.
02- Pad Thai- ผัดไท (Thai Stir-fried Noodles)
There are many variations of Pad Thai, while the most common one is made with main ingredients like Pad Thai noodles, a lot of proteins (shrimp, tofu, eggs), mung bean sprouts, peanuts, etc.
The key seasoning of this noodle stir-fry is the Pad Thai sauce which generally comes together with palm sugar, tamarind paste, and fish sauce. This signature noodle also does not count for too much work and is ideal when you need a spicy kick on your dinner table without too much heat.
Popular as a street food in Thailand, Pad Thai is an iconic stir-fried noodle dish layered with flavors you don't typically savor in a noodle recipe.
03- Som Tum- ส้มตำไทย (Thai Green Papaya Salad)
This iconic dish hails from northeastern Thai cuisines and boasts a variety of flavors with an epic vibrancy. In Thailand, you'll find hundreds of variations of Som Tum salad.
But the basic recipes combine ingredients such as julienned green papaya, long beans, tomatoes, dried shrimp, peanuts, etc. These ingredients are often seasoned with palm sugar, fish sauce, lime juice, Thai chiles, garlic, etc. You can enjoy this fancy salad all by itself or alongside plain rice along with a light curry. 
A version made without or with reduced chiles will make a perfect healthy treat for your kids who aren't good fans of salads. You can also omit the fish sauce and dried shrimp to create an ideal pick for your vegan or vegetarian dinner!
For more details and an easy recipe to make Som Tum at home, clock on this link and go to our article!
04- Gai Yang- ไก่ย่าง (Thai Grilled Chicken)
Gai Yang is the Thai version of BBQ grilled chicken. This dish is loaded with authentic Thai flavors, which are very different from what you typically make in your backyard for summer!
The marinade made for the seasoning usually does the magic, often including lemongrass, coriander seeds, garlic, soy sauce, fish sauce, etc. This grilled chicken is served with a dipping sauce which is known as Nam Jim Jeaw.
It is a flavorful, hot, and spicy condiment which comes together with tamarind, chile flakes, fresh cilantro, palm sugar, toasted rice powder, and a few other seasonings. Gai Yang is often served alongside sticky rice and green papaya salad. But you can also enjoy it alone, especially if you're following a low-carb or keto diet.
Would you like to try an easy recipe to make Gai Yang for your next barbeque party? Click on this link and read our comprehensive article on Gai Yang for all you want!
05- Tom Yum Goong- ต้มยำ (Thai soup)
Are you a soup fanatic who is looking for something special? Then Tom Yum Goong is your best bet! This flavorful soup is one of the most popular types of soup recipes in Thailand.
It is world famous and universally loved thanks to its variety of flavors that come from all the spices, herbs, proteins, and vegetables used in it. The classic Tom Yum soup is spicy with a touch of heat attained by ingredients such as chili jam.
Shrimp and oyster mushrooms are used as the main ingredients, and they are seasoned with kaffir lime leaves, lemongrass, galangal, Thai chiles, etc. This healthy soup dish only requires a little effort when you make it at home, and it comes together in a few minutes!
Most Thai dishes are defined by the flavorful and aromatic spices used in them. Click on this and discover the wonderful spices that add depth to your favorite Thai meals!
06- Pad Kee Mao- ผัดขี้เมา (Thai Drunken Noodles)
Thai Drunken Noodles is another popular dish loved by many noodle lovers from all over the world. It differs from typical stir-fried noodles and calls for a lot of holy basil and Thai chiles. This makes this dish pungent, robust, and hot in flavor, showcasing the authenticity of the traditional Thai palate.
The recipe is pretty versatile, and you can use any vegetable of your choice along with the main ingredients, such as fresh rice noodles, basil, Thai chiles, and a protein of your choice.
Surprise your family with a steaming hot pot of noodles on your dinner table while enjoying the goodness of authentic Thai flavors and the unique heat of this dish!
07- Khao Pad ข้าวผัดปู (Thai Fried Rice)
If you have any special guests arriving for dinner tonight, how about preparing delicious Asian rice? Khao Pad, or Thai fried rice, is packed with hearty and flavorful ingredients that could satisfy anyone with an incredibly satisfying meal.
Typically Thai fried rice does not call for any vegetables, but you can adjust the recipe by adding something like carrot, cabbage, or kale to make a healthier version. Standard Khao Pad requires chicken, but it is also made with other proteins like pork and beef.
This simple recipe originally calls for jasmine rice and some basic seasoning such as soy sauce, sugar, salt, garlic, chile flakes, etc. You can always have a green papaya salad accompany this dish or enjoy it as a whole meal.
08- Yum Kai Dao  ยำไข่ดาว (Thai Crispy Fried Egg Salad)
Out of the exciting Thai salad menu, the crispy fried egg salad, which is popularly known as Yum Kai Dao, is a must-try for dinner! 
The tart, zesty, and refreshing dressing comes together with the creamy egg yolks making for an unexpected combination that's unlike any other salad. The eggs are fried uniquely and are put together with tomatoes, celery, onions, peanuts, etc., to give you an unforgettable treat for a weeknight meal.
This dish is so easy to make at home and can be assembled in just a few minutes; only frying the eggs takes some effort. Yum Kai Dao is perfect with buttered toast or tempered rice. Have a Mojito or a fruit infusion for accompaniment to make it a grand meal!
09- Yum Pla Dook Fu- ยำปลาดุกฟู (Thai Grilled Catfish with Mango Salad)
Introducing an interesting flavor profile, this salad recipe is about to blow your taste buds with something you never savored before! Yum Pla Dook Fu is a signature Thai salad that incorporates charcoal-grilled catfish filets and julienned green mango seasoned with palm sugar, fish sauce, lime juice, etc.
The fish is fluffed up and fried until golden and crispy. And above all, the savory crunch is complemented by the fresh tart green mango, which makes it indeed a match made in heaven! This salad is a healthy option for anyone who is looking for safe and delicious low-carb or keto dishes.
Do you like to try making Yum Pla Dook Fu at home? What ingredients make this dish so unique? To learn all of these, we have shared a detailed article for you right here!
10- Pad Faktong ผัดฟักทอง (Squash Stir-Fry)
It could be true that Thai cuisine uses fewer vegetables when compared with the variety of meat in their dishes. But it doesn't mean that they have skipped vegetables completely.
Pak faktong is a delicious squash stir-fry loaded with authentic Thai flavors. This is one of the simplest dishes that typically comes together with cubed squash, eggs, or tofu. This dish is often seasoned with pepper, garlic, soy sauce, and fresh basil and is usually incorporated at the end of cooking.
This is an excellent choice for all vegan dieters when tofu is used in place of eggs. This is also not heavy on calories and can be taken as a rich source of vitamins A and C in terms of nutrition.
Firm pieces of squash or pumpkin incorporated with the flavor of sauces and the aroma of garlic is such a heavenly treat. Click here for more information on how to make this wonderful dish at home!
11- Thai Curries (Red, Green, Yellow)
When talking about the best Thai dishes for dishes, we can never forget the traditional curries that emerge from their rich food culture.
While Thai Red Curry, Thai Green Curry, and Thai Yellow Curry are made with a variety of meat, seafood, and vegetables, Massaman and Panang Curries also hold prominence in their list of curries. All of these dishes are different in flavor, appearance, and vibrancy.
A curry paste with characteristic flavors defines each type of curry, and all of them are distinctive in their own way, unlike any other South Asian curry.
You'll find ingredients like coriander root, galangal, lemongrass, and Thai chiles in many of these curries, giving them an exotic spicy, robust flavor. Any Thai curry is an excellent addition to your dinner table to serve alongside plain rice, bread, or noodles.
Rock Your Dinner Time With These Incredible Traditional Thai Dishes!
It is not a secret that nothing can be compared to the taste and quality of a home-cooked meal. If you're a home cook who often tries to make even a subtle difference in the dinner you cook for your family, we hope this episode became an excellent assistance to shadow you where to start!
From simple salads to complex yet flavorful rice, noodle, soups, and curries, Thai cuisine is a hub of variety. So that now you can make a tasty difference to your regular dinner, let us know how your family loved the Asian twist!
Related Topics