Among all the exotic dishes from Thai cuisine, Som Tum is one of the most iconic salads that is even popular outside its origin country. This article will bring you some exciting information about this dish and an easy recipe to try out at home!
Som Tum, or Thai Green Papaya Salad contains many flavorful ingredients. Green papaya is the star of the show, while a few other vegetables go with it. This dish has the perfect balance of flavors that captures sourness, sweetness, umami, and saltiness. And, it is usually served alongside Thai fried rice, plain rice, fried chicken, etc.
Let's move on to the rest of the article and see what's more we have in for you about this dish!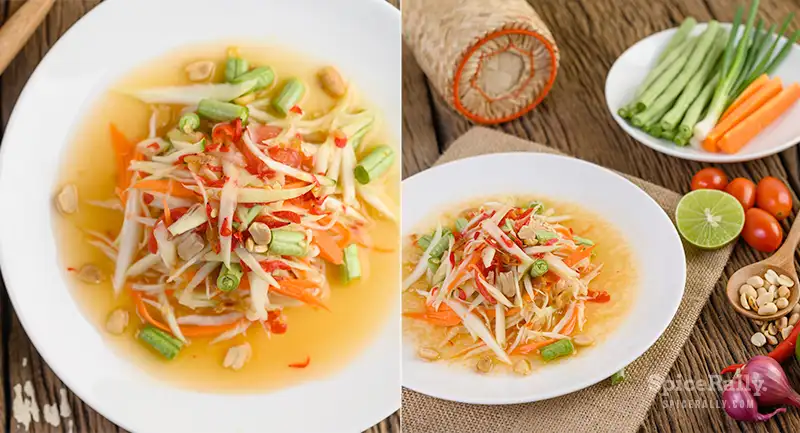 What Is In Som Tum?
Som Tum, also called Som Tam in Thailand, is a popular fresh salad served in almost every restaurant, street food stall, and hotel. "Som" literally translates to "sour" in English, while "Tum" or "Tam" means "pound in a mortar and pestle". 
This Thai salad combines unripened green papaya and a few other fresh vegetables mixed with a lot of Thai flavorings. It has the perfect balance of all the flavors and is very refreshing and exotic to the bite. 
Many different varieties of Som Tum can be found across Thailand. They use different ingredients in their recipes. But still, we are going to discuss the formalized set of ingredients used constantly in this salad.
Green papaya- You must choose a fine and mature green papaya to make this salad. It should be unripened without any specks of yellow color on the skin. The perfect green papaya brings the perfect texture and quality to this salad.
Fresh spices- Garlic and Thai red chiles. The amount of Thai red chiles is always dependent on the preference of the heat level.
Vegetables- Thai long beans (aka snake beans), small Thai tomatoes, or cherry tomatoes.
Seasonings- Fish sauce, grated palm sugar, fresh lime juice, and fresh tamarind juice.
Other ingredients- dried shrimp/ shrimp paste, dry-roasted peanuts.
Other possible additions– Regular green beans, julienned carrots, julienned cucumber, bean sprouts, spring onions toasted sunflower seeds, basil, cilantro, mint, apple cider vinegar, maple syrup, soy sauce, etc.
As refreshing as Som Tum, the Asian ramen salad is another salad dish that can tantalize your senses with its incredible flavor. We have posted a special recipe right in this article that you can try at home with minimal effort!
How To Make This Dish At Home?
Bring the goodness of a Thai restaurant to your home diner- make Som Tum at home! This fresh salad is bursting with flavors, so refreshing and healthy at the same time. However, before everything, check out the ingredients in our recipe and take a quick visit to the nearest Asian store. 
You need these essentials to make the perfect Som Tum that safeguards authentic Thai exotic flavors. So, let's get going!
What Other Types Of Nuts and Seeds We Can Use Instead Of Peanuts In Som Tum?
If you're not a fan of peanuts, you use other nuts and seeds in place of peanuts in your recipe such as toasted sunflower seeds, toasted pumpkin seeds, toasted almonds, toasted cashew nuts, toasted candlenuts and toasted macadamia nuts.
Is Som Tum Vegan-friendly?
Traditionally, this dish is not vegan-friendly since fish sauce and dried shrimp or shrimp paste are added. But, if you're making this salad at home, you can skip these ingredients and make your own vegan version of Som Tum.
Does This Dish Contain Gluten?
No direct gluten-related ingredient is used in Som Tum originally. But, this might sometimes change if you use soy sauce since most soy sauce options contain gluten. Therefore, if you eat this dish from outside, inquire about its content.
Is This Dish Keto-friendly?
Of course! Som Tum can be one of the healthiest additions to your ketogenic diet. It is very low in calories and carbs, making it the perfect inclusion in your healthy, low-carb diet plan.
Related Topics