Thai cuisine is a heaven full of flavors, often showcasing their unique cooking skills. Yum Pla Dook Fu is a dish they make with green mango and crispy fried fish. So, let's check what it is.
Traditionally, this dish is made with charcoal-grilled catfish. A delicious green mango salad always accompanies crispy fried fish. The key flavoring of the green mango salad is the flavorful dressing made with the perfect balance of flavors. This dish is either eaten alone or served with steamed rice.
Stay tuned for what we have to share with you as we also have a great Yum Pla Dook Fu recipe you can try at home!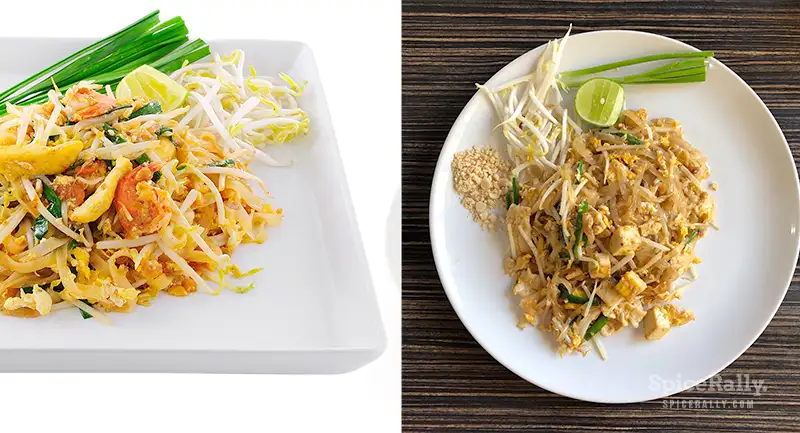 What Is In Yum Pla Dook Fu?
This is one of the most iconic Thai dishes popular as a "drinking food". This classic Thai dish is much loved by people outside Thailand mainly for its uniqueness and depth of flavor. 
"Yum" means "type of salad" in English, while "Pla Dook" is "catfish" and "Flu pr Floo" translates to "fluffy". Traditionally, the key ingredient of this dish is charcoal-grilled catfish, which you may find on every street across Thailand. You can fry the perfectly grilled fish until nicely golden, crispy, and fluffy. 
You should serve this fluffy fish with a green mango salad that is sour, tangy, spicy, salty, and sweet. The recipe does not evolve or vary much and usually uses the same ingredients. You can enjoy this dish either by itself or served alongside a bowl of steamed rice, making it a whole meal for lunch or dinner.
Fish- While the traditional use is catfish, some recipes also come together with types of fish like Tilapia, cod, or haddock. The fish is grilled or steamed and then pounded in a mortar and pestle with panko bread crumbs and oil. Then the pounded fish is fried in hot oil until crispy and fluffy.
Oil- You can use Vegetable oil or any other oil to facilitate the pounding of fish and frying the fish.
Green mango- A sour mango is the best salad choice. You can shred under-ripened mango using a knife or a julienne peeler.
Salad dressing- You can make this with garlic, Thai chiles, fish sauce, fresh lime juice, and palm sugar.
Salad- Besides green mango, this salad contains chopped cilantro, Chinese celery, and shallots.
Optional ingredients- Roasted peanuts, cashew nuts, salt, soy sauce, and spring onions.
How To Make Yum Pla Dook Fu At Home?
Sometimes you give up on making this dish just because you can't find catfish. But worry not, we will share a recipe you can make at home! Our version of Yum Pla Dook Fu will taste much better than what you ate out and is very healthy, and easy to make with a little effort. 
So, let's get into cooking!
Can We Make Yum Pla Dook Fu Ahead Of Time?
This dish is the best when prepared right before serving. But, you can steam your fish and prepare the vegetables for the salad in advance. Preparing the salad a little in advance is much better.
Can We Cook The Fish In The Air-fryer or Bake The Fish Before Frying Them?
You can pick your favorite way to cook your fish before frying them into crispy bits. But still, we recommend avoiding any method that creates a hard, crispy surface on your fish meat. The reason is, that these thick ends will depreciate the ability of your fish to get fluffy. Therefore, steaming fish is the most effective and easiest way to cook the fish.
Is Yum Pla Dook Fu Keto-friendly?
This classic Thai dish is an ideal addition to your ketogenic diet plan. Yum Pla Dook Fu contains low-carb and is perfect when enjoyed all by itself if you follow a strict meat plan.
Does Yum Pla Dook Fu Contain Gluten?
Our recipe is not gluten-free since we used soy sauce to season the fish. But skipping the soy sauce can make this recipe a gluten-free dish.
For more interesting dinner ideas from Thai cuisine, click on this link and refer to our comprehensive article!
Related Topics
This post may contain affiliate links. If you use these links and make a purchase, We may earn a small commission. However, there's no extra cost to you. Also, as an Amazon Associate, we earn from qualifying purchases. Thanks!