Thai dishes usually hold a profundity of flavors with many ingredients. But when it comes to salads, they try to keep it simple. So, here we bring about Yum Kai Dao, the famous crispy fried egg salad from Thai cuisine.
This is a special salad that uses fried eggs. These fried eggs are cut into bite-size pieces and incorporated with fresh vegetables, herbs, and a simple salad dressing. Yum Kai Dao is frequently served with steamed sticky rice in Thailand.
Read along and learn what we have to share about this wonderful and delicious Thai dish!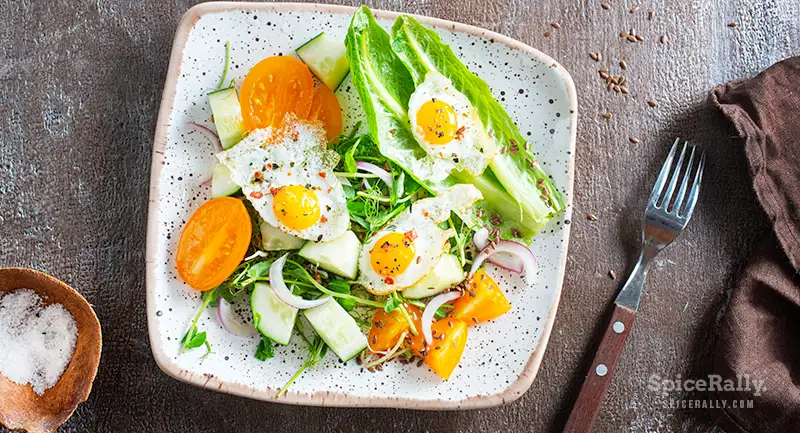 What Is In Yum Khai Dao?
While salads are an essential component of a Thai meal, this dish takes a special place for its exceptional preparation of eggs. "Yum" translates to "type of salad", while "Kai Dao" means "fried eggs" in the Thai language. 
This is one of the most simple salads in  Thailand and is served in almost every Thai restaurant. Shallow fried whole eggs are cut into bite-size pieces to be incorporated into this salad. The salad dressing is the most crucial flavoring component in the dish. 
This dressing contains all the bold ingredients featuring the perfect balance of flavors. In addition to the eggs and salad dressing, this salad includes a few fresh vegetables for freshness. Yum Kai Dao is usually enjoyed with traditional Thai sticky rice or steamed jasmine rice.
Eggs– Regular room-temperature eggs shallow-fried in a decent amount of oil. One at a time usually goes into the pan for better frying.
Salad dressing– Garlic, Thai red chiles, fish sauce, fresh lime juice, palm sugar
Vegetables– Chinese celery, tomatoes, onions
Optional ingredients– Uses chopped cilantro and peanuts in the salad and lemongrass in the dressing.
How to Make Yum Kai Dao At Home?
If you ever enjoyed this crispy fried egg salad in a Thai restaurant and wonder if you could make it on your own, here's a great place to start! We will teach you how to make this dish easily at home, using a few simple Thai essentials to get the authentic taste. Upgrade your lunch or dinner with Yum Kai Dao!
Can I Make Yum Kai Dao In Advance?
Well, you can partially make this salad in advance. This means- you can prepare the vegetables and make the salad dressing one day before you wish to make the salad. But we strongly recommend frying the eggs and assembling the ingredients for the salad right before serving to ensure the freshness and taste.
Is Yum Kai Dao Suitable For A Ketogenic Diet Plan?
Undoubtedly! This salad does not contain any high-carb ingredients so it is one of the best additions to your diet plan if you are following a low-carb or a ketogenic meal plan.
Does Yum Kai Dao Contain Gluten?
This salad does not typically contain any gluten-related ingredients. But things might be different if you add soy sauce since soy sauce may contain traces of gluten. Therefore, you should be careful about the content if you order this dish from outside.
If you're bored of making the same dinners over and over again, why don't you try something different? While Yum Kai Dao is great for dinner, there are many other Thai dishes you can try. Click here for more information!
Related Topics