Popularly known as "Prik-gaeng-ped" in Thailand, the red curry paste is versatile and has a flavorful base in many traditional Thai dishes. The red curry paste ingredients are jam-packed with a lot of flavors, and some of them are even exotic.
People in Thailand usually make their own pastes at home. But, Western cuisine is familiar with store-bought ones, and its ingredients could have slight variations from recipe to recipe. However, there is a set of essential spices used in the red curry paste such as:
Red chilies
White pepper
Cumin
Coriander
Garlic
Galangal
In addition to these spices, it may also include herbs like lemongrass and coriander root (cilantro root) and other ingredients like salt, shallots, kaffir lime peel, and shrimp paste. 
The rest of our feature will be unveiling a lot of facts about the Thai red curry paste ingredients, how this paste is incorporated in cooking, and many more. So, see what you have got to learn!
What Ingredients Are In Thai Red Curry Paste?
This delicious and zesty paste is a part and actually the base of many traditional Thai dishes. It is a staple in many of their kitchens that goes well with meat-based, seafood, fish, vegetable dishes, soups, stews, etc.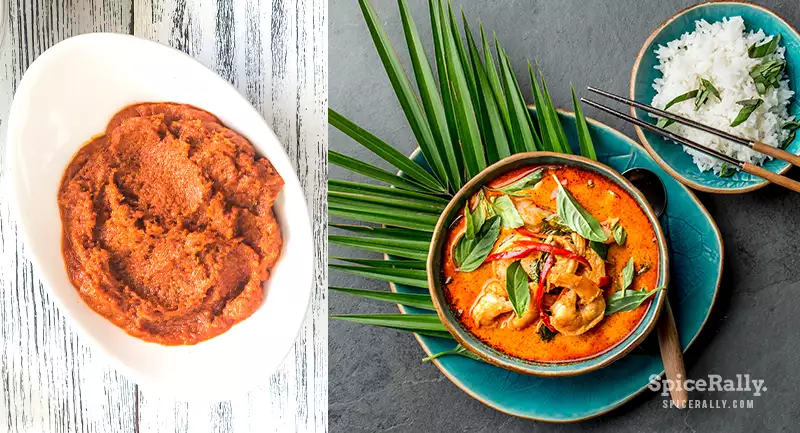 The base flavor and color of this relish are built up from the red chilies. Consequently, other spices, herbs, and flavorings are matched upon its taste. 
Moreover, it includes some ingredients such as galangal and coriander root, which are lesser-known to Western cuisine. But they are an integral part of Thai cooking.
Spices In Red Curry Paste
01- Red Chilies
Red chilies are one of the most significant red curry paste ingredients that provide its spiciness and color. Traditionally, Thai red chilies are used to get the desired flavor. However, homemade recipes integrate different types of hot red chilies in their recipes.
This spice packs a depth of flavor with hot, earthy, and fiery taste elements. It also gives a bright crimson hue to this paste. The level of spiciness depends on the type of chilies used. It can be either very hot or moderately hot.
02- White Pepper
White pepper is typically ground in this paste. This spice is less mild than black pepper and has a grassy, musty, and slightly fermented flavor note. It gives a unique peppery kick to the red curry paste, pairing well with many other ingredients used. 
White pepper gives a great flavor to many stir-fries, soups, and meat-based dishes when blended with the other ingredients in this paste.
What do you know about the difference between black pepper and white pepper? To discover everything you never knew about these two pepper varieties, just tap here and refer to our feature.
03- Cumin
We can see many red curry paste recipes containing ground cumin. And, this spice always gets a special place in authentic Thai cooking. Ground cumin brings a slightly sweet, warm, earthy, and nutty element to the mix.
Above all, it particularly gets along well with other ingredients in the mix, such as coriander, ginger, and red chilies.
04- Coriander
This is considered one of the signature red curry paste ingredients. Whole coriander seeds are ground and mixed along with white pepper and cumin. Coriander has the ability to impart its own distinctive mildly sweet, lemony, and fresh taste.
With these flavor elements, this spice can also neutralize the intense flavors released from other pungent ingredients. Coriander and cumin are perfect companions, so they also make a good team in this paste.
What would you use if you ever run out of red curry paste? Click here and refer to our feature as we will share with you the epic list of best red curry paste substitutes.
05- Garlic
Pungent, intense, and strongly flavored garlic bestows its unique flavor characteristics on the red curry paste pairing with all the other ingredients used. Fresh garlic cloves are often minced or ground with red chilies so that their flavor intensifies.
The addition of garlic to this paste makes it more versatile to be used in many meat-based, seafood dishes, and other curries that call for a deep and rich taste.
06- Galangal
Galangal is among the staple spices in Thai cuisine. This spice is very similar to ginger. Therefore sometimes, ginger is used in place of galangal in this paste. Nevertheless, galangal possesses a sharp citrusy, piney flavor, while ginger is more pungent, slightly sweet, and peppery. 
This spice gives an iconic taste to the paste making it more intensely flavorful to complement any profoundly savory dish such as meat and seafood.
Herbs Used in Red Curry Paste
01- Lemongrass
Lemongrass is another key ingredient used in this paste to bring out its striking flavor. It is highly aromatic and has a distinctive blend of lemon tart with the luster of mint. 
The woody stalks of lemongrass hold most of its flavor, and they are pounded with coriander roots to be included in the paste. Moreover, lemongrass pairs specifically well with galangal and red chili peppers and complements many coconut milk-based curries or dishes.
02- Coriander Root (Cilantro Root)
Even though the usage of this herb seems a bit alien to us, it is a flavorful addition in many Thai and Vietnamese recipes. And in Thailand, red curry paste is one of the main dishes made using this exotic herb.
Coriander root (cilantro root) is very aromatic, even more than its leaves. It has a slightly peppery and pungent taste with a unique earthy hint and citrusy and spicy undertones. This herb complements many stews, curries, and soups, mixed with galangal, lemongrass, cumin, coriander, and chili peppers.
The spices used in the Thai kitchen are an integral part of their regular cooking. So, if you need to learn all about their spice usage, click here and read our article on the top 11 spices that define Thai dishes.
Other Thai Red Curry Paste Ingredients
Apart from these spices and herbs, both the homemade and store-bought pastes would include other ingredients such as:
Salt
Shallots
Tomato paste/ketchup
Shrimp paste
Soy sauce
Soybean oil
Kaffir lemon peel
What Are The Uses Of Red Curry Paste In Cooking?
In their original recipes, many traditional Thai dishes call for Thai red curry paste as a key ingredient. In fact, this paste is the base flavoring in many of their platters. Accordingly, this will add a remarkable taste to:
Beef, chicken, prawn, fish, vegetable and other seafood and meat curries
Soups
Stews
Noodles
Rice bowls
Vinaigrettes
Sti-fries
Pickles
Is Thai Red Curry Paste Vegan?
This paste typically contains shrimp paste. Therefore, most of the time, it won't be vegan-friendly. But still, there are recipes over the internet that you can make your own vegan red curry paste without shrimp paste. In addition, you could also find some pre-packaged ones from the store under popular brands.
Did you know that Thai curry powder is way different from Thai red curry paste, although they come from the same cuisine? Click here for more information!
Is Thai Red Curry Paste Gluten-Free?
Generally, the traditional Thai red curry paste does not contain any gluten-related ingredients. But, if you are still concerned, read the list of ingredients to find yourself or inquire from the manufacturer.
People have asked me about the difference between Chinese food and Thai food. I tell them Chinese foods are more traditional like stir fry, but a lot of the Thai foods are hotter and spicier, cooked with curry.

Sandusit Butsr
Does "Thai Kitchen" Red Curry Paste Contain Msg?
When we went through the list of ingredients in "Thai Kitchen" Red Curry Paste we found out that this product ("Thai Kitchen" brand) does NOT use MSG.
But some commercially made or homemade recipes have a propensity to include MSG, so always check with the ingredients before buying or using.
The Profundity Of The Thai Red Curry Paste Is Second To None!
So, as you see, all the red curry paste ingredients come together and bring out an iconic flavor to many dishes. Common ingredients like cumin, coriander, garlic, red chilies, lemongrass, and shallots combine with exotics like galangal and coriander root to give its special punch.
So, what's your pick tonight- is it a Thai Chicken Red Curry or a Thai Red Curry Noodles? We would love to know what you make; leave us a comment below!
Related Topics