Delicious Thai foods always have their own way of enticing our taste buds with their wonderful spice and herb combination. So, here's an intro to the essential Thai herbs that define the verismo of  Thai dishes.
The most common herbs used in Thai cuisine are as follows:
Read along to learn how these aromatics turn Thai dishes into absolute delicacies!
The 11 Essential Thai Herbs In Thai Cuisine
Thai cuisine can be defined as one of the best cuisines in the world that never fails to mesmerize us with its incredible flavor combinations. In fact, they use some unique herbs to create the art of their cooking, mixing, matching, and integrating with other spices, vegetables, meat, fish, etc.
So, if you are intrigued in knowing about the common herbs used in Thai cuisine that make the food in this Land of Smiles so special, here's the list you waited for…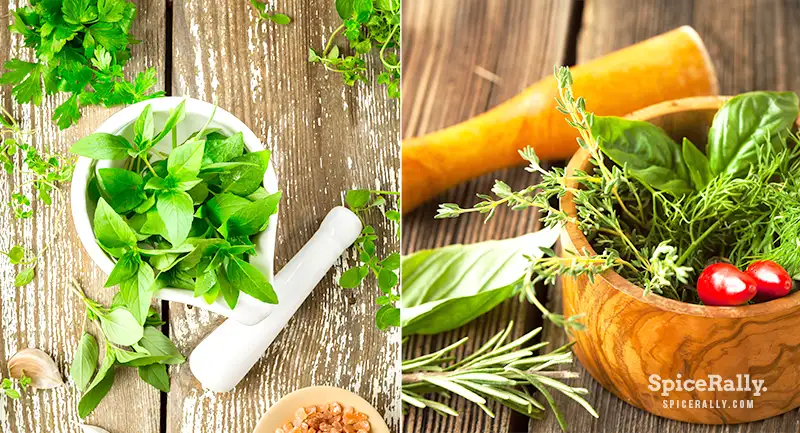 01- Thai Basil (Horapha- โหระพา)
Thai cuisine uses basil extensively in most of their dishes, and Thai basil or sweet basil is among the top of those varieties. It has a characteristic anise taste profile, and restaurants often serve fresh bunches of this ingredient with salads or noodle dishes. 
This herb is recognized as an aromatic that could release its best flavor and fragrance when cooked. You'll find Thai basil in famous Thai dishes like:
Spicy Thai Basil Chicken (Pad Krapow Gai)
Thai tofu
Thai Beef Rolls with Sweet Chili Sauce
Stir-Fried Clams with Thai Chili Jam and Basil
Laab
How about having your own Thai basil cultivation at home? Are you looking for a place to start? Click here as we have shared a comprehensive guide on how to grow Thai basil indoors and outdoors!
02- Holy Basil (Kaphrao- กะเพรา)
This variety of basil should not be confused with Thai basil or lemon basil. This herb has a distinctive aroma of clove and jagged-tipped leaves, and this is also sometimes recognized as "hairy basil."
Holy basil is often referred to as "hot basil" owing to its distinctive peppery, spicy flavor that essentially stands out from the rest of the basil types. It adds tons of flavor to richly-spiced dishes, especially made with meat, fish, and other seafood varieties. Here are some popular Thai dishes put together using this ingredient:
Pad Kra Pao (chicken stir-fry)
Kaprao moo (minced pork fried with basil)
Thai Basil Chicken Lettuce Wraps with Holy Basil
Thai Drunken Noodles
Thai Coconut Mussels
Herbs are always paired with a variety of spices to create the magical taste of Thai foods. Click on this link to discover the essential spices used in Thailand.
03- Lemon Basil (Maenglak- แมงลัก)
Even though lemon basil is less used than Thai basil or holy basil, still this herb is an essential ingredient in Thai foods. This has a notable herbal, tangy, and sweet flavor with touches of lemon mixed with anise. And this herb is extensively used in stews, stir-fried dishes, and curries.
This aromatic also features in certain rice dishes, vegetable dishes and adds a depth of herbal flavor with a twist to seafood dishes. Lemon basil is essential when making the authentic Thai dish  Khanom Jin Nam Ya and is also incorporated into vinaigrettes and pesto.
*All types of basil are paired with other ingredients, such as garlic, galangal, lemongrass, coconut milk, chicken, pork, shrimp, Thai chiles, kaffir lime, shallots, etc.
04- Lemongrass (Takhrai- ตะไคร้)
This indispensable ingredient features in almost every curry paste made in Thai cuisine. Starting from the authentic Thai red curry paste, lemongrass owns a remarkable place in every home in Thailand thanks to the unique pungency it lends as a herb. This has a lemony aroma with a hint of ginger and mild citrusy, right floral undertones.
The lower part of the stalk of the lemongrass is typically chopped or cut to be used in marinades, stews, soups, or stir-fries. It works as an added element in curries, poultry, fish, beef, and seafood dishes. It can even be incorporated into tea infusions. Here are some Thai dishes made with lemongrass as a primary ingredient:
Lemongrass Thai Chicken
Thai Lemongrass Tofu Red Curry
Tom Yum Gai (Spicy Lemongrass Soup)
Spicy Lemongrass Shrimp
Thai Lemongrass Rice
Did you know that lemongrass is a great herb to infuse with tea? Click on this and refer to our detailed article to discover more herbs that go well with tea.
05- Coriander Root (Rak phak chi- รากผักชี)
Featuring as another signature Thai herb, coriander root or cilantro root is another ingredient widely used in various dishes coming to our table from the Thai kitchen. And this is another staple in almost every Thai curry paste. Thai cooks often pound coriander root in a mortar and pestle along with chilis garlic and galangal to create the foundation of chili dips. 
This herb is also a super essential ingredient for forming the well-known marinade that distinguishes Thai grilled chicken. Thai cooks are famous for their resourcefulness. Therefore, the use of coriander root also depicts their fuss over food wastage. 
Coriander root tastes more intense and peppery than coriander seeds or leaves and has a powerful, lovely aroma. Moreover, finely chopped young roots can be used as a garnish for dips, salads, and soups. This herb is often paired with coriander seeds, cloves, garlic, galangal, chicken, beef, pork, fish, onion, etc.
06- Cilantro/ Coriander Leaves (Phak chi- ผักชี)
Thai cuisine is a place that takes optimal advantage of the whole coriander plant. Thus, they use coriander leaves or cilantro (as we all know it) hand in hand with the seeds and the root. This herb is often caught as a garnish with many Thai dishes, which is crucial for Tom yam soup. As heat reduces their flavor, coriander leaves are usually used raw or added to the dish right before serving.
In addition, this aromatic is also used to toss fresh salads, top curries, stews, rice, and noodle dishes. This is often teamed up with other ingredients like coriander seeds, parsley, ginger, garlic, galangal, cumin, etc.
07- Kaffir Lime Leaves (Bai ma guruut- ใบมะกรูด)
Kaffir lime leaves, also known as makrut lime leaves, is a leafy citrus herb iconic to Thai cooking. This is also another featured component in most Thai curry pastes used together with lemongrass and coriander root. 
This herb has a very characteristic peppery, slightly bitter, semi-sour flavor and aroma that is uncommon and challenging to imitate. And they have a bold citrusy smell similar to the scent of lime zest. But kaffir lime leaves are more delicate than regular lime leaves, so they are typically cooked with other spices and paired with a range of vegetables to help infuse their flavor.
These leaves are pounded to a pulp, finely sliced, or simmered with liquid to get their best flavor and fragrance. Apart from curry pastes, it also adds an unusual yet remarkable flavor note to broths, soups, braised dishes, syrups, and curries. Here's a list of famous Thai dishes with kaffir lime leaves:
Thai-inspired prawn salad with a spicy kaffir lime leaf and tamarind dressing
One-pot chicken, turmeric, and kaffir leaf rice
Thai chicken Panang curry
Thai Pork and Turkey Berry (Pea Eggplant) with Coconut Milk Curry Recipe
Lemongrass and kaffir lime noodle soup
Click on this link and refer to our comprehensive article to learn about some of the best traditional dishes ideal as delicious dinner preparations.
08- Culantro (Phak chi farang; Pak chee falang- ผักชีฝรั่ง)
Culantro, not to confuse it with cilantro, is another herb that could be often found in Northern Thai curries and spicy soups. It actually translates to "European coriander," probably because it was a herb that was brought from the Caribbean to Thailand by Europeans. 
This has a piquant aroma and a bitter, slightly soapy flavor similar to cilantro. But the aroma and flavor profiles are to be stronger than that of the cilantro. Most references say that the pungent element of culantro would be unpalatable on its own but can add a different, added flavor dimension to the overall taste of a particular dish.
In terms of Thai cooking, culantro leaves are usually chopped and incorporated with spring onions, shallots, mint, and cilantro to be added to salads. This herb is also sometimes used interchangeably with cilantro in dishes like Tom Yum soup. This also serves as a garnish, just like cilantro in various other soups, stews, curries, and rice dishes.
09- Pandan Leaves (Bai toey- ใบเดย)
Pandan leaves are extensively used in Southeast Asian cuisine, so it has also taken over a special place in Thai cooking. This is a very pleasingly aromatic herb with a number of health benefits and a delightful grassy-vanilla, coconut-like flavor. 
This is used in various sweet snacks and the famous Thai dish Kai ho bai Toei (deep-fried chicken wrapped in pandan leaves) and to stuff the barbecued fish. Pandan cake is another well-known delicacy in Thailand, and this herb is also incorporated with rice dishes, steeped with coconut milk-based curries as dried or fresh leaves.
Moreover, they are also tied in a cluster and simmered with the liquids and may also be braided into a basket which is utilized as a pot for cooking rice. Another way Thai cooks use pandan leaves is to flavor noodles and serve them with coconut milk and ice. The extract of the pulverized pandan leaves is used as a natural deep green food coloring and used to make a popular refreshing Thai Pandan Drink.  
10- Mint (Sa-ra-nàeh- สะระแหน่)
Mint is another essential Thai herb, although it is not used as much as basil, lemongrass, or kaffir lime leaves. This herb is used generously in Thai cooking since its fresh flavor invigorates salads, seafood, soups, sauces, and even beverages.
Fresh mint leaves have a more robust flavor and aroma than dried ones, and they leave a lingering cooling, refreshing, bright herbal undertone with a distinctive sweet fragrance. You'll find marsh mint, spearmint, and peppermint in most Thai dishes, mainly used as a cooking ingredient and a garnish.
This herb is often paired with basil, lime, kaffir lime leaves, lemongrass, dill, galangal, cucumber, potatoes, chicken, beef, etc. It also serves as an assertive herb that counteracts the powerful spiciness and strong odors of richly-spiced meat or seafood dishes. Here are some of the Thai dishes made with this aromatic:
Thai Chicken Stir-fry with Basil & Mint
Thai Stir-Fried Pork With Lime and Mint
Spicy Thai Noodles with Pork and Mint
Larb Gai (Spicy Thai Minced Chicken Salad)
Cucumber Mint Salad with Thai Dressing
11- Dill Leaves (Phak chi Lao; Pak chee Lao- ผักชีลาว)
Fresh dill leaves or dill weed is used primarily in certain soups and in curries from North-eastern Thailand, made with or without coconut milk. This strong-flavored, slightly anise-tasting herb is also used while steaming fish dishes and soups like Gaeng Om Gai (Thai herb soup). This is also generally used for pickling and can be used conservatively in salads since it holds quite a robust flavor.
In addition to these dishes, this herb is also used with egg dishes like omelets and is incorporated into certain stir-fries, meat, and seafood dishes. Here's a list of Thai dishes with dill that might interest you:
Creamy Chicken and Dill Curry
Thai Larb
Yui Miles
Brothy Thai Curry With Silken Tofu and Herbs
Yum Chee (Fresh Herb Salad)
Thai Herbs Are The Absolute Indulgence Of Iconic Thai Dishes!
Wonderfully aromatic and pleasantly flavorful Thai basil, lemongrass, cilantro, culantro, coriander roots, kaffir lime leaves, etc., are a real blessing to bring out and create the magic of Thai dishes. They combine with other ingredients like spices, vegetables, grains, meat, and seafood to make Thai cooking a vogue among international cuisines.
Related Topics