Thai cuisine is undoubtedly an exciting place when it comes to the mixing and matching of ingredients. Laab Gai is an authentic Thai dish, known for its brimming flavors and nutritional value.
Laab Gai is a simple yet delicious salad made with chicken. It comes together very easily, with only a few ingredients. But these ingredients are mostly Thai essentials, which you must find before making this dish. They are the crucial elements that define this dish, giving it an exotic identity.
So, let's dig into the rest of this article and find out why this dish is so flavorful and how to make it easily at home.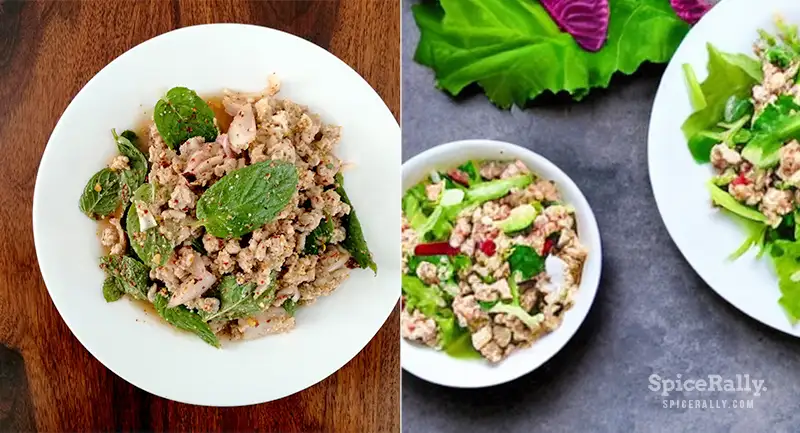 What Is In Laab Gai?
Laab Gai, also known as Larb Gai, is one of the most popular salads in northeast Thailand. This dish boasts many health benefits, making it a favorable dish for all those who prefer a low-carb diet. 
This dish uses ground/minced chicken as the main ingredient. You can use fish sauce to flavor the meat. And then, you can incorporate it with lots of fresh herbs like spring onions, sawtooth coriander, cilantro, and especially mint. 
Iconic ingredients like toasted glutinous rice powder and toasted chile flakes define the identity of this dish. They offer so much profundity and depth of flavor to this dish, making it exotically Thai-flavored.
How To Make Laab Gai At Home?
Before starting off with the recipe, we must remind you a few things. 
Number one: You must regularly visit the nearest Asian store. You may need to grab those few important Laab Gai essentials to make this dish most authentically. You can use a few possible substitutes too. But, some ingredients require their place in the recipe since they are irreplaceable with alternatives! 
Number two: You must carefully read our preparation instructions and follow them to have the tastiest Laab ever. If not, you'll make just a chicken salad which you might not feel the real difference. 
So, let's get into making your Laab salad!
Can We Use Minced Pork Instead Of Chicken In This Dish?
Pork is the next most common type of meat used in Laab dishes. While "gai" literally translates to chicken in the Thai language, pork Laab is called "Laab Moo". Minced pork can be incorporated into this dish like chicken but with slight changes made when cooking the meat.
Is Laab Gai Healthy?
Out of the most popular dishes in Thai cuisine, Laab Gai has a higher nutritional value. This is mainly because this recipe uses no oil, making it a healthy option for those who prefer a low-carb, low-calorie diet. 

Moreover, the chicken is either cooked in water or chicken stock and then incorporated with a lot of fresh herbs, elevating the nutritional value of this dish. Therefore, Laab Gai has been a top-tier choice for many people who prefer eating healthy.
Does Laab Gai Contain Gluten?
Laab gai does not usually contain any direct gluten-related ingredients. But, the chicken stock you use to cook the chicken may sometimes contain traces of gluten. 

Thus, if you need to make this dish completely gluten-free, we recommend using homemade chicken stock or cooking your chicken with water instead of chicken stock.
Is Laab Gai Keto-friendly?
A huge YES to this question! Laab Gai is one of the best dishes you can include in your meals if you're following a low-carb or ketogenic diet plan. Including vegetables with this salad can upgrade the nutritional value of this dish.
Thai cuisine has many other interesting dishes which are ideal for dinner. Need to check them out? Click on this link and refer to our comprehensive article!
Related Topics
This post may contain affiliate links. If you use these links and make a purchase, We may earn a small commission. However, there's no extra cost to you. Also, as an Amazon Associate, we earn from qualifying purchases. Thanks!