If you need to enjoy stir-fried noodles, which are well-balanced in flavor, we assure you that Pad Thai would be your best bet. So, here's a complete guide to Pad Thai and its ingredients.
Pad Thai is one of the most famous street foods in Thailand, known for its perfectly-poised flavors. A traditional dish of Pad Thai typically comes together with ingredients such as:
Garlic
Garlic chives
Red chili flakes
Noodles
Pad Thai sauce
Proteins (including meat, seafood, and eggs)
Shallots
Preserved daikon radish
Roasted peanuts
Mung bean sprouts
Toppings
Keep reading as we will be elaborating on each of these ingredients, taking you on a little journey through this well-loved Thai delicacy!
Jump to Recipe
What Is Pad Thai- A Peek Into Its Origin And History
As we all know, Thailand is well-known for its noodle-eating culture. And therefore, Pad Thai is amongst their most delicious and most popular noodle dishes that owns a great historical background,
Pad Thai was actually born in the early 1930s in the era of an ancient Thai dictator named Phibun. The original name of this dish was "Guay Teow Pad Thai," ironically having Chinese origins. The word  "Guay Teow" is a Chinese term for rice noodles, while "Pad" means fried and "Thai" implies "in Thai style".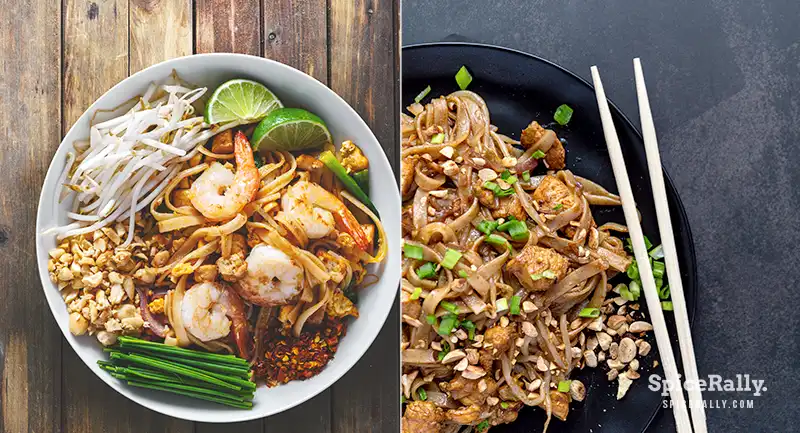 Pad Thai was actually introduced to empower the country's rice resources since the dish itself is hefty on rice noodles. This food gained immense popularity all over the nation while it was heavily promoted throughout the country with the military campaign slogan "noodle is your lunch". 
The sources claim that Thai locals and restaurants were offered the Pad Thai recipe along with free food carts to sell Pad Thai in the streets back then. These actions gradually restricted foreign nationals from selling their wares.
Pad Thai And Its Ingredients
As mentioned previously, Pad Thai is a dish that perfectly balances out all the flavors: sweet, sour, salty, spicy, and umami. Typically Thai dishes call for a number of ingredients, and so does our topic leader. Pad Thai is not heavy on heat or spices, yet it has a profundity of flavor with all the added potent ingredients. 
The recipe and way of making this dish could have slight variations. But basically, a set of non-negotiable ingredients make Pad Thai a Pad Thai. This has now become a popular dish among Westerners who love to enjoy some real, less overwhelming Asian food. So, let's dive into the main ingredients that define this dish.
Spices And Herbs In Pad Thai
Garlic- The addition of garlic is essential in Pad Thai for its distinctive flavor and aroma. Most of the time, garlic is used in the initial stage of making this dish, while sometimes, it is also used in making the Pad Thai sauce.
Red Chili Flakes- Although this ingredient is not widely used when it comes to Western variants of Pad Thai, red chili flakes feature in most authentic recipes. It is either added to the stir-fry or to the sauce to get a lovely kick of heat and color.
Garlic chives- This herb is more like a cross between garlic and onion. The green stalks are often cut and incorporated into the stir fry with mung bean sprouts or used as a topping. When we come to Western cuisine, we see that garlic chives have been replaced by scallion or spring onions.
Other Pad Thai Ingredients
01- Pad Thai Sauce
As aforementioned, Pad Thai sauce is the real tastemaker of this dish. Therefore, most people who try to come up with authentic Pad Thai attempt to get this sauce on point. While most people make this sauce as one initial step in making this overall dish, some use store-bought options.
The Pad Thai sauce basically calls for three primary flavors: sweet, sour, and salty. Consequently, this sauce usually comes together with the following classic key ingredients:
Palm sugar
Fish sauce
Tamarind paste/ concentrate
Some pad thai sauce even includes:
Garlic
Shallots
Lime juice
Lemon juice
Red chili flakes
Paprika
And those who make vegan Pad Thai usually substitute fish sauce with soy sauce.
Click on this link and refer to this article if you need more information on the Pad Thai sauce.
02- Noodles
A non-sticky, thick and broad rice noodle type is traditionally used in this dish. You can easily buy this noodle type which is often sold labeled as "Pad Thai Noodles" or "Stir-fry noodles" from supermarkets, Asian stores, or online shopping sites. 
However, some recipes also include regular rice noodles. The most important point here is to use a non-sticky noodle type which goes well with the stir-frying process.
03- Proteins (Including Meat, Seafood, And Eggs)
Pad Thai is usually hefty on proteins. Shrimp is the traditional animal protein addition, followed by eggs, dried shrimp, and firm tofu. You may also find variations with other types of meat like chicken, pork, and beef.
04- Shallots
Shallots are used in the initial stage of this stir-fry. It is often sauteed with garlic to boost the umami flavor and give a lovely fragrance to Pad Thai. Sometimes, red onions are also used in place of shallots.
05- Preserved Daikon Radish
We find this addition in many authentic Pad Thai versions, but some tend to skip this ingredient when it comes to Western cuisine since it could be hard to find around the local stores. However, preserved daikon radish gives this dish a crunchy, slightly spicy, bitter-sweet kick.
06- Roasted Peanuts
Unsalted, roasted peanuts are another key ingredient used in Pad Thai to accentuate its uniqueness. Crushed peanuts are either added to the noodles while stir-frying or used as a topping.
Did you know that Thai pepper steak can be made in two main delicious ways and both require only a few simple ingredients? If you're interested in learning more about this dish, click here and read our comprehensive article.
07- Mung Bean Sprouts
This ingredient is widely used in Southeast Asian cooking and is mainly added to Pad Thai to counterbalance the heaviness of the dish with a distinctive crunchiness. Mung bean sprouts are often added with garlic chives at the final end of stir-frying. This ingredient is also sometimes used as a topping.
08- Toppings
Toppings can always depend on the preference. But most often, a bowl of Pad Thai is topped and garnished with roasted peanuts, garlic chives, mung bean sprouts, a lime wedge, and red chili flakes. When it comes to Western cuisine, cooks tend to substitute garlic chives with scallions or spring onions and mung bean sprouts with julienned carrots.
Pad Thai Spice Level
Pad Thai is not typically heavy on spices. It is generally flavored with Pad Thai sauce. But garlic features as a key spice, while occasionally red chili flakes and pepper are featured in some recipes. Therefore, this dish can be considered moderately spicy. 
So, since the spice level of this dish can vary depending on the chef, you can always inquire and make requests on how your dish wants to be when you order Pad Thai from a restaurant. Because sometimes, authentic Thai restaurants could use more spices than you expected, so it could be slightly overwhelming on your tongue. 
However, if you make this at home, you can always adjust the spiciness according to your preference.
Did you know that garlic and red chiles are also integral ingredients when making Thai Drunken Noodles? Follow up on this link and refer to this detailed post on Thai Drunken Noodles to learn more!
Does Pad Thai Contain MSG?
Generally, MSG is not an ingredient in Pad Thai. But sometimes, restaurants might use this ingredient for taste enhancement purposes. Moreover, if you buy the Pad Thai sauce from the store, it also could contain MSG. So, if you are concerned, it is better to find out from the relevant parties.
Is Pad Thai Vegan-Friendly?
Traditionally, Pad Thai is not vegan-friendly since animal proteins are used on many occasions during the process of this dish. However, vegan variants do exist, and you can try one of them if you are following a vegan diet.
Does Pad Thai Contain Gluten?
Many types of sauces are used when making Pad Thai, and those sauces could contain traces of gluten. Therefore authentic Pad Thai will not be a favorable choice for those who are sensitive to gluten. However, you may find some gluten-free Pad Thai variants that aren't authentic.
Is Pad Thai Keto-Friendly?
Pad Thai is not a keto-friendly food since it contains high amounts of carbs due to its bulk of noodles.
Warning- Pad Thai Could Be Highly Addictive!
The incredible balance of flavors that satisfy each taste bud is the real magic Pad Thai possesses. Spicy, salty, sweet, savory, sour, and umami flavors are just wonderfully layered in this dish, incorporated with the noodles, shrimp, tofu, vegetables, and proteins used. A delicious Pad Thai depends on its preparation. So, once you get the preparation on point, you will savor the best Pad Thai on earth!
Related Topics