Thai food is readily mingled with the assorted ingredients, combined spices, and offbeat herbs needed to congregate a single dish. These spices are renowned around the world to season diverse meals, and their flavorful traits take everyone's plate to the next degree of delicacy. They add a pungent zing to the foods together with their nutritional value.
Thai spices are the fundamental ingredients used in Thai cuisine to add fragrance, flavor, and healthy importance to their dishes. Among these spices
are employed as traditional Thai flavorings.
These seasoning agents are used by people all over the world thanks to their unique tastes and therapeutic aspects. Thus, you will get to know about all the essential spices that are used in the Thai kitchen throughout this featured post. Learn how you could incorporate them on your plate too.
Thai Spices – The Alchemist Of The Thai Cuisine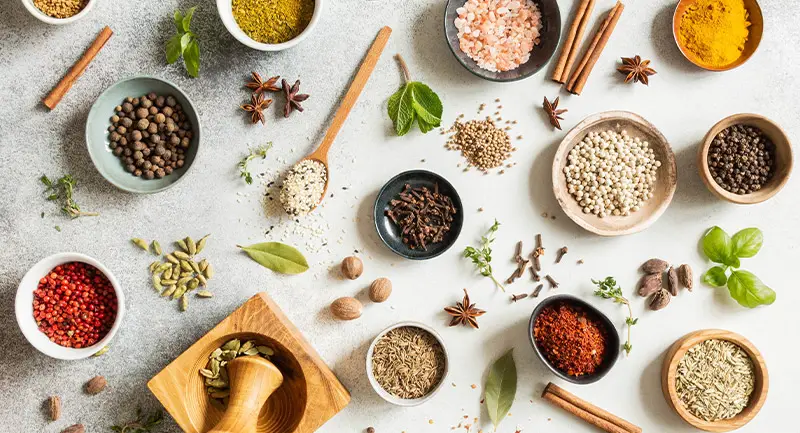 Thailanders use these Thai spices in most of their traditional curries, soups, and miscellaneous recipes. We most frequently notice the use of pastes and condiments in a lot of their food items.
And, these spices that we are listing below are utilized to make most of those pastes and condiments. Thai Red Curry Paste, Thai Green Curry Paste, Thai Yellow Curry Paste are very popular among their traditional pastes.
The spices that we are going to elaborate on in this section are the mainly used key traditional Thai spices, which are included in numerous tasty foods prepared in their kitchens. The taste of each spice varies from one another and gives the optimal taste making each dish unique and delectable.
01 – Galangal (K̄h̀ā – ข่า)

Galangal is very similar to ginger. It is also identified as Thai Ginger or Siamese Ginger. However, the flavor of this spice is more intense, more seasoned, and somewhat spicier than ginger.
Galangal also resembles turmeric in appearance. Tom Kha Gai Soup (วิธีทำ ต้มข่าไก่) is one of the authentic soups made in Thailand using galangal. The health benefits of this spice are as follows:
Rich source of antioxidants.
Possible protection against certain cancers like breast cancer, bile duct cancer, skin and liver cancers.
Boosts male fertility.
Potentially fight pain and inflammation.
Did you know that galangal is a key ingredient when making Thai red curry paste? We are ready to enlighten you with all the other ingredients used in this traditional Thai paste. Click here for more information.
02 – Turmeric (K̄hmîn – ขมิ้น)

Thai people hardly miss a pinch of turmeric in their traditional dishes! Turmeric is indeed a very aromatic, colorful, and flavorful spice that comes in a dry, powdered form or is used raw.
It has a pleasant earthy odor, and raw turmeric has a hint of bitter and spicy taste. Turmeric Chicken Soup (ไก่ต้มขมิ้น), Vegan Turmeric Thai Curry, and, Southern Thai Minced Chicken With Turmeric (Kua Gling) are famous dishes made in the Thai cuisine using turmeric as a key ingredient. The medicinal benefits of this spice are as follows:
Works as an antidepressant.
Help to fight inflammation and keep the blood sugar levels in control.
Highly immunity-boosting and fight against viral infections.
It aids in lowering LDL (bad) cholesterol levels.
Eases joint pains and arthritis.
Potential protection against cancer.
It helps in reducing acne and pimples.
03 – Ginger (K̄hing – ขิง)

Just like galangal, ginger is another spice that you will see at a Thai kitchen any time of the day. It has a mild fragrant and a robust spicy flavor which can be very appetizing, especially when incorporated with tea. Its mushy root is either chopped into tiny pieces, or its juice is extracted to be added to diverse dishes.
Ginger is mainly used raw, but it can be added into food as a dried powder or a paste. Ginger Chicken Stir-Fry (Gai Pad King- ไก่ผัดขิง) is the most famous dish made in the Thai cuisine using ginger.
The health benefits of ginger are:
Relieves pain such as menstrual and arthritis pains.
Improves blood sugar regulation.
Reduces nausea.
Helps to lower cholesterol.
Aids in relieving an upset stomach.
Fights against viral infections like flu and cold.
04 – Garlic (Kratheīym – กระเทียม)

Factually speaking, most savory Thai foods are sort of empty without a dash of garlic. In fact, garlic and Thai dishes have a strong connection with one another. Garlic Pepper Pork (หมูทอดกระเทียมพริกไทย), and Garlic Pepper Chicken (ไก่ผัดกระเทียม -gai pad gratiem), are popular dishes made in the Thai cuisine using this spice.
Garlic is used crushed, chopped, pasted, dried, and even eaten as raw-whole with high-fat foods like steak. It usually has a strong odor( which is not so pleasant) and has a spicy, sharp flavor.
Medicinal values of garlic are as follows:
Works as a powerful antibiotic.
Helps to protect the heart.
Decreases high cholesterol levels and high blood pressure.
It helps to fight against prostate cancer.
Relieves alcohol-induced liver injury.
Aids in fighting against common colds.
Helps in reducing hip osteoarthritis.
Potentially aids in fighting against brain cancer.
Since you learned how garlic helps in flavoring many Thai dishes, you may like to know the difference between powdered garlic and granulated garlic. Click here for a complete guide.
05 – Lemongrass (Takhịr̂ – ตะไคร้)

Thailanders use lemongrass to flavor soups, marinades, curry pastes, broths, and even in certain meat dishes and stir-fries. They usually use their stalks crushed, minced, or chopped into tiny pieces. Lemongrass has a pleasing, citrusy sweet-smelling scent. It has a mild citrus flavor which also has a hint of a minty zing.
Lemongrass Thai Chicken, Tom Yum Gai (Spicy Lemongrass Soup), Thai Lemongrass Curry are some of the well-known dishes made using this spice.
Lemongrass helps in relieving the following health conditions:
Vomiting.
Stomach and intestinal cramps.
Yeast infection in the mouth.
Rheumatoid arthritis.
High cholesterol.
Cough.
High blood pressure.
Headache.
Common cold.
Diabetes.
Sleeplessness.
Anxiety.
06 – Coriander (P̄hạkchī –  ผักชี)

The tiny coriander seeds and coriander roots do wonders with Thai dishes. They have a robust and intense essence and have a light aroma. Coriander has the ability to make curries, curry pastes, soups, and sauces more delightful. And, coriander leaves are combined with meals as garnishing, while its stalks are the chief ingredient in many Thai soups.
Did you know that coriander leaves and coriander roots are also essential culinary ingredients in Thailand? Click on this link and learn some interesting facts about the herbs used extensively in Thai cooking.
Most of the time, Thai people use all of the coriander plant- the seeds, stems, and coriander leaves for flavoring. Thai Spicy Coriander Chicken, Thai Coconut Broccoli and Coriander Soup, Coconut Chicken Curry With Coriander Pesto are some authentic Thai dishes prepared with this fragrant spice.
Coriander can give these health benefits other than its rich aroma and flavor:
Lowers cholesterol levels.
Eases diarrhea.
Provides potential help to regulate blood pressure.
Helps in healing ulcers.
It can aid in relieving skin disorders.
Reduces Skin inflammation.
Boosts digestion.
07 – Green Peppercorns (Phrik thai on – พริกไทยอ่อน)

Fresh green peppercorns are used primarily on soups and meat-based spicy stir-fries in Thai cuisine. In Thailand, you can discover fresh green peppercorns every day in wet markets and traditional Thai restaurants. They are very pungent, fresh-tasting, and own a gentle tang of black pepper. Green peppercorns have their own position in Thai kitchens. Dishes like Klue Gling, Phad Cha, Phad Ped, and Green Curry are made using this spice. It has the following health benefits:
Helps indigestion.
Rich in antioxidants.
Abundant in fiber.
08 – Cinnamon (Xbchey – อบเชย)

This sweet-woody flavored spice is a chief staple in Thai cooking. Cinnamon becomes a seasoning hero in both sweet and savory foods, particularly when it is grounded into a fine powder.
It brings a complex taste to most curries. And Thai people use Cassia Cinnamon, also known as Chinese Cinnamon, more than Ceylon Cinnamon.
Thai Noodles With Cinnamon and Prawns, Pa-loe Soup, and Braised Beef Stew are traditional Thai dishes that include cinnamon. This spice has a spicy and fresh scent which is very tempting when having food.
Medicinal properties of cinnamon include:
It has antimicrobial action.
Boosts the brain's ability to use glucose.
Contains antioxidant properties.
Provides potential help with reducing heart diseases.
Has anti-inflammatory features.
Fights against certain types of cancer.
Regulates blood pressure.
Aids in weight loss.
Need insights into Cinnamon? If so, we have a detailed post, here, about everything you want to know.
09 – Dried Chilies (Phrik h̄æ̂ng – พริกแห้ง)

The sun-dried chilies are a versatile element in spicy Thai dishes. They are primarily employed in their pastes. Basically, the whole chilis are steeped, and the seeds are extracted to avoid overdoing the warmth.
Without the seeds, the chilis are crushed along with other spices to provide an amazing zest and tone. They are indeed very spicy and earthy in taste and have a very neutral fragrance.
Thai Red Curry Paste, Man Prik Pao ( Thai Chili Paste), Blanched Neem With Grilled Shrimp (Goong Pow Sadow Lou-ug) are a few among the many authentic Thai dishes assembled using dried-chilies. This spice can aid in pain relief and Boost weight loss.
10 – Cloves (Kānphlū – กานพลู)
Cloves are pungent little pods which is another common spice used in most Thai curries and some soups. They are most often noticed in southern Thai recipes as they derived much of the culinary culture from Middle Eastern and Indian cuisine.
They have a complex spicy-sweet taste and smell amazingly intense. Massaman Curry is the most popular dish among Thai recipes that utilize cloves as a key ingredient.
Moreover, this spice is used in dishes like Thai Red Chicken Curry, Authentic Thai Panang Curry Paste, and Pad Thai Noodles. Cloves have added health benefits like:
It prevents tooth decay, bad breath and relieves toothache (Especially clove oil).
Boosts gastrointestinal health.
Aids in blood sugar regulation.
It helps in protecting the liver.
11 – Cumin Seeds (Mel̆d yī̀h̄r̀ā – เมล็ดยี่หร่า)

Cumin is among one of the most flavorsome spices found in the world. It has a distinguished taste and a pleasant aroma that undoubtedly increases the appetite. In Thai cuisine, cumin seeds are used in seasoning most of their curries, pastes, and other dishes.
Most of the time, they use it roasted and crushed. It has subtle warming, nutty, sweet taste with a fresh, robust aroma. It is used essentially in classic Thai dishes and pastes like Prig Gang Mungsavirat, Satay, Prig Gang Massaman, and Prig Gang Kiew Wan. Some common medicinal properties of cumin among the many are:
Has antioxidants. 
Supports weight loss. 
Contains anti-cancer qualities. 
It May help treat diarrhea. 
Supports controlling blood sugar. 
It possesses an anti-inflammatory effect. 
Potentially helps in lowering cholesterol.
List of General Thai Spices With English Terms And Translations
The spices listed in the table below are frequently used in many dishes they make. The following list describes the spices in Thai translation, Thai name itself, and in English terms for your convenience.
Fresh Thai Spices
| | |
| --- | --- |
| English Term | Thai Name |
| Galangal | Kha – ข่า |
| Turmeric | Khamin – ขมิ้น |
| Ginger | Khing – ขิง |
| Garlic | Kratheīym – กระเทียม |
| Lemongrass | Takhịr̂ – ตะไคร้ |
| Coriander root | Rakphak chi – รากผักชี |
| Green peppercorns | Phrik thai on – พริกไทยอ่อน |
| Thai Basil | Kaphrao – กะเพรา |
| Kaempferia | Krachai – กระชาย |
| Chilli spur pepper | Phrik chifa – พริกชี้ฟ้า |
| Bird's eye chilli | Phrik khi nu – พริกขี้หนู |
| Garden mouse dropping chili | Phrik khi nu suan – พริกขี้หนูสวน |
| Wax pepper (sweet pepper, bell) | Phrik yuak; phrik wan – พริกหยวก; พริกหวาน |
Fresh Thai Spices List – SpiceRally
Did you know that Pad Thai is one of the most popular dishes in Thailand? Click on this link and see this post, as we have shared everything you need to know about this delicious noodles stir-fry.
Dried Thai Spices
| | |
| --- | --- |
| English Term | Thai Name |
| Coriander | P̄hạkchī – ผักชี |
| Cloves | Kanphlu – กานพลู |
| Nutmeg | Luk chan thet – ลูกจันทน์เทศ |
| Cinnamon | Xbchey – อบเชย |
| Dried chilies | Phrik haeng – พริกแห้ง |
| Black pepper | Phrik thai dam – พริกไทยดำ |
| White pepper | Phrikthịy k̄hāw – พริกไทยขาว |
| Fennel seeds | |
| Cumin seeds | Mel̆d yī̀h̄r̀ā – เมล็ดยี่หร่า |
| Long pepper | Dipli – ดีปลี |
| Bombax ceiba Cotton tree flowers | Dok ngio, dok ngiao – ดอกงิ้ว, ดอกเงี้ยว |
| Sesame seed | Nga – งา |
| Cassia cinnamon | Opchoei – อบเชย |
| Cayenne pepper | Phrik pon – พริกป่น |
Dried Thai spices List – SpiceRally
Did you know that Pad Thai is one of the most popular dishes in Thailand? Click on this link and see this post, as we have shared everything you need to know about this delicious noodles stir-fry.
What Are The Traditional Thai Spices?
The traditional Thai spices have well-respected antiquity in Thai cuisine for making their dishes authentic and unparalleled in flavor and fragrance. Accordingly, seasonings like Galanga, Garlic, Ginger, Green peppercorns, Thai basil, Lemongrass, and Bird's eye chili are known to be included in classic recipes of Thailand. In fact, we can taste hints of these spices in most of their food items that have a great history of their cooking.

What Are The 7 Thai Spices?
The Thai 7 Spice is a combination of seven intensely flavored and traditional aromatic spices used in Thai food. It contains:
Chili – It adds the perfect spicy solid and heaty sensation to the mix.
Cumin – Distinctively aromatic cumin seeds counterbalance the blend of the spices with their nutty and sweet zing.
Garlic – Garlic is a winner to the Thai 7 Spice Mix as it has a delectable flavor and pungent odor.
Ginger – It gives the perfect zest to the seasoning mix with its unique and rich taste and mild aroma.
Pepper – When pepper is incorporated with other spices in this mixture, especially with chili, it takes the dishes to the next level of taste.
Cloves – It highly contributes to the Thai 7 Spice Mix with its powerful aroma and intense heaty-sweet flavor.
Star anise – The sweet-licorice-peppery tang of star anise is what regulates the perfect spicy texture of this blend.
The 7 Thai Spice Mix can be homemade and also be readily purchased from local stores in Thailand. This can be used as a seasoning agent in meats, sprinkled over soups, hot potato wedges, and popcorn.
However, the spices mentioned above are used in the classic seven-spice mix. And recently, people tend to come up with their own ingredients when preparing this seasoning blend. They use slightly different spices like paprika, turmeric, and ground cinnamon in their recipes. You can easily find plenty of them once you scroll through your browser!
The 7 Thai spices show the wonders of seven spices together. This is a spice blend, and how does it differ from a seasoning? If you are curious to know, click right here as we have a complete article on the difference between spice and seasoning.
Our Final Spice-Up
Spices are absolute charmers in the kitchen. They can spontaneously turn and twist the flavor and aroma of an entire dish in no time. In fact, Thai foods are admittedly abundant in their traditional spices, which has made their culinary heritage exclusively famous all around the world.
As you see, the 11 conventional Thai spices that we have discussed in this article have discrete flavors and captivating fragrances that could add true richness to the food.
Thus, we hope you are enlightened by the information on Thai spices provided through our post. And, make sure you include some of these seasonings in your next recipe!