When the sun is out and summer starts hitting the corners, we all need great backyard barbeque parties. In that case, we wish to share a great Thai dish, Gai Yang- the ultimate grilled chicken!
Gai Yang is probably the most basic grilled chicken made across Thailand. It is a simple recipe, where juicy parts of chicken are seasoned in a flavorful marinade and then grilled. The marinade is what makes this dish iconic in flavor. It usually contains exotic Thai flavors like lemongrass, fish sauce, and soy sauce.
So, let's learn about this delicious grilled chicken dish and how to make it at home easily.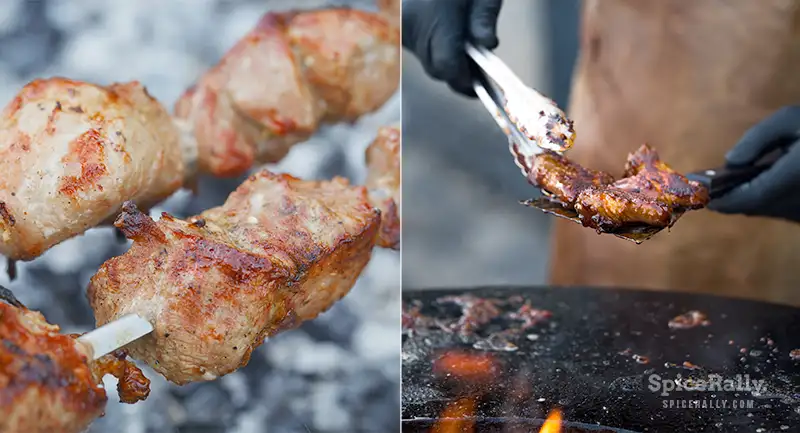 What Is In Gai Yang?
Gai Yang is a popular variety of grilled chicken especially made across northern Thailand during summer. The special marinade made to season the chicken sets this dish apart from regular barbeque chicken. 
The marinade contains Thai pantry essentials like lemongrass, fish sauce and sometimes cilantro roots to give it a more authentic touch. This is also one of the most flavorful Thai recipes you can try with little effort and a few ingredients. 
Using a decent amount of fresh garlic gives this dish a signature aromatic character. The marinade is pretty versatile and you have the ability to add or omit the ingredients depending on your personal preference. So, let's look at the ingredients used in this dish.
Chicken– This dish mostly requires, bone-in and skin-on chicken parts like legs, thighs, and breasts.
Sauces- Fish sauce is the key sauce in this dish. In addition, soy sauce teams up with other ingredients.
Herbs and spices- Lemongrass and garlic are the other key flavorings. Also, you can use black or white peppercorns, coriander seeds, roasted chile flakes, and cilantro roots.
Other ingredients– Lime juice, palm sugar, and oil
Optional ingredients- Fresh Thai red chiles, salt, Thai seasoning sauce, cooking wine, turmeric powder
How To Make Gai Yang At Home?
This Thai version of grilled chicken is the perfect treat for your barbeque date. It is bursting with flavors and the ingredients will undoubtedly result in the juiciest chicken ever! This chicken dish does not have overwhelming flavors. Thus, it is even great for a subtle family reunion. So, let's get into grilling.
Can I Make Gai Yang Without The Grill?
Yes, if you don't have a grill, or do not like making this chicken on the grill, you can bake it. Bake the chicken at 400°F (200°C) or, 375°F (190°C) on convection. 

It will take around 20 minutes for the skin to dry out. Then, you can take it out and brush the skin with oil to give it some extra juiciness and shine. Check chicken breasts after 30 minutes, and check the thighs and legs at 40 minutes.
Can The Marinade Made For Gai Yang Be Used To Season Other Ingredients?
The marinade we made to season the chicken in Gai Yang is a wonderful combination of fresh and dry spices, aromatic herbs, and flavorful sauces and flavorings. This marinade itself or with a few adjustments can be an excellent seasoning for types of meat like pork, beef steak, lamb, mutton, and even with seafood and fish.
What Other Thai Recipes Go Well With Gai Yang?
You can enjoy this grilled chicken all by itself. But, it would be best if you accompany these dishes along with Gai Yand to make it an outstandingly rich meal:

Nam Jim Jeaw dipping sauce
Sticky rice
Laab Gai or Laab Moo
Som Tum (Thai Green Papaya Salad)
Yum Tua Plu (Wing Bean Salad)
Does Gai Yang Contain Gluten?
Gai Yang doesn't include direct gluten-related ingredients. But, the soy sauce used in this recipe may contain traces of gluten. So, if you order this dish from outside, you should be concerned if you're sensitive to gluten.
Is Gai Yang Keto-friendly?
The recipe uses very healthy ingredients like fresh spices and herbs to marinate the chicken in the Gai Yang dish. This reason makes this dish an ideal option to add to your low-carb or ketogenic diet.
If you would like to learn about the best dinner ideas from Thai cuisine that you can include in your upcoming evening meals, we have shared a detailed article with 11 of them. Click here for more information!
Related Topics