While many restaurant-style dishes in Thai cuisine exist, some homestyle dishes are worth a shot. Pad Faktong is one homestyle dish that has a flavorful base and is ideal for healthy eaters.
This is a stir-fried dish made with squash. It is a dish you will not find on the menu of every Thai restaurant. But, it requires Thai home pantry essentials like garlic, fish sauce, Thai basil, etc. Pad Faktong is often served alongside steamed Jasmine rice or sticky rice.
So, let's learn about this simple Thai dish and how to make it at home using a few simple ingredients!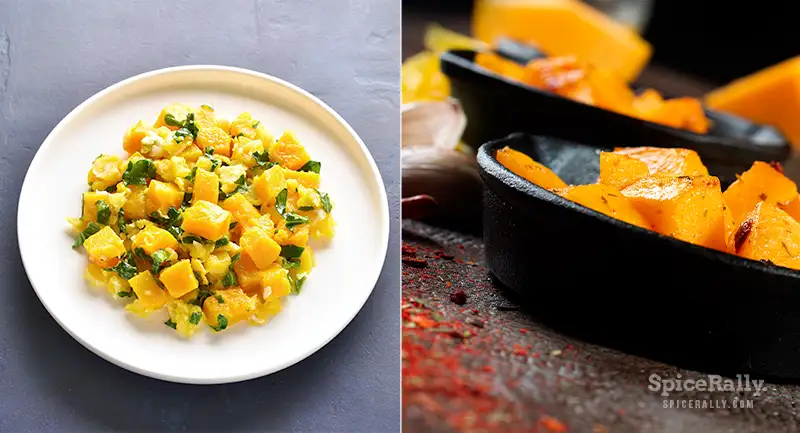 What Is In Pad Faktong?
Pumpkin or Kabocha squash is the star of the show and people across Thailand love this humble. This dish is not universal like other popular Thai dishes like Pad Thai or Tom Yum soup. But, it is made in many homes in the country as a comforting, family favorite dish. 
Pad Faktong translates to "squash stir-fry" and it is very easy to make in just a few minutes. It usually contains some basic Thai pantry staples like garlic, fish sauce, seasoning sauce, etc. Most of the time, squash or pumpkin is accompanied by animal protein such as eggs, minced pork, chicken, or chicken.
But vegan and vegetarian versions of this recipe also exist with animal proteins substituted by tofu. This dish is often served alongside plain steamed rice for lunch or dinner. Let's look at the most common ingredients used in this dish.
Main ingredient- Most often, this dish contains Kabocha squash or pumpkin. You should thinly slice and incorporate them into the stir-fry.
Spices and herbs- Crushed garlic, ground white pepper, fresh Thai basil
Sauces- Traditionally, most Thai recipes use Golden Mountain Seasoning Sauce in harmony with regular soy sauce and fish sauce. But, those who don't have Golden Mountain Seasoning Sauce go with oyster sauce and Worcestershire sauce.
Proteins- Eggs, minced pork, chicken, beef, or tofu.
Other ingredients-  Sugar, green onions, oil, water, or stock water.
How To Make Pad Faktong At Home?
Known for its simplicity, yet incredible taste, this dish is a great accompaniment to your weeknight dinner. If you wish to make something special tonight, we will teach you to make this flavorful vegetable stir-fry in a few minutes. So, let's get started!
How Can We Store Leftovers of this dish?
You can make Pad Fantong a few hours ahead before serving. And you can store leftovers in an air-tight container in the refrigerator. It's better if you eat within one day. Reheat in a pan with some oil or microwave before serving.
Is Pad Faktong Vegan-friendly?
It depends on what goes into your dish. You can skip the eggs, and meat and add crumbled firm tofu with vegan-friendly sauces. This recipe is highly adjustable, making it a favorable dish for vegans.
Does This Dish Contain Gluten?
Although the recipe doesn't include direct gluten-related ingredients, the seasoning sauces may contain traces of gluten. Thus, Pad Faktong can be unsuitable for those who are sensitive to gluten or follow a gluten-free diet.
Is Pad Faktong Keto-friendly?
This is one of the healthiest dishes in Thai cuisine. It does not contain excessive carbs, which is suitable for your ketogenic or low-carb diet plan. Make sure to consume this dish without rice.
While Pad Faktong is excellent for a cozy family dinner, there are more fancy dinners you should try from Thai cuisine. Click on this link and refer to our details article for more information.
Related Topics