Spices are an amazing creation of mother nature that could make extraordinary twists in food. So, here're the top 9 countries in the world that eat spicy food that could set your taste buds on fire!
Every country in the world uses spices, and a few tend to satiate their appetite with a different level of spiciness. Accordingly, the leading countries that enjoy the spiciest food in the world include:
Keep reading, as we hope to bring you a bunch of exciting information about the unique spicy dishes that these countries enjoy and you might want to experiment with!
The Top 9 Countries That Eat Spicy Food / Spiciest Food
Every country with a well-evolved food culture owns a variety in their palates. But some of them set more of an emphasis on satisfying spicy food cravings. Most Asian, Southeast Asian, and  African countries tend to appreciate and try out more spicy, hot, or savory foods while making the best use of the spices and herbs they use in their cuisines.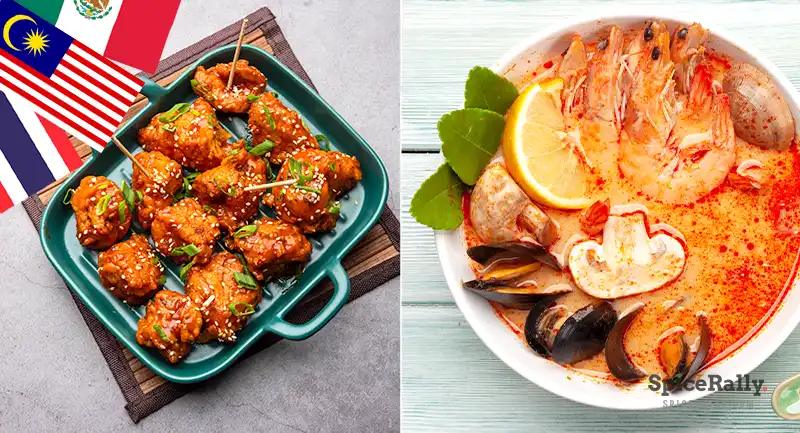 01- India
India is a country which is known for its rich spice culture. You will not find any household without a variety of spices, even if you walk through Southern, Northern, Western, or Eastern India. The spices and herbs used widely in Indian cuisine include:
Cumin
Turmeric
Coriander
Cinnamon
Cloves
Ajwain
Cardamom
Bay leaves
Fenugreek
Black pepper
Cilantro
Spiciest Dishes In India
01- Pork Vindaloo
This dish is a popular spiced delicacy in Goa. As the name suggests, traditionally, this dish is made with pork, and the meat is marinated with a flavorful Vindaloo marinade that includes red chilies. Green chilies, cumin, coriander, black cardamom, etc.
02- Laal Maas
Laal Maas is a vibrant mutton curry from Rajasthan with an incredibly hot taste mainly acquired from the Rajasthani Mathania red chiles, which have a smoky flavor. This dish is often served with hot whole wheat parathas and jeera pulao by the side. The meat in this dish is cooked with raw spices and other ingredients like coriander, cumin, ginger-garlic paste, turmeric, onion, curd, etc.
03- Chicken Chettinad
This is one of the most popular chicken dishes prepared in South Indian homes. It is full of flavor, made with juicy chicken laced with the fiery Chettinad paste that'll explode in your mouth. The chicken pieces are marinated in ginger, garlic, cumin, fennel, peppercorns, and red chiles. Then they are cooked with onions, tomatoes, cinnamon sticks, and cloves. Chettinad Chicken is often served with cooked rice or chapati.
04- Rista
This hot lamb meatball curry is uniquely prepared with red chile powder and other spices. Rista is a decadent and aromatic Kashmiri curry. The meatballs are cooked in a hearty gravy with flavorings like ghee, saffron, cardamom, cloves, cinnamon, etc.
05- Andhra Chilli Chicken
Andhra chilli chicken is a boneless chicken specialty, famous as an excellent appetizer or as a side dish to Biryani. The chicken is marinated with a paste made with green chiles, cilantro, turmeric, ginger-garlic paste, etc., and is stir-fried or deep-fried, according to the taste requirement.
Indian cuisine is habitually rich in spices. Click here to discover the essential spices used in Indian cooking.
02- Mexico
Many love Mexican cuisine because of its vividness, subtlety, and nuanced ingredients. Especially when it comes to their meat or seafood dishes, Mexican flavors are nowhere to be bland. They use a plethora of spices and herbs, such as:
Garlic
Cayenne
Chili powder
Cloves
Cumin
Cinnamon
Mexican oregano
Cilantro
Sage
Rosemary
Spiciest Dishes In Mexico
01- Burritos
Burrito is a Mexican dish consisting of Tortilla flour formed into a cylindrical shape and filled with various ingredients. Burrito ingredients typically include tortilla flour, fillings of meat (usually well-seasoned ground beef), beans, and salsa. Add-on ingredients include sour cream, guacamole, rice, and vegetables like diced tomatoes, lettuce, and cheese.
02- Tacos
Taco is a world-famous Mexican food typically filled with seasoned meat. Wheat-based tortilla shells are topped with different fillings and then folded to be eaten using our hands. Taco seasoning usually includes cumin, garlic powder, chili powder, pepper, oregano, and salt.
03- Chilate de Pollo
This kind of spicy chicken soup is known for its fiery sensation. Chile de árbol or guajillo chiles, onion, garlic, and corn dough make the soup thick like a stew. The heat level depends on the amount and spice level in the chiles.
04- Chimichanga
This famous Mexican dish is similar to the Burrito. A typical Chimichanga contains beans, rice, meat, and cheese. You can serve this dish with a bowl of yellow rice or Mexican-style rice.
05- Enchiladas
Enchilada is a tortilla corn rolled on a filling and then coated with a savory sauce. A typical filling includes pork, beef, or seafood. Cheese, potatoes, beans, tofu, and vegetables are also added. Enchiladas are topped with sour cream, olives, lettuce, chili peppers, fresh cilantro, or sliced avocados.
03- Thailand
Thai cuisine is another place known for its food diversity. In fact, you can savor the most exotic spices and herbs in many of their dishes. Spicy Thai foods can be recognized as a perfect combination of vibrancy, aroma, and heat. The typical spices and herbs used in Thai cuisine include:
Thai chile peppers
Galangal
Turmeric
Garlic
Coriander seeds
Coriander root
Lemongrass
 Spiciest Dishes In Thailand
01- Gaeng Tai Pla
This is often ranked as the spiciest dish in Southern Thailand. It includes the typical southern Thai ingredients of dried chiles, turmeric, galangal, and kaffir leaves. Fermented fish innards, fish, eggplant, pumpkin, bamboo shoots, and yardlong beans are also featured to create a salty and extremely spicy curry. 
02- Laab
Laab is one of the most famous Thai salads. To make this dish, rice is toasted and pounded before being incorporated into a mix of chicken or pork, mashed chiles, and onions to make a flavorful, spicy dish.
03- Gaeng Kua Kling
This dish is another Southern Thai specialty. Kua Kling is a curry paste made of chiles, pepper, garlic, turmeric, galangal, lemongrass, salt, and shrimp paste. The paste is then added to the meat, roasted in a pan, and mixed until cooked. 
04-  Som Tam
Som Tam is a flavor-loaded raw salad made from unripened papaya. Grated papaya is served with a pounded mixture of hot Thai chiles, lime juice, fish sauce, coconut sugar, and salt.
05-  Tom Yum Kung
This soup specialty is made with chili paste and fried chiles as the base. Tom Yum often comes together with chicken or shrimp simmered in a broth flavored with galangal, lemongrass, fish sauce, and mushrooms.
Click on this link to learn about the best spices that fill Thai cuisine with flavor and aroma.
04- China
China is one of the prominent countries that has placed spices at the heart of its cooking culture. Most dishes of the world have been inspired by the Chinese cooking culture and their versatile usage of spices and herbs. 
Sichuan, Yunnan, and Hunan cuisines are sub-cuisines of Chinese cuisines that are accountable for the bulk of spicy dishes that pan out from China. Most used spices and herbs of Chinese cuisine include:
Garlic 
Ginger
Star anise
Szechuan peppercorns
Chiles
Cinnamon
Cloves
White pepper
Bay leaves
Spiciest Dishes In China
01- Mapo Tofu (Ma po dou fu)
To create this dish, soft pieces of tofu are braised in a decadent, aromatic, spicy, and savory sauce. Mapo tofu is one of the most popular dishes in Sichuan cuisine. Garlic and scallions, along with the iconic ingredient- Doubanjiang (fermented bean paste), chili oil, Chinese five spice powder, soy sauce, and a small amount of ground pork, make this dish extra special with layers of flavors.
02- Hunan Spicy Beef
This specialty in Hunan cuisine is also popular among Americans for its unique smoky, and spicy nature. Hunan spicy beef is a scrumptious stir-fry dish that comes together with tender marinated beef, dried chiles, chili oil, garlic, soy sauce, Shaoxing wine, fermented black beans, etc.
03- Chongqing Hot Pot
Various hotpot styles are enjoyed throughout China, but the most piquant and tastiest hotpot comes from Chongqing. Fresh and dried red chili peppers and 20 other spices and herbs go into the hotpot soup, nourishing whatever tofu, meat, vegetable, or noodle is dipped into the hotpot to be rewarded with a spicy delight that will remain long after even when the meal is over.
04- Suān Là Fěn (Hot And Sour Glass Noodles)
Featuring another spicy specialty from Sichuan cuisine, this glass noodle soup dish is basically a combination of thick potato or sweet potato noodles served in a super zesty, savory broth with a small amount of ground pork, crispy fried soybeans, and pickles toppings. 
05- Yu Xiang Tofu
This is another iconic tofu dish, again coming down from Sichuan cuisine. It usually comes together with red chili bean paste, garlic, ginger, onions, soy sauce, and sugar., This is stewed with deep-fried tofu and fresh capsicum. Yu Xiang tofu can be replaced with shredded pork or eggplant.
05- Sri Lanka
The little island is well-reputed for its diverse and lavish food art. A set of common spices and herbs are used throughout the country but with a diversity of cooking methods, varying from province to province. Sri Lankan cuisine is never bland since it is enriched with spices and is among the top Southeast Asian countries that use the most spices. The most common flavorings that go into their foods include:
Ceylon cinnamon
Chiles
Ginger
Garlic
Black pepper
Tamarind
Fenugreek
Cloves
Curry leaves
Pandan Leaves
Lemongrass
Spiciest Dishes In Sri Lanka
01- Lunu Miris/ Katta Sambol (Sri lankan Chili Paste)
Fresh, dried, or ground red chiles are pounded with red onions, salt, and sometimes Maldive fish, finished with a splash of freshly squeezed lime juice to make this rich, spicy and hot condiment. This is an iconic side dish served with Sri Lankan coconut roti or milk rice. 
02- Black Meat Curry
The Sri Lankan black meat curry is a national specialty that often comes together with chicken, pork, beef, mutton, lamb, or fish. The meat of fish pieces are well-seasoned with black pepper, red chile powder, Sri Lankan curry powder, garlic-ginger paste, etc., 
And it is cooked in a thick gravy made with or without coconut milk. Fish black curry is often flavored with a souring agent like tomatoes or garcinia Cambogia.
03- Kottu
Kottu, also known as Kottu Roti, is a famous Sri Lankan street food. It is made with chopped wheat roti, shredded meat, onions, chopped banana peppers, green chiles, etc. The spiciness of this dish is gained with the savory, thick sauce added to incorporate the ingredients. 
The sauce or the gravy is supplemented with spices like curry powder, garlic, ginger, red chile powder, etc. This is obviously one of the most delicious and spiciest dishes you get to enjoy if you visit Sri Lanka!
04- Polos Curry (Baby Jackfruit Curry)
This is a vegetarian curry that is commonly prepared in rural areas in Sri Lanka. Baby jackfruit pieces are cooked until soft and tender in a thick, coconut milk-based gravy.
It is flavored with the spices like curry powder, red chile powder, ground turmeric, fenugreek, cardamom, lemongrass, etc. Polos curry is often served with cooked rice, white bread, or coconut roti.
05- Kos Ata Kalu Pol Curry (Jackfruit Seed Curry)
This richly spiced dish is inherent to Sri Lankan cuisine. Traditionally, the jackfruit seeds are boiled until tender and slightly pounded and are then cooked in a thick, coconut milk/ cream-based gravy that consists of spices and herbs. 
Usually, a special paste made with toasted, grated coconut, toasted rice, cardamom, cumin, fennel, black pepper, tamarind paste, etc., is infused with gravy to get the distinctive taste of this dish.
Our detailed post explores the best essential spices that define Sri Lankan food. Click here now!
06- Korea
If Korean ramen is the only spicy dish, you recall when we spill out about Korean cuisine, friends, you still have a lot more to learn! Korea is a country that appreciates a lot of different and the world's most savory and spicy foods. 
In fact, Koreans like to sweat out a bit when they enjoy their meals; therefore, they use a wide variety of chiles, spices, and herbs to flavor their unique recipes. The common spices and herbs they use include:
Gochugaru (Korean red chile powder)
Chili pepper flakes
Black pepper
Garlic
Ginger
Scallions
Spiciest Dishes In Korea
01- Donkatsu
Donkatsu, also known as Donkatsu of Death, is one of the spiciest foods in the world. It can immediately explode your senses with fiery heat and spiciness. This is basically a pork cutlet drenched in a vibrant red sauce made with Asian spices and herbs.
02- Buldak Ramen
Talking of the spiciest dishes in Korea, we cannot skip ramen. Buldak ramen, which translates to "Fire chicken Ramen," is an extra spicy noodle dish that captures so many flavors within the dish. It is considered one of the most inexpensive meals in Korea that comes together with a variety of ingredients and toppings like boiled eggs, scallions, sausages, etc.
03-  Maeun Jokbal
Spicy Jokbal is the zesty version of jokbal, a popular snack in Seoul restaurants. This dish features tender, steamed pork tossed in a super piquant sauce and topped with scallions and sesame seeds for added consistency.
04- Dakbal (Korean Chicken Feet)
This recipe might be a bit intimidating if you are used to eating the most tender chicken meat. But Korea loves their spicy chicken feet dish. Chicken feet are usually steamed and braised in a savory sauce made with red chiles, Korean red pepper flakes, oyster sauce, mirin, garlic, ginger, etc.
05- Buldak (Korean Fire Chicken)
This heavily spiced chicken dish is layered with a variety of different spices. Korean specialty condiment Gochjuang and the red chile powder gochugaru are both featured in this dish, along with garlic, black pepper, soy sauce, sesame oil, etc. 
Did you know Kimchi is Korea's national dish and one of the world's healthiest dishes? Click here and discover more about this delicious food!
07- Malaysia
Malaysian cuisine is world-famous for both its spicy and hot food. This cuisine is inspired by its neighboring cuisines like Indonesian, Chinese and Indian. Malaysians have an excellent palate, so they try to make a difference in terms of spiciness using common and exotic ingredients. The most used spices and herbs in Malaysia are as follows:
Nutmeg
Chiles
Cloves
Cinnamon
Star anise
Green cardamom
Lemongrass
Vietnamese coriander
Galangal
Spiciest Dishes In Malaysia
01- Nasi Kerabu
This beautiful rice dish is a popular dish from Kelantan in Malaysia. It is made with blue rice, which acquires its color from the petals of the Bunga Telang flower. The rice is paired with various types of meat and vegetables, making it a whole meal. Nasi Kerabu is typically served with a chili paste called Sambal Belacan.
02- Laksa
Laksa is obviously one of the most widely consumed street foods in Malaysia, and the country is famous for both Curry laksa and Assam laksa. This rice noodle soup specialty is prepared with a lot of familiar and exotic ingredients. 
The soup's broth is flavored with curry pastes separately made for the two laksa types- Curry laksa curry paste and Assam laksa curry paste.
Click here and check out our detailed post so that you can get more information about laksa types and their curry pastes.
03- Ayam Goreng
This Malaysian-version Ayam Goreng is a chicken marinated in a rich curry paste made with curry powder, ground coriander, cumin, garlic, ginger, etc. The chicken pieces are usually marinated overnight and then fried with a flour coating so that they have a crispy and flavorful crust.
04- Satay
Chicken satay is a mandatory dish in Malaysian cuisine since it does not take much effort to make it. The dish itself is not very intense in terms of heat but holds a depth of flavor due to the marinade done using garlic, lemongrass, shallots, turmeric, chili powder, etc.
05- Beef Rendang
Rendang was originally from Indonesia and then adapted to the flavors of Malaysia. It is a creamy, tender coconut beef stew flavored with lemongrass, chiles, cinnamon, and other spices. It has a nutty, butter, and sweet flavor profile that everyone loves. 
08- Jamaica
Jamaican cuisine is indeed a flavorful one dominated by a lot of spices. They use extremely hot chile peppers and some iconic spice blends or seasonings to satiate their savory food obsession. So, if you ever visit this country, you can expect most of their dishes to be highly spiced and very well seasoned. Some mostly-used herbs and spices in Jamaican cuisine include:
Garlic
Ginger
Nutmeg
Allspice
Cloves
Cinnamon
Scotch bonnet peppers
Mace
Spiciest Dishes In Jamaica
01- Jerk Chicken and Jerk Pork
Jerk dishes are inherent to Jamaica. Chicken or pork are often rubbed with jerk seasoning made with scotch bonnet peppers, allspice, garlic, nutmeg, etc. Or else a sauce or a marinade is used with similar ingredients to season the meat before cooking.
02- Jamaican Oxtail
Like most other Jamaican stews, the oxtail is initially seasoned with herbs and spices, fried, and then slow-cooked. This takes a couple of hours on low heat or in a pressure cooker. This is one of Jamaica's heartiest and most delectable meals, often served with rice and peas. 
03- Curry Goat/ Mutton/ Chicken
Curried meats are popular in Jamaica, particularly goat meat, mutton, and chicken. Ingredients like garlic, ginger, onion, hot peppers, and herbs are tossed in, and then the meat is slow-cooked to fetch the flavors. Potatoes are included to boost the thickness of the sauce.
04- Fish Escovitch
The dish begins with a whole fried fish, usually Red Snapper. The fish is first soaked in a spicy sauce made with allspice, scotch bonnet peppers, onions, etc. It is then topped with a spicy pickled vegetable medley.
05- Ackee And Saltfish
This is the national dish of Jamaica. This comes together with the ackee fruit served side by side with stewed salted codfish sautéed and spiced up with several spices, herbs, and vegetables.
09- Ethiopia
Ethiopian cuisine holds many flavors, one reason it stands out from the rest of other sub-African cuisines. This nation keeps some of the best-kept secrets in the culinary world, which most food lovers from across the globe crave for. They indeed have a special place for spicy and hot food, so they tend to use a lot of spices and herbs. And some of them are as follows:
Cumin
Cloves
Fenugreek
Cardamom
Fresh garlic
Ginger
Coriander
Spiciest Dishes In Ethiopia
01-  Doro Wat
This stew is made with a combination of spices, meats, and vegetables. Doro Wat combines chicken, hard-boiled eggs, caramelized onions, tomato paste, garlic, and ginger.
02- Tibs
Tibs is one of the most popular spicy dishes among Ethiopians, made with sliced beef or lamb, pan-fried in butter, onion, and garlic. It comes in a medley of forms, ranging in type, size, or shape of the cuts of meat used. They can be hot, mild, or contain little or vegetables.
03- Kitfo
This Ethiopian beef tartare is made with raw minced beef flavored with a spice blend called mitmita and niter kibbeh. It is often served with a mild cheese called gomen and injera. 
04-Siga Wat
Siga Wat is similar to Doro Wat but contains beef instead of chicken. The dish is typically fiery and spicy thanks to adding the berbere spice mix. But you can also find milder versions without berbere.
05-Shiro Wat
Shiro is often made with minced onions, garlic,  chile peppers, ground ginger, or chopped tomatoes. Tegabino Shiro is a variety of Shiro made with laboriously spiced chickpeas, field peas, legumes, or fava beans, flour, and butter.
Final Thoughts…
Every country in the world enjoys hot and spicy food depending on their taste preferences. But countries like India, China, Thailand, Sri Lanka, Korea, etc., have a special place for heavily spiced dishes in their cuisines. So, if you live in one of these countries or hope to visit them, we are sure you will not miss out on them if you are an absolute spicy food lover.
Related Topics