Knowing the ingredients and the methods for a certain recipe will not make you a good chef. In fact, you need to be practical and know replacements in case of emergency. Thus, if you ever had trouble replacing yellow curry paste, this episode will explain the best 09 Thai yellow curry paste substitutes.
We don't want to mislead you by bringing the impossible. So, we collected the best alternatives that are easy to find and give the closest flavor resemblance. They are:
We know now you are excited to learn how these Thai yellow curry paste substitutes are going to be helpful to you in the kitchen. So, why wait? Let's get started!
The 09 Best Thai Yellow Curry Paste Substitutes- List Elaborated.
Almost all the yellow curry paste recipes you get to savor include ingredients like:
Turmeric
Galangal
Garlic
Dried red/yellow chilies
Cumin
Lemongrass
Coriander seeds
Shrimp paste
Kaffir lime peel
Shallots
Accordingly, our list of Thai yellow curry paste substitutes is matched with this content, and ultimately we have picked the best out of the best.
Thus, the following alternatives will give a closer warm, mildly spicy, and powerful "curry" flavor as our subject leader, and you will get to know the best instances to replace them when cooking.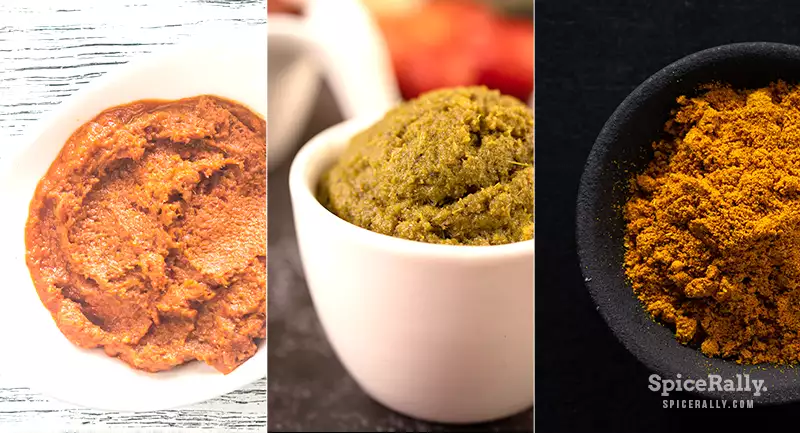 01- Curry Powder
Curry powder undoubtedly tops our list, particularly for the amazing flavor resemblance they share together. In fact, curry powder is one of the main ingredients in yellow curry paste. This blend of spices usually comes together with many spices, including:
Turmeric
Cumin seeds
Pepper
It can contain many other ingredients but often shares these spices with our subject leader. Thus, you can use this alternative in similar amounts as you would use the yellow curry paste with any dish that calls for it.
However, if you need a very close flavor resemblance, it would be best to use additional ingredients. You can add lemongrass, shrimp paste, shallots, and maybe a pinch of chili powder and ginger/galangal (if your curry powder does not contain ginger powder and chili powder).
Just like curry powder would be a great substitute for Thai Yellow Curry Paste, did you know that they could be used interchangeably? For more information and to discover more curry powder substitutes, click this link.
02- Thai Red Curry Paste
Thai red curry paste is indeed a great option if you do not have our subject for any recipe. This paste shares most of its content with the food item you wish to replace. They are:
Chilies
Cumin
Coriander
Galangal
Lemongrass
Shrimp paste
Garlic
Pepper, etc.
However, you should remember that the red curry paste can be way hotter than our subject leader. Moreover, you will see a change of color when you replace this paste. Therefore, it will not be suitable for authentic Thai yellow curries, but you can use it with many other dishes.
In addition, we suggest that it would help if you are gentle with the amounts initially. The spiciness of the red curry paste could be overwhelming, so add a little in the beginning and develop the taste over time. You can also add some turmeric powder to get the desired color.
If you are obsessed with curry pastes, then you wouldn't want to miss our fully detailed article on Thai yellow curry paste spices and ingredients. Click here and refer to this feature right now!
03- Thai Green Curry Paste
The story would be pretty similar to replacing red curry paste. In fact, Thai red, green and yellow curry pastes are the golden trio of Thai cuisine that share very similar characteristics.
Therefore, you can use green curry paste in place of yellow curry paste again, being careful with the spiciness it would add. You would also not get the desired color so try to add a pinch of turmeric into the dishes you wish to alternate.
With many similar ingredients, they can pave the way for this paste to show up in many curries, soups, stews, stir-fries, etc., instead of our subject leader. But, as discussed in the previous point, replacing this with the traditional yellow curries will not be a good idea.
Are you interested in learning more about Thai green curry paste? If so, you are just one tap away from our complete article on Thai green curry paste ingredients.
04- Massaman Curry Paste
Massaman curry paste or Matsaman curry paste is another popular food item in Thai cuisine, especially used to make Massaman Curry Soup. This paste also shares a lot of common ingredients with our topic leader, such as:
Galangal
Shrimp paste
Garlic
Dried red chilies
Lemongrass
Cumin
Coriander seeds
Shallots
However, this also can be deeper in flavor due to some additional spices like star anise, cardamom, and spicier due to red chilies. So, even though the "curry" flavor is approximated, you will have to throw in a pinch of turmeric in the recipes you wish to substitute.
If you think the flavor would be intense, use it gradually until you get the desired taste. Massaman curry paste will be an excellent option for several curries, as a base in soups, stews, marinades, etc.
Click on this link and follow up on our detailed article to learn more about the robust Thai Massaman curry paste and its ingredients.
05- Panang Curry Paste
Apparently, Thai yellow curry paste substitutes are covered a lot with other Thai curry pastes. And there's no wonder as most of them have very similar flavor elements!
Panang curry also shares a great deal of similar ingredients, including galangal, red chilies, shrimp paste, garlic, lemongrass, coriander seeds, cumin, etc. In addition to these flavorings, some Panang curry paste recipes also could include peanuts and mung beans. 
Therefore, be careful when using this as an alternative if you are allergic to peanuts. Apart from that, this curry paste is all good to go with dishes, particularly with stir-fries and meat-based dishes. 
Like you would do with most options in our list, use moderate amounts and gradually build up the desired flavor.
06- Laksa Paste
Laksa Coconut Curry Soup is a staple in Malaysian cuisine, and its main ingredient is this Laklsa curry paste. You might have come across this a million times on your visits to the supermarket. Laksa also shares some similar ingredients with our subject leader like:
Galangal
Dried chilies
Garlic
Turmeric
Cumin seeds
Coriander seeds
Shrimp paste/ dried shrimps
This has an added benefit as it could provide a similar color when substituted. The galangal flavor could be replicated with ginger. And this could also be a bit spicier than our subject leader due to the amount of red chilies used.
Laksa will have an oily base compared to yellow curry paste and may include peanut oil and cashew nuts. So, this will not be suitable for those who show allergic reactions to nuts.
Therefore, Due to its complex flavor profile, this will not be a convenient replacement for traditional Thai yellow curries. But still, it will be good to go with many other curries, marinades, stir-fries, etc.
07- Vindaloo Paste
Originating from Indian cuisine, Vindaloo paste or Vindaloo masala has the ability to provide a similar curry flavor to that of our subject leader. Similar spices like garlic, cumin, coriander seeds, pepper, and chilies could give a closer taste to many curries.
This paste could be slightly more intense than the yellow curry paste, so be moderate with amounts, specifically when used as soup bases, stews, and marinades. 
However, it will be great with many seafood, meat, fish, and vegetable curries. Throw in a pinch of turmeric powder, lime zest, and shrimp paste to get a better flavor approximation.
Good food means different things to different people, but it's always a source of much-needed nutrients, and it can bring deep gratification to those who partake of it.

Home Stratosphere
08- Other Asian Curry Pastes
This is a teeny-weeny bonus tip that SpiceRally exclusively shares with you! While you walk down the supermarket's spice aisle or whenever you hit an Asian grocer, you can check some other Asian curry paste options.
Here's a little tip for choosing- read the list of ingredients! For example, Indonesian Curry Paste, Tikka Masala Paste, Madras Curry Paste, and Rogan Josh Curry Paste are some options that you can go for.
These substitutes will help you to save a dish or two if you fail to find Thai yellow curry paste in the store. Perhaps you would have to go for some flavor adjustments. But still, you will have a great chance to savor and experience the goodness of a real "curry" taste.
09- Homemade Thai Yellow Curry Paste
If nothing seems to be like a practical solution, the next best option would be to make your batch of this paste at home! A homemade yellow curry paste would have so many benefits. 
For example, it will give the best flavor approximation and color. And, the next best thing is that you can use it simply with anything as you would do with your finished store-bought container.
So, just refer to the section below to learn a recipe for a simple and delicious yellow curry paste.
Easy Homemade Thai Yellow Curry Paste Recipe
You don't even have to think to make this out! Just grab the ingredients that are readily available in your pantry and prepare this in no time. We bet that you'll never want to count on pre-packaged ones again.
So, here we go!
Preparation time- 10 minutes | Cooking time- 10 minutes | Additional time- 10 minutes
No: of servings- 8 | Total calories- 30 | Cuisine- Thai
Spices And Herbs Needed
One teaspoon of turmeric
Two tablespoons of curry powder
40 small dried red chilies
Four garlic cloves (chopped)
Six-inch piece of fresh ginger (chopped)
One tablespoon of ground coriander
One teaspoon of ground cumin
One stalk of lemongrass (cut into small pieces)
1/4 teaspoon of lime peel
Other Ingredients Required
Three shallots
1/4 cup of water
One teaspoon of salt
One and a half teaspoons of shrimp paste
Instructions For Preparation
Let the small dried chilies steep in hot water for about three minutes. Then, drain the water and set it aside.
Now, put all the other ingredients in a blender jar or a food processor along with the soaked dried red chilies.
Blend them very well until everything is well combined and you get a smooth, fine paste.
Add more water if you think the paste is not smooth enough.
Use immediately or store in an air-tight glass container and pop it into the fridge until use.
You can use this homemade Thai yellow curry paste for about two months when stored properly in the freezer.
We Just Brought You The Best Thai Yellow Curry Paste Substitutes. But What Is Your Best Pick?
Thai yellow curry paste is indeed a flavorful blend of spices, herbs, and other flavorings that give life to many traditional Thai curries, soups, stews, etc. Hence,sometimes, you might have found it challenging to find a suitable alternative to use in place of it.
That is why we shared the 09 best Thai yellow curry paste substitutes in this article, including the ones you could easily get from the store and with a simple homemade recipe. So, what is your best choice? Let us know for sure!
Related Topics