A recipe without spices is like a life without a soul for Indians. If truth be told, they are so connected with spices and to their flavor and aroma. They have the potential to do miracles with them. And, their super irresistible and flavorsome spice mixtures were introduced to the world thanks to these wonders they do. 
Tikka masala is a blend of aromatic and savory spices. The authentic recipe includes at least eight main flavorings like green cardamoms, cloves, Kashmiri red chili powder, coriander, cumin, cinnamon, and black peppercorns. And, it also incorporates some unique ingredients like black cardamoms (Badi Elaichi).
This mixture is used to prepare mainly chicken, fish, or paneer Tikka dishes in India. When this blend of spices is combined with meat, vegetables, fish, or paneer, you will not need other dishes to enjoy an entire plate of rice, bread, or roti. So let us see how and with what spices this seasoning blend is prepared and what specialties it could be added to. 
What Spices Are In Tikka Masala?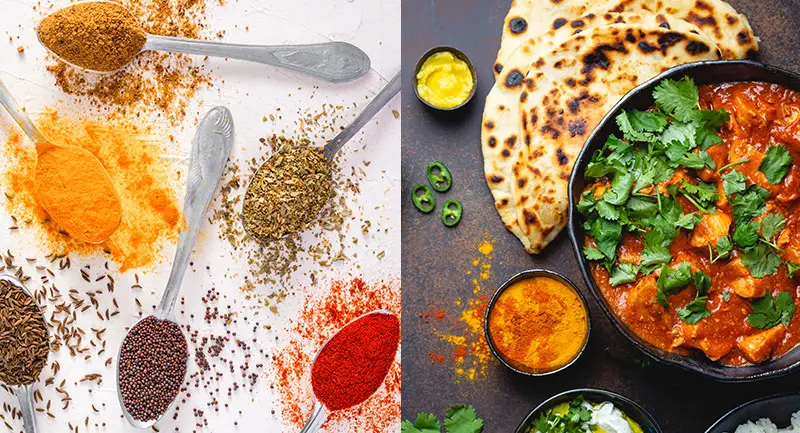 Initially, the tikka masala spice powder was only used in chicken and paneer in India. But over time, many chefs came up with a lot of innovative tikka recipes and also tended to modify the original tikka masala spice blend recipe. However, we see that there are tonnes of tikka spice powder recipes on the internet made using eight to twelve spices on average. Indians use whole spices to pan roast and then a few spice powders to blend in later to make this powder. 
What Is Tikka Masala Spice Made Of?
The spices used in the classic recipe are very pungent and flavorful. In fact, they are used to bringing out the best punch and essence through this blend when people include it in various dishes. You can either collect all the ingredients from the store and prepare it home or purchase ready-made mixtures from the market. If you prepare this masala powder at home, you can adjust the spiciness according to your preference. So, here is the list of basic spices that come in tikka masala powder. We have listed all the spices that came all the way from the original recipe and also mentioned others that were added to the mixture with modifications over time.
01 – Green Cardamoms (Chhoti Elaichi)

This is one of the main ingredients used in the tikka masala powder. Green cardamoms are very aromatic and taste fresh and piney to give the perfect texture to the mixture. Green cardamoms have a complex flavor, and therefore, usually, this spice is not omitted from the tikka recipe.
02 – Black Cardamoms (Badi Elaichi/ Kali Elaichi)

The original tikka blend contains black cardamoms, which are also hardly excluded from the recipe. Black cardamoms excellently counterbalance the entire essence of the tikka masala and help to enhance the flavor of green cardamoms. They have a signature smokiness than the green cardamoms, which is another reason why it is added to the mixture. And, in the recipe, this spice is generally used in half the green cardamom proportion taken.
03 – Cinnamon (Dalchini)

Generally, a piece of 2-3 inches of Cassia Cinnamon is used in the recipe. This sweet, woody, earthy flavored spice gives a great texture to the tikka mixture when added. Cinnamon is also a vital part of the original recipe, which is not usually skipped. Not only in tikka masala powder but cinnamon is also employed in many other spice blends made in India and a few other Asian countries. 
If you need to learn more about cinnamon, we have a fully detailed article on types of cinnamon here.
04 – Coriander (Dhania)

Since ancient times in India, balmy, sweet-smelling, and tangy coriander seeds have been used in cooking and medical customs. Likewise, these tiny seeds become a part of the tikka masala spice blend too. This is used as a whole spice and employed at the beginning of processing the recipe to be pan-roasted with other spices. Being another indispensable ingredient from the classic recipe, coriander seeds give a unique aroma to it.
05 – Cloves (Laung)

Cloves possess a rich flavor and an intense aroma which is one of the significant reasons as to why it is included in the tikka masala powder. Usually, about a quantity of one teaspoon is added to the recipe to blend in well with other spices. Again, this spice is also combined as a whole spice at the beginning. This intensely flavored spice adds that quintessential touch to the powder.
Garam Masala is one of the most popular spice blends in Indian cuisine just like the Tikka Masala. For more information, click here and read our fully detailed article on Garam Masala.
06 – Cumin (Jeera)

Cumin is one of the most regularly used spices in Indian cuisine. Generally, this is utilized as a whole spice, and it pairs well with mustard seeds, especially in vegetarian dishes. Cumin is another staple spice used in Tikka masala for its subtle and earthy zest and a pleasant aroma. Usually, cumin is used in similar proportions as coriander seeds to balance the taste of the spice mixture. 
07 – Black Peppercorns (Kali Mirch)

The spiciness of the spice blend is very important when it is incorporated in dishes like Chicken Tikka, Mutton Tikka, and Fish Tikka. Some prefer using black pepper powder instead of peppercorns. However, most classic recipes include black pepper as a whole spice that is initially pan-roasted and then grounded with other seasonings. This spice is the ideal flavoring that could balance the spiciness of the tikka masala powder. They are warm, intense, and perfect when added to food. 
08 – Kashmiri Red Chili Powder (Kashmiri Lal Mirch)

Kashmiri red chili powder is the most basic powdered ingredient of tikka masala. It is not very spicy when correlated with other types of chili used in India. But, it ideally adjusts the spiciness of the spice blend when combined with black pepper. Some Indians use both Kashmiri red chili powder and dried chili in some of their recipes. However, it is important to use either one of them to give the masala powder a great color and flavor when added to the dishes.
09 – Dry Mango Powder (Amchoor Powder)

Amchoor powder is made by drying and powdering unripe green mangoes. Recently, we can see that many tikka masala recipes include this ingredient. Although it is not a part of the original spice mixture, dry mango powder gives a unique zing to it. It is typically sour and citrusy in taste which offers a similar sourness to tamarind and lemon. This is added to tikka masala when all the whole spices are pan-roasted and then put into the grinder jar to ground with other ingredients.
10 – Turmeric Powder (Haldi)

When turmeric powder is included, it gives a distinct golden hue to the tikka masala powder. Turmeric powder is employed widely in Indian cuisine. This spice has a mild, peppery flavor with musky, robust aromas. It is put into this spice powder in its powdered form, together with red chili powder and dry mango powder if you are using it. This ingredient was also not included initially but came out to be a part of this blend over time.
11 – Nutmeg (Jaiphal)

Nutmeg is a spice with a very intense flavor. Therefore, when added to the tikka masala blend, Indians use it with moderation. Usually, they use like 1/8 of the whole nutmeg in the standard recipe. However, nutmeg gives a great touch to food and tastes so good when blended with other spices. The piece of nutmeg is generally pan-roasted with other whole ingredients and then grounded. Not everyone uses this spice in their tikka masala powders. Thus, nutmeg, too, came with the modification of the recipe. 
In addition to these ingredients, some Indians also use Fenugreek Seeds, also known as Kasuri Methi, Star Anise, Mace, and Black salt or Pink Himalayan Salt to enhance the flavor and texture of the tikka masala mixture. 
The Southern region of India is famous for spice use in their signature dishes. Try this article on South Indian Spices if you are interested in knowing more about them.
Famous Dishes Made Using The Tikka Masala Powder
Dishes prepared using this spice blend have gained worldwide popularity and won many hearts. Those dishes are saucy and can be used as a side dish to enjoy with rice, noodles, pasta, bread, flatbread, or roti. Here is a list of vegetables and other foods that Indians prepare using tikka masala powder.
Chicken
Fish
Paneer
Mutton
Cauliflower
Mushroom
Chickpeas
So, as you see, tikka masala powder makes a royal treat to anyone who favors a spicy and savory Indian dish. When all the spices in the powder are blended and mixed with other ingredients in a particular recipe, you will not crave any other items to enjoy an entire meal. Therefore, do not hesitate to order a delectable dish of Chicken Tikka, Paneer Tikka, or Cauliflower Tikka if you come across one in a restaurant again!
While tikka masala empowers many dishes within its control, Cajun Seasoning acts equally with a number of recipes it calls for. To check in detail, click here.