Containers or jars in the supermarket's spice aisle with similar colors or appearance might confuse you once in a while. Hence, this feature is dedicated to discussing everything about Sambal Oelek vs red curry paste.
Sambal Oelek is considered a hot sauce/chili paste that functions as a condiment and a cooking ingredient. While on the contrary, red curry paste is a "curry paste" that typically works as an ingredient, especially for making curries. In addition, these two relishes have their own unique elements/ingredients, and therefore their flavor profiles are also different.
In fact, there are a lot more other things we need to show and share with you on Sambal Oelek and red curry paste. So, make sure you read till the end of this article since the best is yet to come!
Sambal Oelek Vs Red Curry Paste- Explanation Redefined.
These are actually two flavorful Asian food companions that most of us often tend to get confused about in terms of color, usage, etc. In fact, they are not at all the same.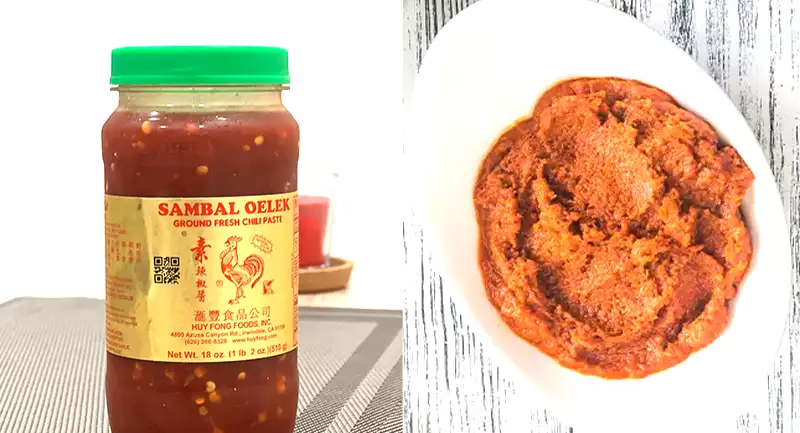 Even though their base flavoring is built upon chili peppers, they have two completely distinct flavor profiles with different ingredients. 
Above all, red curry paste is typically used as a cooking ingredient or a taste enhancement. At the same time, Sambal Oelek comes as a ready-to-eat condiment while also working well as an ingredient.
On that note, let's dive into more information on Sambal Oelek vs red curry paste with the help of the table below.
Sambal Oelek
Red Curry Paste
Base flavor
Hot red chili peppers
Hot red chili peppers
Types of chili peppers used
– Thai red chili peppers (best option)
– Cayenne peppers
– Serrano peppers (red)
– Red Fresno chili peppers
– Red jalapeno peppers
– Dried Thai red chilies (Spur chilies/ Prik chee fah)
– Cayenne peppers
– Red Serrano peppers
– Bird's eye chilies
Other ingredients
– Garlic
– Shallots/onions
– Distilled vinegar/rice vinegar
– Salt
– Lime juice
– Palm sugar/brown sugar (used in some homemade recipes)
– Other additives and preservatives (in store-bought options)
– Garlic
– Galangal/ginger
– White pepper
– Cumin
– Coriander
– Lemongrass
– Coriander root
– Shallots
– Kaffir lime peel
– Shrimp paste
– Salt
– Soy sauce
– Soybean oil
– Tomato paste/ketchup
Flavor profile
Hot, zesty, and umami with hints of vinegar and lesser depth of flavor than the red curry paste.
It possesses a richer and deeper flavor than Sambal Oelek, with spicy, warm, and savory notes.
Texture
Chunky and runnier than the red curry paste. And chili pepper seeds are present in almost every option.
A smooth paste that is less runny and clumpy than Sambal Oelek. And no chili pepper seeds could be usually seen.
Color
Vibrant red
Dark reddish-orange
Mode of usage in cooking
As a condiment and an ingredient that enhances the flavor of the foods
Works mainly as a cooking ingredient
Usages in cooking
– Great as a soup base and addition in stew dishes
– With meat, fish, and other seafood dishes
– To be incorporated with stir-fries
– In salads
– To mix with vegetables
– As a condiment and an ingredient in quinoa, rice, noodles, and couscous dishes
– With eggs
– To be mixed with sauces and dipping sauces
In marinades
To be included in sandwich fillings/spreads
– Used in beverages like Bloody Mary, Margaritas, etc.
– Excellent with signature Thai red curries
– With various egg dishes
– With ground meat mixtures
– To be integrated into stir-fries
– As a flavor booster in marinades
– To make a tasty twist on rice, pasta, spaghetti, and noodle dishes
– In sandwich spreads
– With meat, fish, and seafood dishes
– To mix in dipping sauces, dressings, and other sauces
– To be incorporated with fusion dishes
– With stews and soups
Origin
Indonesia
Thailand
Category
A hot sauce/ chili paste/ sambal
A curry paste
Mode of production
Commercially and homemade
Commercially and homemade
Availability
– Usually available in jars.
– This can be easily bought from Asian grocery stores, local groceries, supermarkets, and online sellers.
– Typically comes in jars/tubs/packets/tins
– Readily available in supermarkets, groceries, Asian stores, and online shopping sites.
Storage
– It can stay flavorful for a long period in the fridge. Still, refrigeration is not compulsory for store-bought options.
– Can be kept in a dry, cool place.
– Red curry paste purchased from the store will stay well for a few years unopened when kept in a cool, dark place. 
– But when opened, it needs to be stored in the fridge, and it will stay well for about two weeks.
Sambal Oelek Vs Red Curry Paste – SpiceRally Drill Down
Since you learned about the differences between Sambal Oelek and red curry paste, we hope you might be interested in knowing how Sriracha sauce and Sambal Oelek would differ. Thus, we've got you covered with a fully detailed article- click here!
Summery
We truly hope you will never get confused between these delicacies again. Because, as we just shared, Sambal Oelek and red curry paste are different in their mode of usage, texture, ingredients, and even flavor. Moreover, Sambal Oelek is a hot sauce/ sambal/ chili paste, and in comparison, red curry paste is basically a "curry paste".
Related Topics