Asian foods often bring a remarkable taste tweak to your table with their incredibly delectable flavors. Thus, knowing about Thai red curry paste substitutes will be equally necessary for you to save a dish or two!
The alternative we use instead of this paste should be able to give a similar warm, spicy, and zesty bite. Therefore Thai red curry paste substitutes include:
So, are you prepared to discover the best replacements that you could use instead of your favorite curry paste? Refer to each of these carefully and pick out the best for you!
11 Best Thai Red Curry Paste Substitutes
This paste includes ingredients like:
Red chilies
White pepper
Cumin
Coriander
Garlic
Galangal
Salt
Shallots
Shrimp paste
Kaffir lemon peel
Therefore, you cannot actually expect that mixing a hot red chili powder with one or two other spices will give the best flavor resemblance. And that is why we had extensive research on finding the closest alternatives that go best with the taste of our subject leader.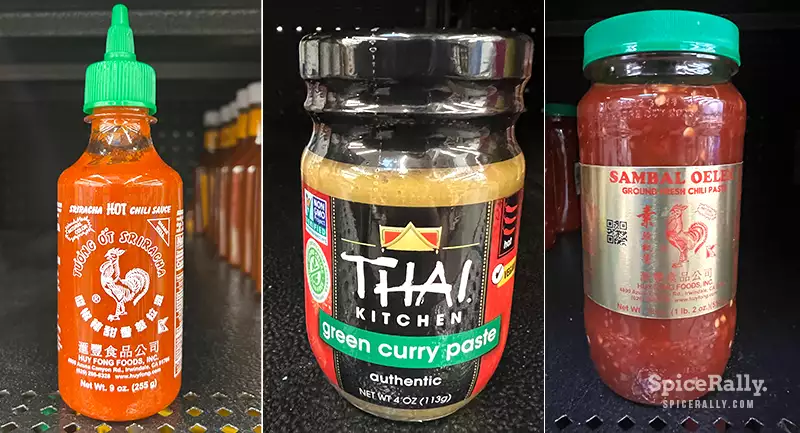 You can try these Thai red curry paste substitutes with many dishes that call for the original product. So, without further ado, let's move on to the list.
01- Harissa Paste
Harissa paste can be one of the best alternatives of all time! You will get a very close flavor approximation thanks to the similar set of ingredients they both share, such as red chilies, cumin, coriander, and garlic. 
In addition to these ingredients, Harissa paste could also include lime juice, vinegar, and tomato paste which also give similar taste elements to our subject leader but with a more acidic bite due to the usage of vinegar. 
However, you can use Harissa paste in any dish you wish to use the red curry paste. But, you will have to be careful as the spice level of harissa can be a bit more overwhelming than the Thai red curry paste, and the consistency can be a little runnier. 
Thus, when you substitute, start with half the amount you use with the original paste and then gradually build up the flavor.
Harissa can be a lot more than just being a substitute for the red curry paste. Want to know how? Then click here and read our article on Harissa paste.
02- Red Chili Paste
If you have a thing for Asian stews, curries, and soups, red chili paste would hardly be missed from your kitchen. In fact, this replacement is a decent second choice for our subject leader with common ingredients like red chilies, garlic, shrimp/anchovy paste, and sour agents.
There can be many types of chili pastes in the store in different spice levels. For example, the popular Korean chili paste Gochujang can give more spiciness than the red curry paste. 
Therefore, when you hope to replace it with any of the chili pastes, be mindful of their spice levels. It would be best if you go for another Thai chili paste but if not, use it in smaller amounts initially until you develop the desired flavor.
03- Sambal Oelek
Sambal Oelek is the traditional Indonesian chili paste which is way different than an ordinary chili paste. You may already have this in your refrigerator. Or else, you can easily buy this from your local store.
Sambal Oelek shares a set of common ingredients with the Thai red curry paste, such as:
Red chilies
Ginger
Garlic
Lime juice
Shrimp paste
Even though Sambal Oelek could not give the same zing of the exotics like coriander root, this could still save dishes like meat, soups, stews, and stir-fries that call for red curry paste in their original recipes.
Thus, you can substitute with the same amount from this chili paste just as you would use our subject leader. But, if you find the taste a bit overwhelming, use a little at first and increase the amount slowly.
04- Laksa Curry Paste
The wonder of Asian cooking comes down mainly to the alchemy they do with mixing and matching the spices. You can easily find laksa curry paste from an Asian store, and it is a staple in Malaysian cuisine.
However, laksa paste can be more profound and richer in flavor than Thai red curry paste as it includes ingredients like peanut oil and cashew nuts. But apart from these additional elements, it shares many flavors like:
Galangal
Red chilies
Cumin
Coriander
Shrimp paste/ dried shrimps
Lemongrass
Laksa paste is typically used to make the famous Malaysian laksa curry. Nevertheless, you can replace this, especially in many curries and stew dishes, thanks to these similar flavor elements. 
However, be cautious if you have nut allergies when using this substitute. And you can replace this option in a similar amount as you would use the red curry paste.
05- Curry Powder
Curry powder is a universal ingredient, and you could easily find it anywhere. If you would doubt in what ways a single powder could actually replace a complex paste, here we explain to you! 
But, we would insist that curry powder has the capacity to give that strong "curry" punch, particularly to curries that call for red curry paste. Curry powder is a combination of a medley of flavorful spices, which typically include cumin and coriander.
However, if you want the pungency and color of the red curry paste, we suggest you add some hot chili powder along with some lime zest and salt. Moreover, to make it into a paste, you can add some water.
So, in this way, you can use curry powder as a base with most of your curry dishes. Use your inner master chef skills to build up the flavor with this option and get the taste you want!
Food makes travel so exceptional because you get to taste what it's actually supposed to taste like. To eat the real Pad Thai or finally have a proper curry is something pretty amazing

Meghan Markle
06- Thai Yellow Curry Paste
Thai yellow curry paste will be your best bet if you need an accurate flavor approximation. So, you win over many dishes with this option if you already have it at home. When red chilies become the base colorant of red curry paste, turmeric becomes the base of the yellow curry paste.
It includes most ingredients that our topic leader has, such as:
Lemongrass
Garlic
Cumin
Coriander
Shallots
White pepper
Red chilies
Kaffir lime peel
Some may or may not include shrimp paste, and as mentioned earlier, it is earthier with a turmeric base. Thus, you can use this in the same amount as red curry paste with most dishes it calls for. 
However, remember that the yellow paste will not be a precise option when making signature dishes like Thai Red Chicken Curry or Thai Red Vegetable Curry. In such instances, try adding a red chili pepper powder to get the desired color.
07- Thai Green Curry Paste
This is another one of the best Thai red curry paste substitutes that could be found easily. The green curry paste would work just as well as the yellow curry paste. It has a vibrant green color gotten from the green chilies used as its base.
This alternative also can be used in place of the original product in many curries, stews, soups, and stir-fries. Both of them share many common ingredients like :
Galangal
Garlic
Kaffir lime peel
Coriander
Cumin
Shallots
White pepper
Some green curry pastes include shrimp paste, while some don't. However, the main difference that you get to encounter is the color. Apart from that, this good still is an excellent replacement to be used in similar amounts. 
So, as we mentioned when we explained the yellow curry paste, try to add some red chili powder in the signature red curries. But then you will have to be careful with the spiciness since green curry paste is also spicy due to the green chilies.
08- Berbere
Berbere is marked for its pungent and hot punch. It is a blend of many spices that also include cumin and coriander and red chili powder. It gets the peppery kick by black pepper and the zest of ginger from dried ginger powder.
Therefore, if you got Berbere at home, you can save a dish or two by substituting this in place of the red curry paste. But, this could have a deeper and more robust flavor due to the other spices used like cinnamon, allspice, nutmeg, cloves, etc.
However, Berbere can go well with curries when it goes in similar amounts. You can also add some lime zest, lemongrass, coriander root, and shrimp paste to Berbere to get the best flavor approximation if you have them at home.
09- Vindaloo Paste
Vindaloo paste or Vindaloo Masala is a popular curry paste in Indian cuisine jam-packed with flavor and aroma. It shares many common spices with our subject leader such as:
Red chilies
Cumin
Coriander seeds
Garlic
The peppery kick is acquired by black pepper, and the galangal flavor is accomplished by ginger. Vindaloo paste typically has a depth of flavor than red curry paste since it has many other additional ingredients like cloves, fennel seeds, cardamom, cinnamon, etc.
But it can still be used in many dishes, particularly in curries that call for red curry paste in their original recipes. You can substitute this paste with a similar amount and experience the magic!
10- Sriracha Sauce
Who wouldn't actually have this incredibly flavorful hot sauce in their homes! You might be regularly savoring sriracha with many foods, but did you ever think it would be good enough to substitute red curry paste? 
We bet you wouldn't. But the truth is you can use it if it isn't a signature Thai red curries. Sriracha sauce usually contains red jalapenos and garlic with other flavorings. So, this would still be a worthy choice to be used in pinches. 
It is obvious that you would not get a precise flavor, yet it can save some of your soup, stew, and stir-fry dishes. So, save it as a last choice if you do not have anything on the list we mentioned above.
If you are a hot sauce fanatic, perhaps there are a lot of things that you might want to know about Sriracha sauce. And the good news is, you are just one tap away from the most detailed feature that you could ever get about this flavorsome hot sauce!
11- Homemade Thai Red Curry Paste
Why mourn over something you don't have when you can make it on your own! Homemade Thai red curry paste can be as good as what you usually buy from the store( or maybe even better!). You can use the ingredients you already have at home and put them together in a very short time.
So, just check out the simple homemade recipe that we have shared with you below.
To discover all the spices and ingredients used in the red curry paste, click here and refer to our article.
Is Red Curry Paste Spicy?
Generally, the red curry paste is spicy, but it is not fiery enough to blow your heads off. It usually has a convenient spicy bite to go well with many rich and deeply flavorful dishes.
However, when you make this paste at home, you can adjust the spiciness by increasing or decreasing the amount of red chilies and the type of red chilies you use.
Is Red Curry Paste Hot Or Mild?
Red curry paste is actually warm and hot. It becomes hot due to the red chilies used, and it is warm because of the warm spices and herbs. However, the spiciness always depends on the type and amount of red chilies. Thus, it can be mild if mildly spicy red chilies are employed in the recipe.
Did you ever think about other ways that you could incorporate Thai red curry paste into cooking apart from ordinary curries? In this article, we have brought you 11 smart ways you could use this flavorful paste. Check out now!
Going Down With The Thai Red Curry Paste Substitutes…
This paste is an iconic delicacy in many traditional Thai dishes, which brings out an insanely flavorsome bite. Therefore, you could find it very hard to continue with your Asian dishes if you run out of this curry paste.
So, giving you a chance for a sigh of relief was our sole intention of sharing these ultimate 11 Thai red curry paste substitutes. They can provide a very close flavor replication to the original paste and do the actual charm in your kitchen!
Related Topics