Curry powder is a flavorful blend that can stand alone to bring you the desired authentic Asian taste in any dish. But what would you use instead when this mix is not around? Thus, we will enlighten you with the best curry powder substitutes through this article.
The ultimate alternatives which could bring the closest flavor to curry powder include:
So, continue reading to know how these replacements can become effective flavor swaps whenever you run out of your favorite spice blend.
The 07 Best Curry Powder Substitutes
The vivid flavor profile of curry powder is achieved by its potent spices such as:
Coriander
Cumin
Turmeric
Black pepper
Red chilies
Cinnamon
Fenugreek
Garlic
Ginger
Mustard seeds
Cloves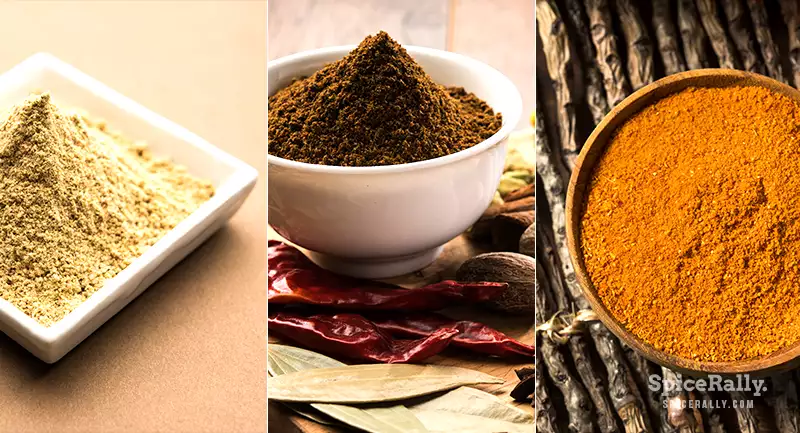 Thanks to the spices featured in this spice blend, it is not very challenging to find a suitable replacement that could help you save a dish or two. So, check out the list below and find yourself the best curry powder substitute!
If you are interested in knowing more about the ingredients used in curry powder, do not miss our article right here!
01- Garam Masala
Garam Masala is the spotlight of Indian cooking, used widely in a variety of dishes. It has a comparable flavor to our subject leader and shares many similar ingredients like:
Cumin
Coriander seeds
Cinnamon
Red chilies (Kashmiri red chilies are used often)
Cloves
Black pepper
Ginger
However, Garam Masala does not typically contain turmeric. So, if you intend to swap this in any dish, you can use it in similar amounts but follow with a dash of turmeric if you need an approximate color and flavor.
To discover more differences between curry powder and Garam Masala, you can tap here and refer to this article.
02- Sambar Powder
Popular in South India, sambar powder also contains a lot of ingredients that are in curry powder. It holds a similar color and shares spices like coriander seeds, fenugreek, cumin, turmeric, red chilies, black pepper, etc.
However, sambar powder is heavier in flavor since it contains a decent amount of ground lentils. This is typically not a part of curry powder. Therefore, swap it moderately, starting with a small amount.
Nevertheless, on the other way around, Sambar powder still could be replaced in many curries, which calls for our topic leader in original recipes.
03- Chaat Masala Powder
Chaat Masala has a complex flavor yet can be considered another possible replacement when you don't have curry powder in hand. This option shares the same spices, such as cumin seeds, red chilies, cinnamon, cloves, black pepper, etc. 
But chaat masala can be sweeter, slightly sour, and tangier than our topic leader since it usually has some additional spices, dried mango powder, salt, and sometimes sugar. So, it is always mindful to start small and then increase the amount as you go.
This option can be a suitable replacement for curries, some other meat, fish, and vegetable dishes.
Do you need to learn some impressive ways to use curry powder in cooking? We are ready to enlighten you with 06 methods- just click here.
04- Tandoori Masala
Tandoori masala is another curry powder substitute which you could easily find in any supermarket or Asian grocery store. This contains a majority of flavors as in our subject leader like:
Red chilies
Fenugreek
Cumin
Coriander
Garlic
Ginger
Cloves
Black pepper
However, tandoori masala is way more powerful. Moreover, it has a bright red hue, and therefore, you will not usually get the yellow color as in curry powder. But it'll still be great to be added to many dishes that originally called for our topic leader. Accordingly, you can use a small amount initially and then proceed until the flavor is developed.
05- Vindaloo Curry Powder
This alternative is another decent choice to reach out to whenever our topic leader is not around. In fact, Vindaloo curry powder is a version of curry powder.
And it has many similar ingredients like red chilies, mustard seeds, turmeric, cumin, black pepper, garlic, ginger, etc. Since the flavor is comparable to curry powder, you can swap this in equal amounts, particularly with meat curries like chicken.
06- Curry Pastes
If you go down the supermarket's spice aisle, you can find plenty of curry pastes under many brand names. Thus, if you cannot find curry powder, going for a curry paste could be another great choice.
Thai yellow curry paste, Thai red curry paste, vindaloo curry paste, and many other Thai, Indian, and Indonesian curry pastes can come to your rescue! Although their texture is different, they can still be good enough to be replaced in many curries.
Good food goes much deeper than the simple enjoyment of flavors and spices. It creates connections, memories, and moments to share with friends and loved ones.

Anonymous
Many of them contain similar ingredients, but check the list of content and choose one with a closer flavor profile. In addition, some of them could contain animal traces like shrimp paste. So, if you are vegan, be careful before choosing this replacement. However, curry pastes usually have a richer taste. So, it is always safe to begin with a small quantity.
Do you need to know precisely how curry powder would differ from curry pastes? If so, we have a fully detailed article here.
07- A Simple Combination Of Coriander Seeds, Allspice, And Turmeric
If you have difficulty getting the rest of the substitutes mentioned in our list, simply combining three spices could give you an amazing outcome! All you have to do is mix ground coriander seeds, ground allspice, and turmeric powder in equal amounts.
This mixture will imitate the taste of our topic leader with identical warm, earthy, and savory flavor notes. You can use this with many recipes that originally call for curry powder in similar amounts. In addition, if you prefer a heat approximation, throw in a dash of chili powder.
Would you like to prepare your own batch of curry powder at home? If so, you can find a simple step-by-step guide/recipe if you click here.
Aren't These Curry Powder Substitutes Real Life-Savers!
A good alternative will help you safeguard the taste of your dish and its quality. Consequently, all the curry powder substitutes mentioned above, such as Garam Masala, sambar powder, tandoori masala, chaat masala, Vindaloo curry powder, etc., will offer a close flavor to curry powder whenever you run out of it.
Related Topics