Savory preparations of Thai cuisine are often defined by their curry pastes. While Thai Massaman curry paste is one of their major cooking ingredients, let's share the things you need to know about this Thai staple.
Thai Massaman curry paste is the key ingredient of the traditional Thai Massaman chicken curry. It is also used in a few other meat dishes and often includes some staple Thai spices and herbs. They are as follows:
Thai red chiles
Green cardamom
Cumin
Coriander seeds
Cinnamon
Cloves
Nutmeg
Mace
White pepper
Garlic
Galangal
Lemongrass
Coriander root
In addition to these ingredients, it also contains shallots, shrimp paste, salt, and kaffir lime zest.
So let's dive right in and see what wonders Thai Massaman curry paste can create in your cuisine too!
What Is Thai Massaman Curry Paste?
Thai Massaman curry paste, popularly known as "Prik Gaeng Massaman" in Thailand, is a common and traditional Thai cooking ingredient. It hails from southern Thailand and is known for its spicy, robust, and powerful flavor profile.
This curry paste essentially stands out from the rest of the traditional Thai curry pastes since it contains many dry spices and they are toasted beforehand. This is the key element used in authentic Thai massaman curries, which are often made using chicken and beef.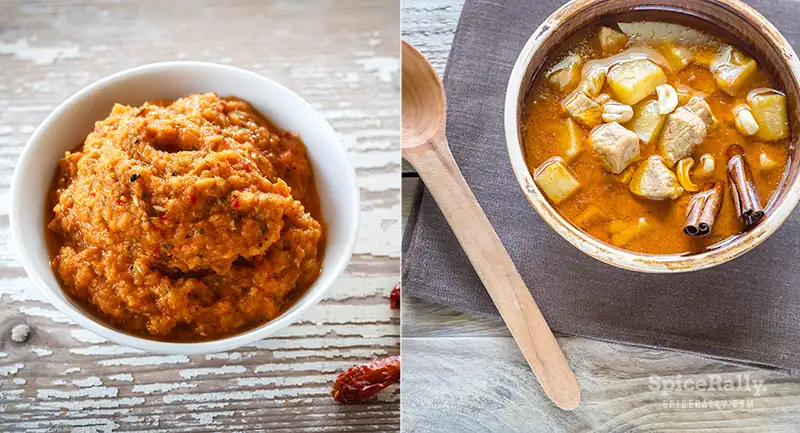 Another significant characteristic of this curry paste is that it includes some dry spices which are not so familiar to Thai cuisine, such as cardamom, nutmeg, and mace. While most native Thais prefer making their own Massaman curry pastes at home, you'll find many commercially made varieties as well. The recipe has been confined to a somewhat standard formula with similar ingredients.
However, you might find variations depending on the difference between some ingredients and their proportions. Thai Massaman curry paste is typically so much better when made fresh at home, and it does not take a lot of time to come together.
How Does Thai Massaman Curry Paste Taste?
Thai Massaman curry paste is way more assertive and stronger in flavor than any other type of Thai curry pastes. The overall flavor profile is more inclined to that of Indian flavors with a robust spiciness. It packs a punch of fragrance and is not so hot since mild Thai chiles are used often.
Ingredients In Thai Massaman Curry Powder
Dry Spices  
Thai red chiles- Although Thai chiles are typically a bit on the hotter side, milder chiles are used in this curry paste. Accordingly, dried Thai spur chiles are toasted, ground, and then mixed with the ground spices. Sometimes, some recipes even include a combination of mildly hot and hotter chiles to create a perfect balance of flavor depending on personal preference. However, the smoky, earthy, fruity flavor of dried Thai spur chiles also gives an appealing color to this curry paste along with the enhancement of the taste.
Green cardamom– Powdered green cardamoms or whole cardamom pods are toasted and then ground before incorporated with Thai Massaman curry paste. Some recipes even call for Thai cardamoms, which usually have a different flavor profile than regular green cardamoms. However, this spice gives a slightly sweet, floral, and citrusy flavor with a minty aroma.
Cumin– This spice is another staple in this curry paste. Cumin seeds are toasted and then ground to be added to the curry paste rather than using cumin powder. The distinctive nutty, earthy, warm, and hearty notes of cumin seeds improve the overall flavor profile of our topic leader.
Coriander seeds– Citrusy, nutty, and warm coriander seeds are used hand in hand with cumin seeds. Like cumin, this spice is also used as whole seeds and then toasted and ground to be added to Thai Massaman curry paste. Coriander seeds are generally mild in flavor; therefore, it helps balance out this curry paste's robustness.
Cinnamon– Either cinnamon sticks are toasted, and ground, or pre-ground cinnamon powder is directly incorporated with the rest of the dry spices to add up to the flavor profile of this curry powder. Cinnamon is a spice with a unique sweet character and is warm and hearty to go with the rest of the warm spices included in this.
Cloves– Being one of the boldest spices in Thai Massaman curry paste, cloves play a significant role in terms of intensity and aroma. Since a small amount of cloves goes a long way, it is often used mindfully. In fact, freshly toasted ground cloves taste stronger than ground cloves. Therefore usage is decided upon the preference.
Nutmeg– Fragrant nutmeg gives a distinctive sweetness with nutty and earthy overtones. This spice is not much used in Thai cuisine; therefore, ground nutmeg is often used in this curry paste. The bold flavor of this spice pairs well with cloves, mace, and cinnamon to create an all-around flavor for our topic leader.
Mace– Backed by the taste of nutmeg, mace is another spice that is rarely used in Thai cooking. However, this special spice also gives a flavor that is similar to nutmeg. Most of the time, whole mace florists are toasted, ground, and then mixed with the rest of the dry spices to add up to the Thai Massaman curry paste.
White pepper– Milder than black pepper, yet with a bold flavor, white pepper is described as grassy, peppery, and slightly fermented. Ground white pepper is often used as whole peppercorn and then toasted to be ground with other dry spices. But there are occasions where ground white pepper is used for convenience.
Fresh Spices
Garlic– Fresh garlic is a pungent spice that packs a punch. It gives an invigorating kick to the curry paste pairing well with all the other ingredients used.
Galangal– Fresh galangal is another staple used in Thai Massaman curry paste. Cuttings from a young root are often used here and are combined with garlic and shallots to make the flavor profile of this curry paste. Slightly citrusy, peppery, and warmly spicy galangal enlivens our topic leader, along with its strong aroma.
Herbs
Lemongrass- This is another staple in Thai Massaman curry, and typically a generous amount of lemongrass is used in a single batch. This herb has a strong aroma, and the flavor is often described as mild citrusy and lemony with a hint of ginger. Fresh lemongrass root is pounded or blended with the rest of the fresh spices to incorporate its full-bodied flavor into the overall flavor profile of the curry paste.
Coriander root- Distinctive to Thai cooking, coriander root is another ingredient that always features in Massaman curry paste. They have an incredible aroma, even more than coriander leaves, with a slight zesty, peppery flavor. The flavor profile is a combination of citrusy and spicy, with very unique earthy undertones like that of celery root. Coriander roots are also pounded to blend with the wet ingredients used in this curry paste and then mixed with the dry spices to make the best out of its flavor.
Other Ingredients In Thai Massaman Curry Paste
In addition to the primary spices and herbs described above, there are a few other essential elements that are used to define the flavor of the Massaman curry paste. While shrimp paste, kaffir lime zest, and salt are often used in many recipes, some variations might also include bay leaves, fish sauce, palm sugar, and tamarind paste.
How To Use Thai Massaman Curry Paste?
As mentioned earlier, Thai Massaman curry paste is mainly used in making signature Thai Massaman curries. These Massaman curries are primarily made using chicken and beef, but they are made using other types of meat as well.
In addition to its main use, this curry paste may have a handful of other uses as well. Accordingly, you can use Thai Massaman curry paste in applications such as:
A base for marinades
To make savory rice and noodle dishes
As a base for soups and stews
To make fillings for spring rolls and buns
To incorporate into ground meat mixtures and casseroles
What Are The Best Substitutes For Thai Massaman Curry Paste?
There can be nothing quite like Thai Massaman curry paste. But still, we can count on some alternatives with a similar flavor and texture if you can't find this curry paste around.
While a homemade Massaman curry paste can be the best replacement for any store-bought option, these ready-made substitutes can help you out by creating a similar effect:
Thai red curry paste
Thai green curry paste
Thai yellow curry paste
Panang curry paste
Vindaloo curry paste
Curry laksa curry paste
FAQs
Where To Buy Thai Massaman Curry Paste In The US?
Thai Massaman curry paste is readily available across Thailand. But you might find it a bit challenging to find it when it comes to the Western market. However, you can purchase this curry paste from Asian stores or find it in the international spice aisle of leading supermarkets. If not, you can also get it through many online vendors.
How To Store Thai Massaman Curry Paste?
Some store-bought Thai Massaman curry paste varieties contain preservatives so that they can be kept outside in your pantry even after they are opened. But you should keep them in a cool, dry place with no direct sunlight.

However, if you're making your Thai Massaman curry paste at home, you should store it in the refrigerator or the freezer. Generally, this curry paste will stay well at room temperature for about one month, while it will last longer (for a few months) in the refrigerator or freezer.
Is Thai Massaman Curry Paste Vegan?
Traditionally, Thai Massaman curry paste is not vegan-friendly since it contains shrimp paste. But you can find vegan options for this curry paste from the store, or you can even make it at home.
Is Thai Massaman Curry Paste Keto-Friendly?
Like most curry pastes, Thai Massaman curry paste is also a great option to include in your ketogenic diet since it does not contain unnecessary carbs. It is also suitable for any other low-carb diet plan. In fact, this ingredient is excellent for anyone willing to shed a few pounds in a healthy way to add a tasty kick to their plates.
Does Thai Massaman Curry Paste Contain Gluten?
This curry paste usually comes together with fresh spices, herbs, and seasonings. Therefore, gluten-related ingredients are not included in the authentic recipe. But you might find gluten in some commercially-made Thai Massaman curry paste options. Thus, read the list of ingredients before purchasing.
Bring The Thai Goodness On To Your Table With The Robust Thai Massaman Curry Paste!
If you're bored with ordinary curries, Thai Massaman curry paste is a great ingredient that can upgrade your bland dishes. The bold, aromatic, and spicy punch of flavor in this curry paste will transform any coconut milk-based dish, bringing the distinctive essence of Thai cuisine right on top of your dinner table. It is simply addictive, and you'll fall in love with the zesty kick it will give your chicken, beef, pork, etc!
Related Topics