Thai curry pastes usually make an appealing base in many authentic Thai dishes. Therefore, knowing about Thai green curry paste substitutes will be super important to you if you are somebody who savors Asian recipes quite often.
The following options could give a similar spicy, pungent, and warm bite that our subject leader would provide. Those Thai green curry paste substitutes include:
So, we hope to get you covered with the best Thai green curry paste substitutes with the closest flavor resemblance to the original product in this feature. Read till the end to be educated with everything you need to know.
The 10 Best Thai Green Curry Paste Substitutes Explained.
These ten green curry paste alternatives are going to be one of SpiceRally's most epic discoveries made for you! You'll realize how appropriate these options would be apart from being very easy to get to.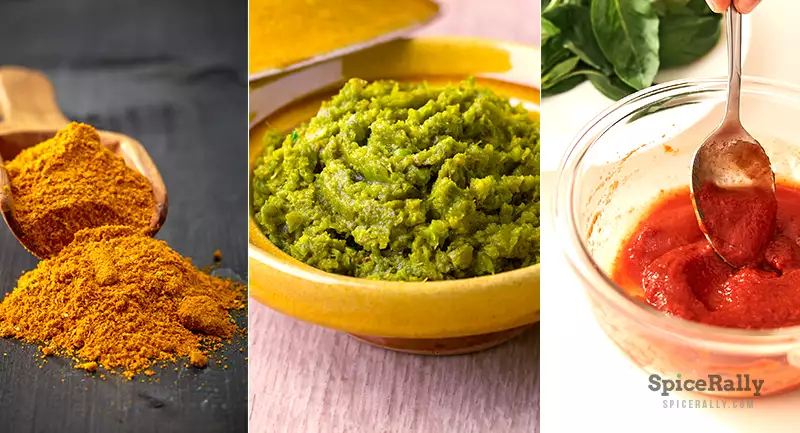 As a reminder, this curry paste includes key ingredients such as:
Green chilies
Ground cumin
Ground coriander seeds
White pepper/ black pepper
Galangal/ginger
Coriander root (cilantro root)
Garlic
Shrimp paste
Kaffir lime zest
Salt
Many of the substitutes in our list have similar ingredients, and they can be alternated in many recipes in place of the original recipe. So, let's get down to the show!
01- Thai Red Curry Paste
This is one of the main curry pastes used in Thai food, just like the green curry paste. It contains almost all the ingredients in our original product with red chilies instead of green.
Thai red curry paste can be a little spicier than our subject leader but will be given very close results as you when using the green curry paste. You could not expect to have the same greenish hue. 
But still, this option is good enough to replicate the taste in any dish that has been called for our subject leader. So, you can use it in similar amounts. But, if you are concerned with the hotness, use a little less than you would use the green curry paste.
If you are curious about discovering something more about the Thai red curry paste, click here for our fully detailed article. We have tackled anything and everything on this Thai delicacy!
02- Thai Yellow Curry Paste
Thai yellow curry paste is a bit more intricate in flavor than red or green curry pastes. It is similar to most Indian curry pastes since some additional spices like turmeric, cardamoms, nutmeg, cinnamon, cloves, and curry powder are used most of the time.
Yellow curry paste uses red chilies or yellow chilies in little amounts to get the spiciness. In addition, it also shares a similar set of ingredients with the our topic leader, such as:
Garlic
Galangal
Coriander seeds
Cumin seeds
Lemongrass
Coriander root
Kaffir lime peel
Replace this option in similar amounts. And if you feel like the spiciness is way too less, you can add some green chilies to your recipe if desired.
03- Panang Curry Paste
Panang curry paste is also another possible green curry paste substitute you could replace in many dishes. However, this paste is a lot more rich and flavorful in taste with additional ingredients like peanuts, kaffir lime leaves, cloves, cardamom, etc.
Nevertheless, this curry paste shares some similar flavor components like :
Coriander seeds
cumin seeds
Galangal
Garlic
Kaffir lemon peel
Shrimp paste
Lemongrass
Coriander root
Sometimes this could be way too spicier than the green curry paste since typically, a lot of red chilies are used. Moreover, if you show allergic reactions to peanuts, you should be careful when replacing this. 
Still, this alternative is good to go in many authentic Thai dishes that call for green curry paste. But, due to its deep flavor and spiciness, we suggest you build up the flavor by using a small amount at the beginning.
04- Green Harissa Paste
Green harissa paste is something that should never be underrated! It is hot, pungent, and aromatic and would give a closer flavor and color resemblance to our subject leader. 
This paste typically includes green jalapeno peppers for spiciness and contains additional herbs like mint and parsley. This paste could be spicier than the green curry paste but has some similar ingredients like:
Coriander seeds
Cumin seeds
Garlic
Coriander leaves (cilantro leaves)
Green harissa paste will be great with stir-fries, noodles, pasta, and many other dishes that call for mixing. However, if you need much taste approximation, you can add some ginger and shrimp paste if you have one at home. We suggest you use green harissa paste in moderate amounts until you develop an accurate taste.
Have you ever tried making green harissa paste at home? If any thoughts are popping up, just tap here and check out our article on the most epic homemade green harissa paste recipe that you could ever make!
05- Chermoula
Chermoula is a star ingredient in Mediterranean cuisine that is used to flavor many meat, seafood, and even vegetable dishes. This is quite often employed as a marinade or a condiment. 
Thus, when you need to replace green curry paste in dipping sauces, sauces, marinades or to mix in with rice dishes, Chermoula would be a perfect flavor replication. This paste has some common ingredients as in our subject leader like:
Ground coriander seeds
Ground cumin
Garlic
Coriander leaves (cilantro)
The galangal flavor is approximated with ground ginger. Moreover, the flavors of kaffir lime and the hotness of green chilies are acquired by lemon zest/juice and chili peppers or red pepper flakes, respectively.
Chermoula can be darker in color than the green curry paste with a more oily base. Thus, like most of the options in this list, use a small amount initially and try to build up the taste accordingly.
06- Lemongrass Paste
Do not think twice to buy this paste whenever you come across one when you walk down the supermarket's spice aisle. The reason is that this lemongrass paste could be a great alternative whenever you run out of thai green curry paste.
This paste will be lovely to be incorporated with many stir-fries, soups bases, stews, and marinades. Interestingly, it shares many similar ingredients with our subject leader, such as:
Lemongrass
Garlic
Galangal
Kaffir lemon peel/ leaves
Shallots
Lemongrass paste is usually spicy due to the jalapeno peppers used, and the umami flavor notes are attained by anchovy paste. Although this is not a good alternative for authentic Thai green curries, it could still be substituted in many recipes.
Hence, if you are using this replacement, you can start with a small amount, as the flavor of lemongrass can be overpowering in some instances. So, the best thing would be to start slow and then proceed with the taste growth.
07- Laksa Curry Paste
Laksa curry paste is plenty out there in most supermarkets, online sellers, and obviously at Asian groceries. So, whenever you cannot find green curry paste, going for laksa will help you save a dish for the upcoming family event!
This paste will not be able to give the pleasant green hue that the original paste would provide. But still, it can resemble the taste as it contains matching ingredients like:
Coriander seeds
Cumin seeds
Lemongrass
Galangal
Shrimp paste/ dried shrimp
However, it could have a depth of flavor than green curry paste since it could contain additional elements like cashew nut and peanut oil. The paste is spicy due to the red chilies used so that the spiciness can be related.
Laksa paste is not a very suitable alternative for traditional Thai green curries. But this can be good enough to be used in many other instances like soup bases, stews, stir-fries, marinades, etc. Be careful when using it if you have nut allergies, though. And replace in moderate amounts to build up the desired taste.
08- Vindaloo Paste
Vindaloo paste comes together with some similar ingredients such as cumin, coriander seeds, ginger, etc. Therefore, this option is another good substitute for many dishes that call for green curry paste in the original recipe.
The peppery hint is acquired by the black pepper content, and spiciness is met by the red chilies. However, although you will not get a similar color, this will satisfy the basic flavor profile of our subject leader.
Vindaloo paste or vindaloo masala has some other additional ingredients like cinnamon, cardamom, fennel seeds, and cloves. Accordingly, it will have a richer taste than the green curry paste. 
So, be mindful of the quantities when replacing and keep in mind that this will get along well with many meat, seafood, and vegetable curries that are not authentic Thai green curries. And, you can mix in some lemongrass, shrimp paste, lime zest, and cilantro if you have them at home for the best flavor approximation!
09- Curry Powder
Save curry powder as a decent latter list substitute if you do not have anything else we have mentioned in our list. In fact, curry powder is very easy to find in any store, and you might already have this in your spice rack.
This alternative will give quite a perfect replacement in many curries particularly. As the name suggests, curry powder is loaded with deep flavors, especially coriander and cumin.
The base of this alternative is turmeric powder. Thus, you might not expect results in terms of color. However, try to mix in some ingredients like green chilies, lemongrass, galangal, lime zest when working with a curry.
Executing this flavor hack will give you incredibly effective results when using curry powder as a green curry paste substitute! The amount you use could depend on the dish. Hence, too much and too little will not obviously work. So follow the moderate rule to build up the flavor.
10- Homemade Thai Green Curry Paste
If you are a Mom or a home cook who would love to experiment with new recipes, why don't you try to make your own Thai green curry paste at home? 
A homemade one will be as good as a store-bought one. Plus, you can use it with anything that calls for green curry paste without limitations or worrying about your dish's amount or color effect.
So, to give you a helping hand, we have posted a tasty authentic Thai green curry recipe down below. You can check it out!
Homemade Authentic Thai Green Curry Recipe
If you have any variety of some extra hot green chilies at home, give this recipe a try! You'll need only a few things to make this go-to curry paste, and it will be simply good with anything. Let's get started!
Preparation time- 15 minutes | Cooking time- 15 minutes | Additional time- 10 minutes
No: of servings- 5 | Total calories- 51 | Cuisine- Thai
Spices And Herbs Required
One teaspoon of ground cumin seeds
One teaspoon of ground coriander seeds
Two tablespoons of galangal
Four chopped green cayenne peppers (seeded and membraned removed)
Six chopped Thai green chilies
Five garlic cloves
1/4 teaspoon of white pepper
1/4 teaspoon of turmeric (optional)
Two to three tablespoons of chopped lemongrass stems
Two tablespoons of chopped coriander (cilantro) root
1/4 cup of coriander (cilantro) leaves
Other Ingredients Needed
Two teaspoons of lime zest
Two red shallots
Two and a half tablespoons of dried shrimp paste
Two to three tablespoons of water (or as needed)
1/2 teaspoons of salt (or to taste)
Instructions For Preparation
Put all the ingredients except water in a blender or a food processor. Blend everything together until well combined and become a smooth paste.
Scrape down the paste and add water as required. If you are okay with the smoothness of the paste, water will not be necessary.
Use immediately or store in an air-tight glass container in the refrigerator. You can freeze this for up to one month.
I am a bit of a gourmet chef, and I love cooking mostly Thai food. And a lot of times in movies, you have these trailers that have these little ovens and kitchenettes. A lot of actors never use them, but I would cook lunch just about every day.

Will Ferrell
What Does Thai Green Curry Paste Taste Like?
Thai green curry is warm, spicy, umami, salty, and herbal with a slight sweetness. It is very aromatic and creamy in its consistency. However, this paste is less spicy than the Thai red curry paste and hotter than the Thai yellow curry paste.
Would you like to learn some exciting methods to use green curry paste apart from ordinary curries? If so, click here and refer to our epic feature on 11 brilliant ways to use Thai green curry paste.
Can You Use Yellow Curry Paste Instead Of Green?
Thai yellow curry paste can be one of the best green curry paste substitutes. Instead of the green curry paste, it can certainly be used in many curries, soups, rice or noodle dishes, stir-fries, etc.
However, yellow curry paste can be less spicy and yellow in color, as its name suggests. The base is turmeric and curry powder, while the base of the green curry paste is green chilies. So, you will experience a slight difference in spiciness and color.
Moreover, it can have a depth of flavor with additional ingredients. Nevertheless, due to the many elements these two pastes share, they can be used interchangeably.
These Green Curry Paste Substitutes Are Extravagant- Aren't They!
We, at SpiceRally, always work our best to help you out with the hurdles you usually get to encounter while cooking. And, this episode about the best green curry paste substitutes just happened due to an outcome of our attempt.
So, the list we shared might even include options you never thought of. But, if you refer to them carefully, you could have been able to understand that they give a close flavor approximation to the original product.
So, what is your best pick? Let us know by dropping a word in the comment section at the end of this feature!
Related Topics