We are about to rock your cooking experience with this exceptional green-hued curry paste! In fact, Thai green curry paste uses are not actually confined only to curries. Thus, you can incorporate it with another number of methods in your day-to-day meals.
This authentic Asian flavor can essentially go a long way in cooking. On that note, the Thai green curry paste uses include:
So, let's take you on this venture where you will learn many unexpected ways to use this green curry paste. If you have a container at home right now or are expecting to buy one soon, try one of these ways for a brand new meal adventure!
11 Ways To Use Thai Green Curry Paste
When you have such a flavorful, rich, and tangy food item right in your kitchen, we guess you would want to experiment with something beyond ordinary. Most of the time, we think that a curry paste is only for making the base for certain curries (which is not true, btw).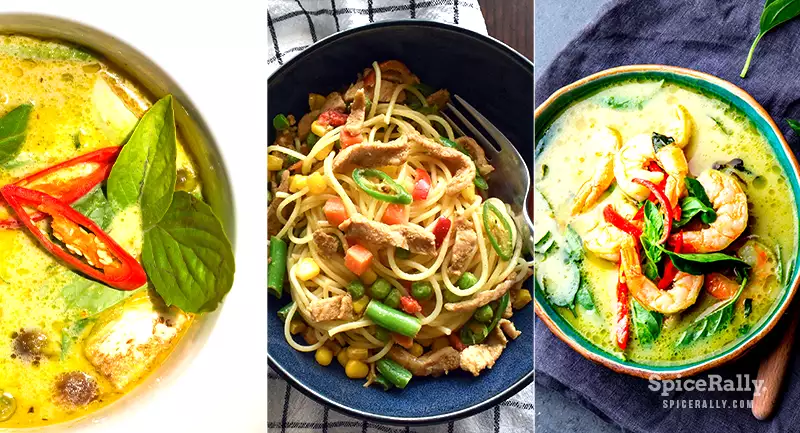 Thus, this episode from our series on Thai cuisine will excite you as now you are about to discover the most epic ways to use your jar of Thai green curry paste! Let's check out.
01- With Meat, Fish, And Other Seafood
As you know, this paste is packed with pungent spices and aromatic herbs, which will obviously complement meat, fish, and seafood dishes. Green curry paste is great with chicken, beef, white fish, prawns, shrimp, cuttlefish, shellfish, etc.
The intense flavors of ingredients like green chilies, garlic, galangal, lemongrass, and coriander root will make a super tasty base for many meat and seafood-based dishes providing a subtle green shade. Thai Green Chicken Curry and Thai Green Fish Curry are popular among these dishes.
If you are vegan, not only with these meats or seafood, you can also use a vegan-friendly green curry paste to make a number of soy, tofu, and paneer dishes. Just try some when making tofu or soy masala, and thank us later!
02- With Eggs
Scrambled eggs will not be bland anymore if you have this paste at home! Mix in a scoop while the eggs are in the pan and cook for a minute. You can also try it with boiled egg curries and egg omelets.
Moreover, the spicy kick of the green chilies will provide a healthy punch if you are following a low-carb diet. On the bright side, the green curry paste is also very low on calories, so you can easily integrate it if you are following a keto diet with eggs.
Did you know that Thai yellow curry paste gives life to many dishes just like the green curry paste would do? However, there are things you should know about the difference between green and yellow curry pastes. So, here we have a detailed article that clearly compares both of them. Click here and refer to it now!
03- To Be Incorporated With Vegetables
Vegetables can be incredibly delectable with this paste. If you have kids at home who resist eating veggies, green curry paste is a great way to make a medley of dishes without making them too spicy.
Eggplant, carrot, beans, mushrooms, potatoes, butternut squash are some vegetables that go the best with this paste. Coconut milk would be the ultimate pairing, and try a vegan version of this if you are following a vegetarian/vegan diet.
04- As A Base In Soups
Many soup bases call for our subject leader. In fact, this paste is not only confined to the recipes that originally call for it. But you can also make a flavorful taste tweak by adding a scoop to your ordinary chicken noodle soup.
The green curry paste can instantly convert your soup bowl to a hearty one. It complements any type like chicken, vegetables, lentils, and creamy soup dishes.
At first, people ate simply because they were alive and because the food was tasty. Modern people have come to think that if they do not prepare food with elaborate seasonings, the meal will be tasteless. If you do not try to make food delicious, you will find that nature has made it so.

Masanobu Fukuoka
05- With Stews
Are you bored of typical stews that you put together daily in your kitchen? Then why don't you try some green curry paste on them! If your family loves filling stews, you can try a bit from this paste in many stew recipes such as vegetables, chicken, fish, beef, etc.
If you haven't tried soy or tofu stews before, we believe that it is high time to give them a shot with this paste. Just like in many curries, you can pair the paste well with coconut milk or broths when making stews.
06- In Rice, Noodles, Spaghetti, And Pasta Dishes
Your rice or dishes do not necessarily have to be bland anymore when you have a green curry paste jar! While it could give an excellent taste twist to special rice dishes like Nasi Goreng, Thai fried rice, seafood rice, etc., you can also use a scoop with plain white rice.
Noodles, pasta, and spaghetti could have the same outcome as this. Try this with your ordinary pasta salad or rice noodle salad (vermicelli salad) for a real change. 
Moreover, green curry paste could make great curry sauces mixed with spaghetti, and you can accompany the dish with meatballs. Yes, the options are limitless!
Thai red chili paste is as delicious as Thai green curry paste which can be integrated into a wide variety of dishes. So, if you are curious to discover some interesting ways to use this condiment, click here and refer to our post.
07- With Stir-Fries
You won't believe us if we say that Thai green curry paste will go with ANY stir-fry you wish to make! Add a scoop from this green goodness to your stir-fries like:
Chicken
Fish
Pork
Beef
Mushrooms
Potatoe
Mixed vegetables
Prawns
Fish
Meatballs
Sausages
Tofu
Paneer
The trick is really simple. You just have to mix in some of this paste and prepare your stir-fry as you would normally do. But the results will be ridiculously delicious!
08- In Salad Dressings
In salad dressing- really? In the beginning, we said that this episode would be filled with some unexpected ways to use this paste. And, point number 07 is actually one of them.
Some would ask us how a curry paste is practicable in salad dressings. But, the truth is, it is all about being creative! The content of Thai green curry paste- the spices and exotics like coriander root can complement many raw vegetable salads, chicken, pasta, noodle salads, etc. You can simply pair this paste with lemon juice and olive oil.
Like we have shared about these 11 ways to use green curry paste, we have similarly discussed some exciting ways to use red curry paste in this article.
09- To Be Combined In Dipping Sauces.
Well, this is one of the most effortless ways to use our subject leader. When you get a dipping sauce and think it is too bland the way it is, you can go ahead and mix in some from this green paste.
Moreover, you can mix a scoop and see the change when you wish to make any cream-based dipping sauces from mayonnaise, sour cream, or cream cheese.
10- As A Marinade
Who said you need to season your meat or fish the same way every time you marinate them? Stir in a scoop or two to your ordinary marinade and enhance the taste with spicy, umami, and herbal flavor notes.
The green curry paste particularly goes well with fish and seafood marination. But it doesn't mean that you could use it with meat like chicken or steak too.
11- In Wrap Fillings And Sandwich Spreads
Who wouldn't love to be imaginative with fillings and spreads! When it comes to this point, your options become boundless like many other ways to use this paste.
In fact, Green curry paste would be great in sandwich spreads like cream cheese, cheese, and tuna. Plus, when you make spring rolls, Panini, Shawarma, or tortilla wraps, try to mix in some from this paste with the fillings that go in. Experiment with the spreads and fillings, and let us know how it came out!
Which Is Hotter, Red Or Green Thai Curry Paste?
To be frank, Thai red curry paste is hotter than Thai green curry paste. Their levels of spiciness change due to the types of chilies used. Accordingly, the red chilies that are typically utilized in the red curry paste are comparatively spicier than the green chilies used in the green curry paste. 
However, if you are making these two pastes at home, you are always free to adjust the hotness according to your taste preferences. You just have to increase or decrease the amount of red or green chilies that you use or incorporate other varieties of chilies or chili powders with the paste.
If you are so obsessed with Thai curry pastes, you would not want to miss our feature on our clear explanation of the difference between Thai red curry paste and green curry paste. Click here and check out now!
Does Green Curry Paste Have Cinnamon?
The authentic Thai green curry paste does not include cinnamon in its original recipe. However, it doesn't mean that there is no propensity for cinnamon to be out of certain green curry paste recipes by any means. 
In fact, commercially made ones and homemade recipes could include this spice; therefore, check with the list of ingredients if you are concerned.
So, What Is Your Favorite From The Above Thai Green Curry Paste Uses?
Your cooking dairy doesn't have to be mundane. And, bringing the same things to the table will actually make your days boring. So that is why you have to make use of the familiar ingredients to make twists!
We strongly believe that the 11 brilliant Thai green curry paste uses that we have just discussed on top will help you with that twist you intend to make. Thus, let us know what is your best pick from the list above, and don't forget to let us know how brightly it came out!
Related Topics