No matter whether it is breakfast, lunch, or dinner, eggs tend to become a staple on the table of most of our homes. So, here we bring you some of the best hot sauces for eggs that add a spicy twist to your dishes.
Perfect hot sauces to jazz up your egg recipes include:
Let us bring the overall takeaway of these sauce types and how they elevate any egg recipe to suit your palate.
Top 11 Best Hot Sauces For Eggs And Best Ways To Incorporate Them
Hot sauces are loved by all spicy food lovers as they bring an incredible zing to our favorite dishes. On the other hand, eggs are considered one of the most versatile and healthiest food sources in the world that can be prepared in multiple ways. So, if you love eggs and hot sauce at the same time, the good news is that you can combine them to get a divine meal!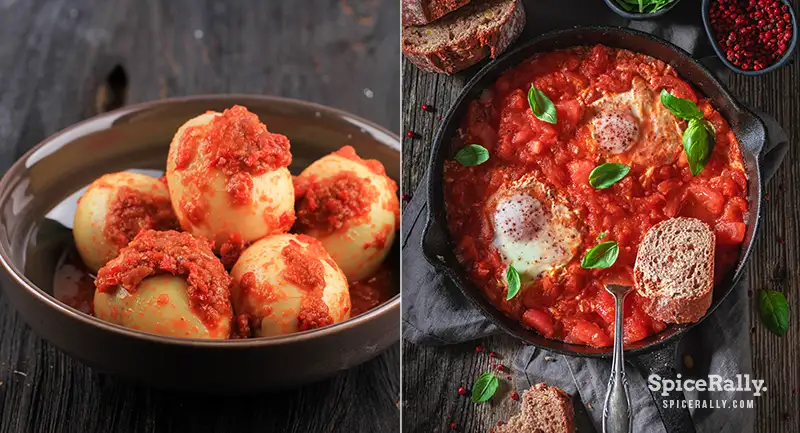 Hot sauces come in various levels of heat, spiciness, flavors, and aromas. In fact, you have a wide range to choose from, and every hot sauce does not go with every egg dish. So, refer to the explanation we have given below and understand what hot sauce type you should pick and what egg recipe it pairs well.
01- Tabasco Sauce
This is one of the USA's most popular hot sauce types, which lends a remarkable flavor boost to our regular dishes. Tabasco sauce typically comes together with tabasco peppers, salt, and vinegar to make its simple yet flavorful flavor. This sauce is usually above 3000 SHU, offering decent hotness to your egg dishes. 
Tabasco goes pretty much well with the many egg recipes you make. Ramp up your Egg Benedicts, scrambled eggs, and devilled eggs, or combine it with baked, poached eggs or omelets to have an excellent punch!
02- Sriracha Sauce
The universal flavor of sriracha sauce is another type of hot sauce which is not unfamiliar to American and Thai households. This sauce is moderately hot and spicy with about 2200 SHU and is very versatile and goes simply with anything! 
Sriracha is made with red jalapeno peppers, salt, garlic, sugar, and vinegar so that it gives hot, pungent, tart, and sweet flavor notes. Use this hot sauce to spice up any egg dish, starting from simply made omelets, fried eggs, boiled, scrambled, devilled, or even sunny side-ups.
03- Chili-Garlic Sauce
Second, to none, the zesty chile-garlic sauce is another game-changer on your dinner table! You'll be able to find many varieties of chile-garlic sauce in the market under many brands, so their flavors broadly vary depending on the ingredients used in each. 
However, it primarily includes hot chile peppers and garlic to give the desired hotness and that distinctive garlicky kick. Generally, the chili-garlic sauce is anywhere on the Scoville heat scale from 5000-10000, which can be relatively hot. 
It will always become your go-to hot sauce whenever you need to add an extra punch to your devilled eggs, scrambles, egg sandwiches, baked eggs, or Asian-style chilli eggs.
04- Gochujang Sauce
As a popular condiment in Korea, Gochujang sauce is another type of hot sauce that you can easily find in your local supermarket as well. This perfectly blended sauce is made with ingredients such as Korean red chile peppers, sugar, soy sauce, etc. 
The exotic taste of this hot sauce can elevate your egg dishes, lending a mild to moderate hotness of about 1000 SHU. Incorporate gochujang sauce with fried, scrambled, poached, or many Asian-style breakfast eggs.
05- Green Pepper Sauce
Some say "green is better than red," which can certainly relate when it comes to sauces! In fact, many green pepper sauces that you can find in the market can be literally better than some of the red hot sauces! This condiment is usually made with green jalapenos and other types of hot green chile peppers. 
Offering hotness of about 1000-3000, most green pepper sauces possess a versatile spicy, tangy, and umami flavor profile. Drizzle your favorite green pepper sauce over plain fried eggs or incorporate it with egg casseroles, egg sandwiches, scrambles, etc.
06- Peri Peri Sauce
This sauce is much more flavorful than most other hot sauces you usually find. This African condiment usually comes together with African bird's eye chiles, garlic, black pepper, paprika, onion, oregano, etc. 
Peri peri sauce has several variations with different heat levels, while it generally has a SHU ranging from 50,000-175,000. The explosive flavors and heat of peri peri sauce can be an excellent complement to your scrambled eggs, egg salads, omelets, devilled eggs, or when making egg curries.
If you need to learn more about peri peri sauce and its ingredients, click on this link and refer to our detailed article.
07- Habanero Hot Sauce
Habanero hot sauce is a relatively fiery condiment that usually ranges from 100,000-350,000 SHU and could even reach up to 600,000 SHU! Thus, this extremely hot guy can be the choice of those who want their dishes to have an absolute punch. 
Habanero hot sauces come under different brands, which are typically flavored with ingredients such as vinegar, black pepper, salt, sugar, oregano, etc. The hot, piquant, umami and slight sweetness of habanero sauce is ideal to be incorporated with devilled eggs, baked eggs, eggs salads, etc.
08- Sambal Chilli Sauce
This condiment might not be ubiquitous like sriracha or tabasco hot sauces. But still, you'll be able to find several brands that sell sambal chilli sauce which is perfect if you need to give a distinctive Asian kick to your egg dishes. 
This hot sauce is typically made with crushed chile pepper, sugar, salt, vinegar, garlic, etc. With a zesty, garlicky, and sweet undertone, sambal chilli sauce is mildly hot, which can be great with most egg dishes you regularly make. Combine a dash of this hot sauce with scrambled eggs, poached, baked, or fried eggs, and drizzle it over casseroles or sunny side-ups.
09- Chipotle Hot Sauce
Scoring from 2500-10,000 SHU on the Scoville heat scale, chipotle hot sauce is another popular and readily available condiment that is quite hot and spicy. Chipotle peppers feature as the primary ingredient of this hot sauce, along with several other types of chile peppers, vinegar, oregano, citrus zest, etc. 
The chipotle sauce usually has an explosive taste which you might also get in several other flavors like lemon, orange, and raspberry. Incorporate this hot sauce with your favorite omelets, devilled eggs, scrambles, baked eggs, and other creamy egg dishes.
10- Sweet Chile Sauce
Sweet chile or sweet red chile sauce is perfect for those who expect a distinguished hot, sweet, tangy, and mild umami flavor in your egg dishes. This hot sauce type is also readily available in your local supermarket. 
Sweet chile sauce is moderately spicy with a SHU of about  50,000, which can depend on the type of red chile peppers used. In addition to red chile peppers, this condiment includes sugar, garlic, salt, etc. Use sweet chile sauce to incorporate into your scrambled eggs, bake, poached, or egg salads, while you can also use it as a dipping sauce alongside fried eggs or omelet.
11- Jalapeno Hot Sauce
As the name suggests, this hot sauce scones together with jalapeno peppers as the main ingredient, along with apple cider vinegar, salt, garlic, sugar, etc. This sauce is ideal if you need to have a distinctive Mexican touch to your egg recipes. 
Jalapeno hot sauce is mildly spicy, showing a SHU range of 3500-8000 on the Scoville heat scale. This condiment is an excellent complement to spice up your breakfast egg dishes, devilled eggs, shakshuka, egg salads, etc.
How Do You Rate Your Favorite Hot Sauce With Eggs?
Tabasco, sriracha, peri peri, chili-garlic, and jalapeno are some of the hot sauce types you might already have in your pantry. Gochujang, green pepper, Sambal Chilli, Chipotle, etc., are also some of the best sauces that you must try with your omelets, boiled, scrambled, devilled or poached eggs. So, what's your favorite? Let us know in the comments below!
Related Topics