Even though single spices and herbs are good to go with our topic leader, seasonings and spice blends can add an unparalleled zest to this dish. Thus, let's share the five best seasonings/spice blends for scrambled eggs that you will never resist!
Try the following spice mixtures and seasoning blends with your next scrambled egg dish:
Want to see how these flavor combinations could take your dish to the next level? Keep reading!
The 5 Best Seasonings/Spice Blends For Scrambled Eggs
Loved by many, scrambled eggs fall into the most convenient food category in the world. It comes together with a few ingredients but also calls for a lot more others for a sophisticated flavor.
This dish takes up many seasonings and spice blends that could go side by side with its rich texture. Hence, we have picked the best five of them, which are readily available in stores, and you might already have a majority of them in your spice rack right now!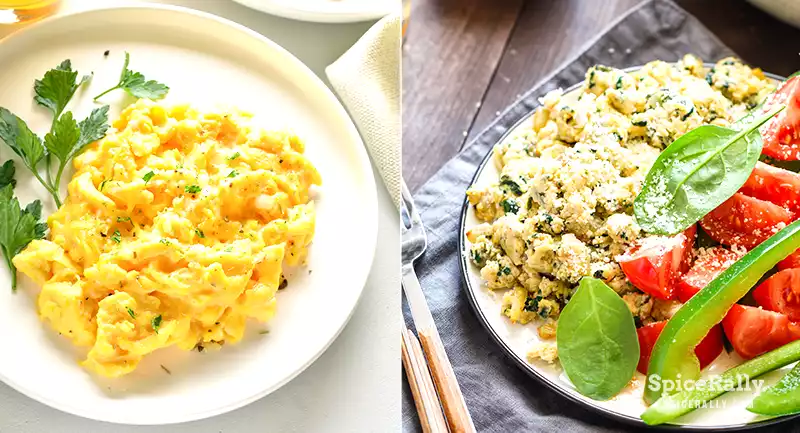 01- Italian Seasoning
This seasoning is primarily made of dried herbs so that you can get the goodness of several aromatics from just one blend. This option typically contains a combination of herbs such as:
Thyme
Rosemary
Marjoram
Savory
Sage
Basil
Oregano
You can make this blend at home or go for a store-bought option. You can easily purchase it from leading online stores, supermarkets, and even grocery stores.
Incorporate Italian seasoning with the egg mixture, or sprinkle some on top of the eggs after it is cooked. The deep and rich flavor of this blend will perfectly integrate with the creamy texture of this dish.
Our Team's best store-bought

Italian Seasoning

Picks!
02- Herbes de Provence
Herbes de Provence is a subtle blend of herbs coming from French cuisine. It is packed with many fragrant and flavorful herbs like:
Thyme
Marjoram
Savory
Basil
Oregano
Tarragon
Rosemary
Lavender flowers
Our Team's best store-bought

Herbes de Provence

Picks!
This is quite similar to Italian seasoning but holds a more profundity of flavor. However, it works the same way as the Italian seasoning would do with your dish.
For extra taste, remember to follow up with additional ingredients like bacon, rich cheeses, butter, and spices like garlic powder, black pepper, etc.
Apart from these seasonings and spice blends, herbs also could be a great flavor enhancer to scrambled eggs. So, if you need to discover the best herbs that pair well with this dish, click here!
03- Curry Powder
Curry powder is a spice blend made from many pungent spices. There is a wide variety of this spice blend. Yet the one that is commonly available in the Western market is relatively milder than the Asian versions.
Curry powder is often associated with Indian cooking. And they traditionally come up with their version of scrambled eggs called "Egg Bhurji," made using this spice mixture. This scrambled dish is spicier and more savory than the classic recipe.
So, if you are interested in giving an authentic Asian touch to this dish, you can go for a basic curry powder blend like the Happy Belly Curry Powder. This blend is flavorful enough with mild spicy notes that include ingredients like:
Turmeric
Sweet red pepper
Cumin
Fenugreek
Ginger
Mustard seeds
Paprika
Anise
Cassia Oil
Salt
You can buy this product online in handy little 3-ounce jars. Pair mild curry powder with a pinch of Garam Masala, green chilies, tomatoes, cilantro (coriander leaves), etc., for a great flavor advancement.
Our Team's best store-bought

Curry Power

Picks!
04- Adobo Seasoning
You could never go wrong with Adobo seasoning if you need a well-seasoned dish of scrambled eggs! This is literally a versatile, all-purpose blend coming together with a few simple ingredients like:
Onion powder
Dried Oregano
Paprika
Salt
All these spices and herbs ideally complement the eggs, so you will not doubt using this seasoning blend generously. You can either make your own batch or go for a well-known brand like the Goya Adobo All Purpose Seasoning With Pepper.
This pre-packaged option is readily available in most grocery stores, supermarkets, and online shopping sites in 8-ounce containers. Try incorporating Adobo seasoning with complementary ingredients like fresh herbs, sausages, and bacon for a divine dish.
Guacamole is a condiment loved as much as scrambled eggs by many around the world. Guacamole seasoning blends can make this dip extra flavorful- so click here to check out the best guacamole seasoning blend options you can buy online.
05- Taco Seasoning
Taco is another universal blend of spices and herbs that you might already have right inside your spice cabinet! This seasoning mix is spicy, savory and contains a sound amount of heat that even a pinch could go a long way in your scramble.
This blend typically includes warm ingredients like:
Paprika
Onion powder
Garlic powder
Dried Oregano
Ground cumin
Salt
You can particularly come with scrambled egg tacos by using other ingredients like taco shells, parmesan cheese, avocado, hot sauce, etc. Taco seasoning is easy to make at home, or you can effortlessly buy a store-bought option.
YOUR DIET IS A BANK ACCOUNT. GOOD FOOD CHOICES ARE GOOD INVESTMENTS.

BETHENNY FRANKEL
Flavor-Packed Blends Will Always Compliment Your Scrambled Eggs!
As you see, seasoning blends like Taco, Italian, Adobo, Herbes de Provence, and spice combinations like curry powder can immediately heighten the taste of scrambled eggs. So, try at least one of these with your regular dish and savor the magical taste twist with every bite you take!
Related Topics
How To Spice Up Scrambled Eggs? (07 Incredibly Delicious Ways!)
What Are The 7 Best Spices For Scrambled Eggs?
The 09 Best Seasonings/Spice Blends For Mac And Cheese
This post may contain affiliate links. If you use these links and make a purchase, We may earn a small commission. However, there's no extra cost to you. Also, as an Amazon Associate, we earn from qualifying purchases. Thanks!