Ubiquitous Sriracha sauce is a delicacy enjoyed by many people, as a hot sauce with many dishes that require a spicy, flavorful kick. If you had problems regarding this food, including Sriracha sauce ingredients and their uses, we would be covering all of them from this article.
This is a type of hot sauce and is made with hot chili peppers as its base flavor. This originated in Thailand. But, we will be discussing the popular Sriracha sauce types you can usually buy from the US market which typically include spices like red jalapeno peppers and garlic. In addition, they can also contain other ingredients such as:
Salt
Sugar
Distilled vinegar
Xanthan gum
Other preservatives
We know that you are already excited to know all the unknown facts about your chummy table companion. So, let's get started!
What Spices And Ingredients Are In Sriracha Sauce?
Pronounced as Suh-rah-cha, this sauce is known to have originated in Thailand. But, the American Sriracha sauce version is pretty different from the original Thai sauce.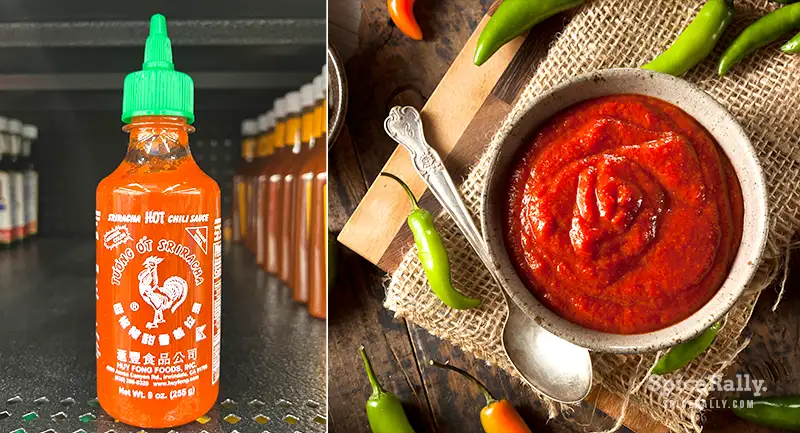 However, in this feature, we will be focusing on the most popularly used Sriracha sauce types in the USA, including the most extensively used Huy Fong Sriracha sauce (AKA "rooster sauce").
Spices
01 – Fresh Red Jalapeno Chilies
Chilies are the main ingredient of this sauce. Sun ripen red jalapeno chilies give this food an iconic sensation that is earthy, slightly sweet, and vegetal with mild to moderate spiciness. This sauce includes fresh red jalapenos, which is key to its incredible taste.
02- Garlic
Apart from the chilies, garlic is the next main spice you can savor in this food. The sources say that garlic powder is used more than fresh garlic. However, this spice, as a whole, gives the required pungency and intensity to this sauce, pairing well red chilies and complementing the overall taste.
Other Ingredients Used
While the two spices mentioned above act as the main ingredients of this sauce, here's the list of other flavorings and preservatives listed on the ingredient table of the bottle.
Salt
Sugar
Distilled vinegar
Xanthan gum
Potassium sorbate 
Sodium bisulfite
Did you know that sriracha sauce is a flavorful addition used to spice up scrambled eggs? If you need to know more ways to improve the taste of your scrambled egg dish, click here and refer to this post.
Does Sriracha Have Msg?
America's most used Huy Fong Sriracha sauce has claimed to have NO MSG in their product. However, other brands could contain MSG, so it is always better to refer to their list of ingredients or inquire from the manufacturer before buying if you are concerned.
If I was a condiment, I'm gonna go ahead and say I would be Sriracha, because I go well with other things. I'm too much for some people and hipsters like me.

Ike Barinholtz
Uses Of Sriracha Sauce
What is your way of using Sriracha? You may be using it as a dipping condiment and may be an ingredient in your food. However, there are many ways you can enjoy this delicious sauce with your regular diet.
Here are some ways that you can try:
To mix with creamy-based mayonnaise, sour cream, or cream cheese dips.
In certain cocktails like Bloody Mary
To be incorporated in soups and stews.
In meat, fish, seafood dishes, and marinades.
With egg dishes and egg-based toasts.
In vinaigrettes and certain salad dressings
With snacks like popcorn, burgers, or hot dogs.
In grilled cheese.
Sriracha sauce works as a condiment and as an ingredient in the kitchen. And there are a lot of other foods that can be both. So, if you need to find what they are and the difference between condiments, sauces, and dips, click here for our exclusive article.
How Is Sriracha Different From The Hot Sauce?
Sriracha sauce is actually a type of hot sauce. "Hot sauce" is the generic term that describes a wide range of spicy, tangy sauces and uses chili peppers as their base ingredient.
However, other hot sauces could have a more inclination to vinegar taste while Sriracha has its prominence to chili flavor. In addition, this sauce is less tangy, and it is a well-balanced combination of spicy, sweet, and tangy flavor elements.
Sriracha Sauce Substitutes
The taste of this delicacy is actually unparalleled thanks to its unique flavor profile. But luckily, we have some other possible products that can be taken as substitutes for Sriracha that you can easily find from the local store in your area or your kitchen whenever you run out of it.
Did you know that sriracha sauce is an excellent complement to eggs? Follow this link to discover more hot sauces and more ways to use sriracha in different egg recipes.
01 – Other Varieties Of Hot Sauce
We believe that all of you already have one or two or even more types of hot sauces in your pantry right now! The taste will not be precisely the same, but still, you can use any other hot sauce variety you can find at the moment when you can't lay your hands on Sriracha. 
Since the base is the same, you will get a much more flavor resemblance. And interestingly, same as Sriracha, most of them can be used as a condiment and also as an ingredient in many dishes.
Here's a list of hot sauce types that you can try:
Chili Sauce
Chili and Garlic Sauce
Habanero Hot Sauce
Chipotle Hot Sauce
Peri Peri Sauce
02 – Sambal Oelek
Sambal Oelek is the traditional Indonesian red chili paste made from a variety of chili peppers. This can be a bit hotter than Sriracha but could make a good-to-go substitute since the base is the same.
Moreover, Sambal Oelek is also thicker in consistency and less sweet. Therefore, for a better flavor approximation, try adding a sweetener when you use this in place of the original product.
03 – Gochujang
If you have Gochujang at home, then you are a winner! This is the classic Korean red chili paste typically made from Korean chili powder (Gochugaru) used as the base.
Gochujang is a little bit intense in flavor. But this makes a pretty good alternative when you don't have Sriracha sauce although it is milder than Gochujang. 
This Korean chili paste is sweet, spicy, and savory, which apparently has many flavor similarities to Sriracha. Moreover, this serves both as a base ingredient in many recipes and also as a condiment in dishes like salads.
04 – Harissa
This is another red chili paste coming from Tunisian cuisine and made using red chili peppers. Harissa can also be a bit spicier in flavor than Sriracha. But it can be considered a substitute when you don't find any hot sauces around.
Especially, Harissa is a great replacement for Sriracha when you want to use it as a condiment.
If you are interested in learning more details about Harissa, then you should not miss our article here.
05- Homemade Sriracha!
When nothing comes to your rescue, you can give a chance to your inner master chef! Yes, go ahead and make your own batch of Sriracha that can be as delicious or even more tasty than what you buy from the store! To help with that, we have given a simple homemade Sriracha sauce recipe down below.
Spice It Up With Oozes Of Sriracha!
This rich, bright red specialty undoubtedly has the ability to twist your food from bland to scrumptious in no time!
All the Sriracha sauce ingredients such as red chili peppers, garlic, sugar, salt, distilled vinegar, Xanthan gum, and other preservatives give it a depth of flavor and lavishness.
So, how are you going to incorporate this superfood with your next dish? We would love to know by a comment below!
Related Topics