A scrambled egg dish is something that you could easily whip up any time of the day. On that note, we will bring you a set of herbs for scrambled eggs that will give a great punch.
Use the following herbs for a serious taste boost in your scrambled eggs!
So, continue reading to learn how flavorful herbs could do the trick with your egg dish!
The 7 Best Herbs For Scrambled Eggs
Apart from being a delicious meal, incorporating herbs with eggs can also be very healthy. Especially if you are looking for new ways to enjoy your low-carb or keto diet, herb-infused scrambled eggs are a perfect breakfast idea.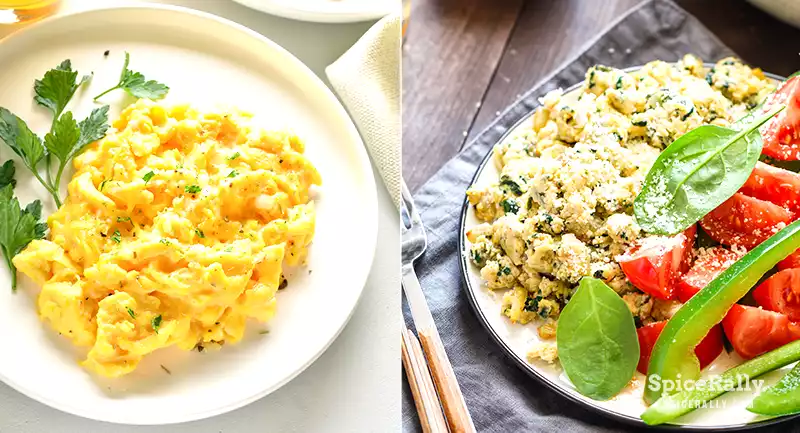 Fresh herbs pair better with this dish than dried ones. But if you have dried herbs, there's no problem with using them. You can pick the readily available ones from your garden. Or else, consider choosing your favorites from our list to be bought on your next visit to the store.
01- Flat-Leaf Parsley
Fresh flat-leaf parsley or Italian parsley has a fresh, clean, slightly citrusy, and bitter taste. This flavor profile goes really well with the mild eggy bite of this dish.
In addition to its taste, beautiful green parsley flakes will also give the eggs a striking appearance. Do not forget to pair this herb with soft cheeses, butter, and spices like garlic and black pepper.
While you could incorporate freshly chopped flat-leaf parsley into the egg mixture, you can garnish your dish with curled-leaf parsley. However, both varieties of this herb can glorify this dish!
02- Basil
The unmistakable flavor of basil is a blessing in disguise for many egg-based dishes! There are many types of basil. But the one that is common to Western cuisine has a perfect balance between savory and sweet with hints of pepper, anise, and mint.
This herb pairs well with mozzarella cheese and parmesan. And do not forget to follow up with other matching ingredients like sour cream, tomatoes, and shallots.
Did you know the seasonings/spice blends in your spice rack could add an advanced flavor to your classic scrambled eggs recipe? For more information, click on this link and refer to this article.
03- Thyme
Slightly lemony, earthy, and minty thyme can be considered one of the best herbs for scrambled eggs. Its sharp flavor profile perfectly pairs with the delicate taste notes of the eggs and the creaminess of this dish.
Freshly chopped thyme can be supplemented with other herbs like oregano, chives, and marjoram. Moreover, it gets along well with cream, parmesan cheese, green onions, etc.
04- Oregano
This herb has a robust flavor profile and aroma. It is bold and pungent, with a slightly bitter and peppery bite. You can get a delectable dish of scrambled eggs when this herb is incorporated with other flavoring elements like white pepper, marjoram, and shallots.
Fresh oregano can be finely chopped and mixed into the egg mixture, while you could also use dried oregano to be sprinkled at the end of the cooking process.
While the bold flavor profile of oregano complements scrambled eggs, it also goes perfectly with chicken. Need to discover more herbs to flavor your chicken dishes- click here and refer to our post!
05- Marjoram
Marjoram has a great smell and a flavor profile that is similar to oregano. But, this herb is a bit more intricate than oregano, with sweeter, more delicate, and woodsy undertones.
Marjoram can be used the same way as you use oregano, pairing it with parsley, tarragon, black pepper, cheddar cheese, parmesan, shallots, etc.
TO ENSURE GOOD HEALTH: EAT LIGHTLY, BREATHE DEEPLY, LIVE MODERATELY, CULTIVATE CHEERFULNESS AND MAINTAIN AN INTEREST IN LIFE.

WILLIAM LONDEN
06- Chives
Chives are an excellent choice for egg-based creamy dishes like our topic leader. This herb is recognized for its onion-like flavor. But they are much less intense and delicate than onions and give this dish a nice greenish visual appeal.
You can simply use chopped chives with your classic scrambled egg recipes, along with other ingredients like milk, butter, and black pepper.
07- Sage
Sage possesses a pronounced taste profile with a combination of flavor hints like eucalyptus, mint, and lemon. This herb is relatively powerful compared to the rest of our list. 
So it is always better to use it moderately since it has the power to dominate the overall taste of this dish. Therefore, we suggest mixing sage with other delicate fresh herbs like parsley, thyme, and basil.
Did you know that aromatic and savory sage works wonderfully with roasted potatoes as well? Click on this link and see this article to discover more herbs to include in your next batch of toasted potatoes.
Bless Your Eggs With Herbs!
Herbaceous, savory, and crisp herbs like flat-leaf parsley, basil, thyme, sage, chives, etc., add so much flavor along with a nutritional value to your dish of scrambled eggs. You actually don't want anything else to make this simple dish an extra special one when you have these aromatics in hand!
Related Topics