According to the statistics, each American consumes about 300 eggs annually, and scrambling them is obviously one of their favorite ways. So, in this episode, let's look at how to spice up scrambled eggs in delicious ways!
By trying out the following ways, you can come up with an extra special scrambled egg dish. They are:
So, keep scrolling down to learn in detail how these methods would help you make an ultra-satisfying egg-y meal!
How To Spice Up Scrambled Eggs?
A scrambled egg dish is probably one of the most convenient home-prep methods to enjoy all the goodness of the eggs. In fact, it is versatile and highly customizable that will accept most of your favorite ingredients in addition to the basics.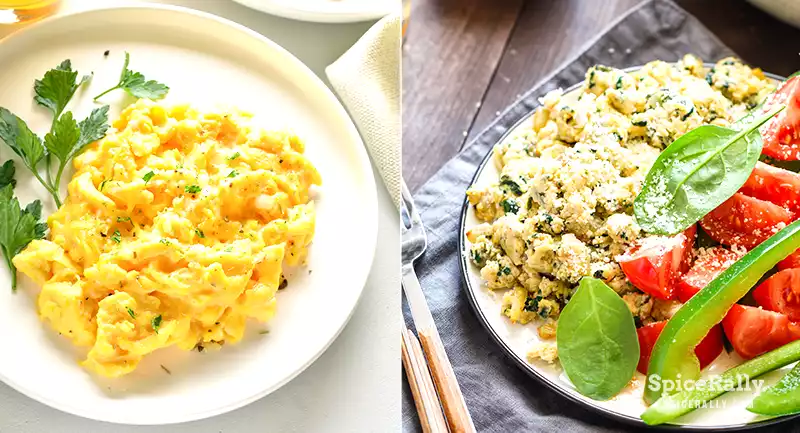 A variety of spices, herbs, cheeses, vegetables, etc., can make your scrambled eggs extra flavorful. We know you just need a little backup, and you will make the most soul-satisfying egg dish in the world!
01- Adding Spices And Herbs
Interestingly, many spices and herbs that are readily available in your pantry have the capacity to complement eggs. This is obviously the easiest and simplest way to spice up your scrambled eggs.
You can use pungent spices like freshly cracked black pepper, ground white pepper, ground cumin, garlic powder, onion powder, etc. In addition, if you need a hot kick, cayenne pepper, red pepper flakes, and even smoked paprika will offer a unique zest.
Freshly chopped herbs like chives, basil, tarragon, thyme, cilantro, and parsley can make a huge change in this dish. On the other hand, you can go handy with dried herbs like oregano, marjoram, rosemary, etc.
If you need in-depth details about the ideal spices for scrambled eggs, click on this link and refer to this article.
02- Using Vegetables
This may sound a little odd, but did you know that many vegetables could add up to the taste of this dish? You actually don't have to go fancy- just throw in some grated carrots, diced tomatoes, chopped bell peppers, sliced onions, sauteed mushrooms, and broccoli.
In fact, this is another perfect way to feed the vegetables to the kids who hesitate! It is healthy and would be a nutrition-packed meal for those tracking a low carb or a keto diet. Do not forget to follow up with a handful of your favorite greens, like spinach and kale.
03- Adding Cooked Ham, Sausages, Or Bacon
Do you need to impress your family or loved ones by showing them that breakfast should no longer be boring? Mix in some cooked ham, fried bacon, sausages, leftover pork chops, or rotisserie chicken with your eggs!
This is indeed one of the best ways to boost the taste of scrambled eggs without much effort. You can also use well-seasoned seafood like shrimp and small pieces of white fish or smoked salmon. Add cheese and additional ingredients like jalapenos for extra flavor.
04- Adding Cheese
Cheese is an ingredient that could well complement the creamy texture and taste of the eggs. If you want your dish to be rich and decadent, try incorporating an assortment of cheeses like:
Cheddar
American cheese
Swiss cheese
Goat cheese
Morbier
Monterey jack
Gruyere
Cote
Fontina
Pepper jack
Vielle
Some of these cheeses can be crumbled, and you will need to finely shred the rest in order to melt quickly with the eggs. Use milk, butter, and spices like black/ white pepper as complementary ingredients.
05- Incorporating Curry Pastes
As little as a teaspoon of curry pastes will give you the rich taste of an Asian-inspired egg scrambled dish. Curry pastes like Thai red curry, green curry, and yellow curry can bring so much flavor that you don't even expect!
In addition to these curry pastes, you can also incorporate harissa paste, Indian curry pastes, and types of sambals like Sambal Oelek to get a more sophisticated taste. Follow up with more butter, fresh herbs, and extra cheese to balance out the potent "curry" flavor.
06- Stirring In Sauces
Another no-fuss, effortless way to spice up scrambled eggs is by stirring in your favorite sauce! Just a drizzle of ketchup, tomato sauce, chili and garlic sauce, white sauce, or even Worcestershire sauce work wonders with our topic leader.
If you need some hotness with a serious punch of zest, you can also try hot sauces like sriracha, tabasco, or chipotle. This simple method can even make the most basic scrambled egg recipes taste much better!
Sriracha sauce spices up scrambled eggs, and it is also a great substitute for peri peri sauce. So, if you need more information about this and learn about more alternatives for peri peri sauce, click on this link and refer to our detailed article.
07- Adding Pesto And Salsa
Whisking pesto and salsa may seem overwhelming for a simple dish like this, but you will never regret it once you do! These two condiments contain a profundity of fresh flavors that will essentially cut down the blandness of the eggs.
Thus, even if you don't add anything else, a scoop of salsa or pesto will give the perfect taste that you will never resist! Remember to saute the salsa before mixing it with the egg mixture. So that its extra juices will drain and therefore your dish will not get too watery.
It's embarrassing that we all just walk through life blindly, accepting that scrambled eggs are fundamentally associated with mornings.

John Green
Summing Up
Scrambled eggs must be among your favorite foods, but that doesn't mean you have to enjoy it the same way every day. Hence, try adding an assortment of cheeses, some vegetables, use leftover cooked meat, and flavor your eggs with fresh herbs and spices to upgrade the taste instantly!
Related Topics