Chipotle sauce is a flavor-loaded condiment that would explode in your mouth, tantalizing your taste buds with a spicy kick. So, this article will discuss what is in chipotle sauce and its important ins and outs!
Chipotle sauce is a creamy condiment with chipotle peppers in adobo sauce, mayonnaise, and sour cream/ greek yogurt as its key ingredients. In addition, it also contains spices like garlic and black pepper. And it also has lime juice, salt, and sweeteners, while some variations may include chili powder, ground cumin, etc.
So, let's get to know everything about this decadent sauce, along with a simple homemade recipe you can try at home!
Jump to Recipe
What Is In Chipotle Sauce?
Chipotle sauce is a spicy, smokey, and versatile condiment with a creamy base. This sauce is a popular dip served at Chipotle, the Mexican fast-food chain. And we could find many similar products in the store, along with a range of homemade recipes.
However, most recipes have included canned chipotle peppers in adobo sauce as the key ingredient of this sauce. This is the main component that gives this sauce its unique smokey, zesty flavor.  The cream base is typically sour cream and mayonnaise, but we can see variations with others, such as greek yogurt, plain yogurt, and Mexican crema.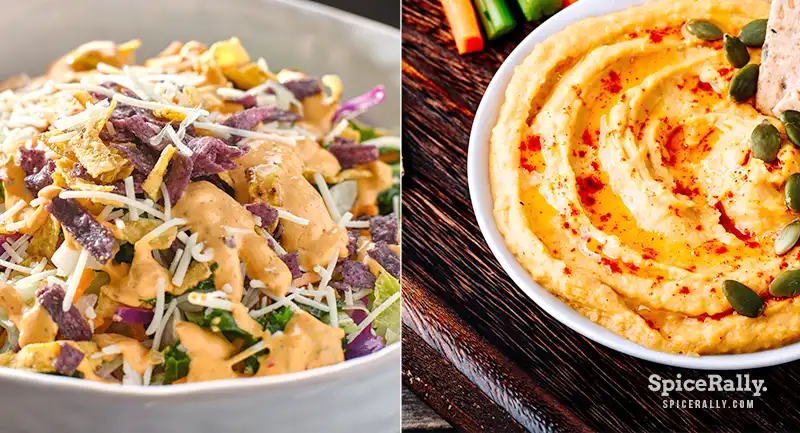 Spices
01- Garlic– Powdered/granulated garlic or fresh garlic cloves are included in most recipes to give a bold garlicky note to this sauce. This spice complements the spiciness of this condiment, adding a unique pungency pairing with the rest of the ingredients.
02- Black pepper– This is another spice that often shows up in a majority of the recipes. Black pepper powder or freshly ground black pepper is incorporated with the rest of the ingredients to enhance the peppery, spicy, and earthy undertone of this sauce.
In addition to these basic spices, some versions might also include ground cumin, cayenne pepper, chili powder, and paprika in order to enhance the spiciness, color, or hotness of Chipotle sauce.
Other Ingredients In Chipotle Sauce
In addition to the main ingredients of this condiment, it usually contains:
Salt
Lime juice
Sweeteners (sugar, maple syrup, honey)
Occasionally, some variations might include:
Chopped cilantro
Olive oil
Tomato ketchup
Dried parsley
Vinegar
Hot sauce (Siriracha, tabasco)
Peri peri is another delightful sauce from African cuisine. So, if you are interested in learning more about this flavorful condiment, click on this link and refer to our detailed article.
Dollop, Slather, Or Dip- Chipotle Sauce Is Delicious Either Way!
Chipotle sauce is undoubtedly a winner among the most flavorful condiments due to its rich and creamy flavor accompanied by its versatility. 
Chipotle peppers in adobo sauce give a distinctive spicy and smokey note to our topic leader, while sour cream and mayonnaise often provide a creamy foundation. Spices like garlic, black pepper, ground cumin, etc., work as backup flavors; meanwhile, lime juice, salt, maple syrup, or honey are typically included as seasonings.
Related Topics