We all know how pleasurable a plate of warm scrambled eggs would feel whenever you are hungry. So, if you love this dish, this post about the best spices for scrambled eggs will be super important!
Ramp up your next plate of scrambled eggs with a dash of these spices:
So, keep reading to learn further how these spices will help you get a divine egg dish any time of the day!
The 7 Best Spices For Scrambled Eggs
By the end of this SpiceRally episode, you will understand that scrambled eggs are not only about eggs, salt, milk, and butter. In fact, spices are a powerful component that can be used to level up the quality and taste of our topic leader in a blink of an eye!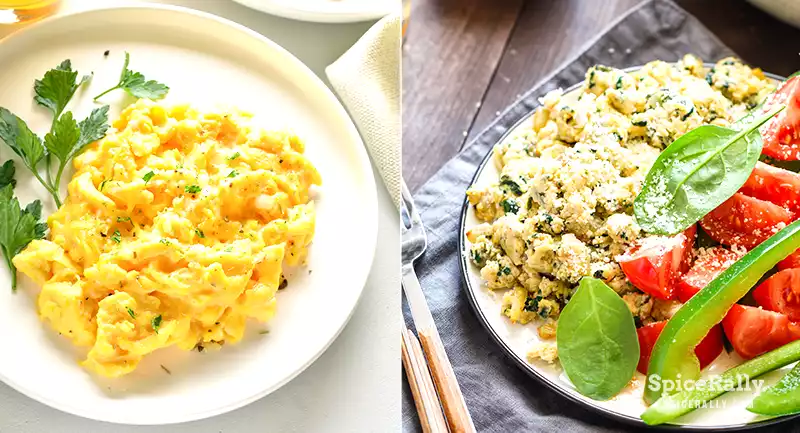 We have a list of the 07 best spices; you don't have to use them all. But all of them are convenient pantry staples. Pick your favorites and incorporate them with your next egg dish to experience the depth of the change they could make.
01- Black Pepper
Black pepper is the most used spice in this dish. It is very flavorful with earthy, peppery, and woody undertones. This ubiquitous spice is often paired with salt to get its best flavor.
You can use freshly cracked or ground black pepper. The sharp taste notes compliment the creamy butter, milk, and cheese, leveling up even the most basic scrambled egg recipe.
You can also use white pepper, depending on your personal preference. However, white pepper is less pungent and will not leave black traces in your egg dish.
02- Red Pepper Flakes
Hot, fiery, and spicy red pepper flakes can be a great addition if you need a zesty kick to your regular scrambled dish. Just throw in a dash to give it a depth of flavor and an appetizing appearance.
You can either incorporate this spice into the egg mixture or sprinkle some at the end of the cooking process. Follow up with cheese, cherry tomatoes, and bell peppers for an advanced flavor.
Apart from adding spices to scrambled eggs, there are many ways you can try to spice up this dish. So, if you are interested in discovering what they are, click on this link and read this article.
03- Paprika
Paprika is a wonderful spice that comes to your pantry with a variety of flavors. Hot, mild, or sweet paprika will add a subtle taste to this dish, while smoked paprika will offer a distinctive smoky, earthy flavor.
Whisk in a dash of paprika while you whisk the eggs, or sprinkle some sweet paprika on top of the cooked eggs. Mushrooms, tomatoes, bacon, and sausages are some of the ingredients that will back up the taste of this spice.
04- Cayenne Pepper
Cayenne pepper will provide an incredible zing to the classic scrambled eggs. This spice packs a sound amount of heat and profundity of flavor with a vibrant red hue and numerous health benefits.
You can pair this spice with garlic powder, black pepper, and fresh herbs like parsley, chives, thyme, etc. Add butter, heavy cream, milk, and cheese to balance out the dish's overall taste. This step could also avoid the heat of cayenne pepper from overpowering
Just like these spices help jazz up scrambled eggs, many hot sauces in your pantry also can elevate any of your egg dishes. Click here for more information!the dish.
05- Garlic Powder
Intense, powerful, and pungent garlic powder is considered one of the best spices for this dish. The sharp flavor profile of this flavoring can essentially reach a long way in your eggs, giving an amazing taste twist.
Garlic powder can be paired with other spices like onion powder, cayenne pepper, and paprika. Mix in your favorite veggies, cheeses, and anything you like to rock your regular dose of eggs!
06- Onion Powder
This spice works as much better as garlic powder, dispersing its strong onion flavor throughout the dish. Just throw in a dash to the egg mixture and pair it with ingredients like crème fraîche, butter, cheese, parsley flakes, and tomatoes to get the best flavor.
My life is a plate of perfectly edible but ordinary scrambled eggs. I want them savory, creamy, cheesy and maybe with bacon on the side.

Varsha Bajaj
07- Ground Cumin
Ground cumin seeds offer a more sophisticated flavor advancement to this dish with a warm, nutty, and slightly sweet taste bite. Adding this spice to scrambled eggs is not something in Indian cuisine, which is a very popular spicy dish called "Egg Bhurji".
This spice will give a characteristic taste to your regular scramble. In addition, cumin can be paired with other flavors like garlic powder, chili powder, ginger, turmeric, and garam masala.
Eggs And Spices- Such A Match Made In Heaven!
As you see, black pepper, red pepper flakes, garlic powder, onion powder, paprika, etc., can be considered the best spices for scrambled eggs. You don't actually need anything fancy, but if you got any of these flavorings, just a dash could go a long way!
Related Topics