As most of us call it, apple cider vinegar, or ACV, is a staple in most homes. It is known for its strong flavoring ability and especially for the many health benefits it has to offer. So, this post is dedicated to discussing apple cider vinegar ingredients that make it so remarkable.
Apple cider undergoes a complex process yet comes together with a few simple elements. While apples/ apple juice is obviously the main ingredient along with sugar and filtered mineral water which are used in most commercial as well as homemade ACV recipes.
So, we will cover how each ingredient functions in this vinegar. Keep reading!
What Ingredients Are In Apple Cider Vinegar?
The history of apple cider vinegar dates back to the ancient Greek and Roman era. In fact, it has been used as a therapeutic substance to heal miscellaneous ailments.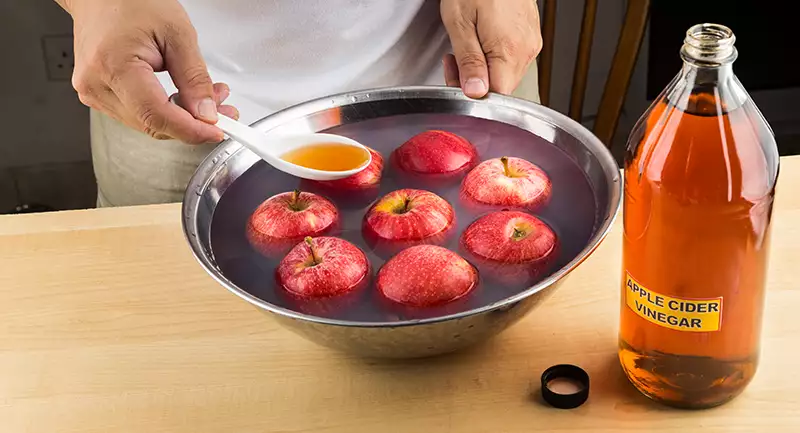 However, in present days, many leading companies introduce apple cider vinegar, and we find many successful homemade recipes as well. Although this is an incredibly powerful liquid, it requires only a very few things to come together.
Nevertheless, it literally undergoes a pretty assertive procedure before coming to our hands as a product. In addition, the ingredients should be chosen carefully, and the process of making should be handled with care.
01- Apples
Apple cider vinegar obviously has apples! But, when choosing apples to make this vinegar, experts in reputed companies and home chefs would ideally prefer organic or spray-free apples.
The experts suggest getting the most flavorful apples, preferably a mix of tart and sweet varieties. The best types of apples that could be used for making this vinegar are:
Fuji
Gala
Pink Lady
Granny Smith
Honeycrisp
Golden Delicious
Red Delicious
McIntosh
Jonagold
Braeburn
Cortland
What are the possible alternatives if you do not have apple cider vinegar in hand? We've got you covered with the best substitutes right in this article.
Commercially made apple cider is typically made from the raw apple juice extracted by mashing whole apples. But most homemade recipes are either made from cleaned pieces of apples or apple scraps and pits.
A Brief Explanation On How Apples Are Chosen And Used In Commercial Apple Cider Vinegar Making?
Industrial making of apple cider vinegar is quite different from that of homemade recipes. In fact, they harvest fresh tree-ripened apples at the optimal time of the season to get apples with the maximum sugar levels possible.
Then these apples get through a thorough cleaning process by machines. Stems, stones, and residues are usually removed by hand. They are then transferred into the mill and mashed.
Afterward, the apples are juiced and the natural fermentation procedure is started. Initially, the natural fruit sugars in the juice are transformed into alcohol through yeast fermentation.
From here, the secondary process takes place when the bacteria take over and convert the alcohol into acetic acid.
Did you ever wonder how apple cider vinegar would differ from rice vinegar? Click on this link to know exactly in what ways these two types of vinegar would distinguish.
02- Water
Pure and undisturbed substances are prioritized when making this vinegar. Therefore, typically filtered, mineral water is incorporated,
In commercial making, water is used when extracting apple juice. And in homemade recipes, water is used to cover apple pieces and sugar mixture. 
Thus, water usually functions as the base liquid in most homemade recipes while it helps the dilution in store-bought varieties.
Apple cider beverage sounds pretty similar to apple cider vinegar. But it is made with different ingredients. So, if you need to learn more about this popular fall beverage, click on this link!
03- Sugar
Sugar is a key ingredient in homemade apple cider vinegar recipes. It is basically the substance that reacts with the water and apples to cause the fermentation process.
However, as mentioned previously, sugar is not a staple in industrial ACV making. In fact, it is the natural fruit sugar in raw apple juice that starts the fermentation. 
But, since pieces of apple are used in homemade recipes, adding sugar is considered an important element. Apparently, it is the ingredient that encourages the entire "turning into vinegar" process.
Apple cider vinegar has long been a staple in recipes and in home remedies. Some believe it is an age-old secret and a fountain of youth ingredient that you already have in your kitchen.

Amy Leigh Mercree
Conclusion
As you see, all these apple cider vinegar ingredients have their own special role throughout the process. ACV typically comes together with a few simple ingredients like apples, sugar, and water, yet it is one of the most treasured substances of all time!
Related Topics