Old bay seasoning is a complete bundle of joy that brings a tasty twist to many of your favorite dishes! In fact, it is not merely confined to seasoning crab and shrimp. So, in this article, we will be sharing 11 bountiful uses of old bay seasoning that you will not resist trying out!
Old bay seasoning can be included in your daily cooking in the following ways:
This is absolutely going to be one of the most awaited SpiceRally episodes since many of us are already in love with this seasoning blend. So, let's dig in!
11 Amazing Ways To Use Old Bay Seasoning
This seasoning mix is considered one of the most versatile seasonings you could have in your kitchen. You can instantly turn your meals from good to the best, since a little goes a long way when it comes to this seasoning.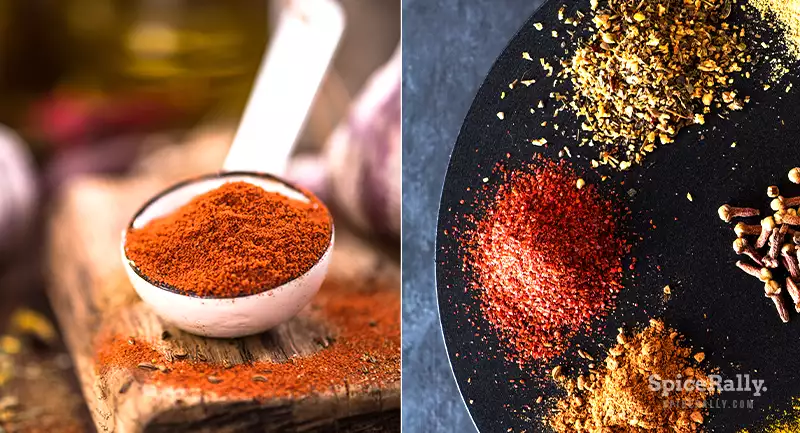 So, here we have come up with 11 exciting ways to use old bay seasoning in your regular meals. And some of them may be ways that you never expected- which is the very magic of old bay!
01- Toss It On Popcorn And Fries
If snacking is your favorite activity of the day, our topic leader can be a tasty companion to your freshly popped corn, french fries, or even sweet potato fries and roasted vegetables.
You can simply sprinkle some from this mix on your prepared popcorn, fries, or roasted veggies. Or else, season the vegetables using some olive oil and shake old bay seasoning before roasting them. The result is tasty either way!
How about using your own batch of homemade old bay seasoning with all these dishes? On that note, we are ready to share an easy step-by-step guide/recipe from this article.
02- In Sauces And Dipping Sauces
This seasoning blend can be a perfect addition to most dips and sauces. Try this in your classic spaghetti sauce, or mix it with ketchup or sriracha. 
You can also incorporate our subject leader in cream-based dipping sauces made with mayonnaise, cream cheese, sour cream, etc. And use other ingredients like lemon juice, red wine vinegar, and sugar as supportive flavors. These dippings are great compliments for shrimp, fries, tortilla chips, etc.
03- With Salads
If you are tracking a low-carb or keto diet, old bay seasoning is a healthy yet tasty accompaniment to your bowl of salad. Salad recipes made from shrimp, chicken, crab meat, tuna, and vegetables are popular dishes that you could give a go. 
 In addition, you can also sprinkle some in your Asian-style noodles salads and Italian-inspired pasta salads. This blend can either be mixed directly into your salad or stirred with the dressing.
04- To Spike Cocktails
Spiking cocktails is one of the most significant uses of the old bay seasoning. In fact, this offers an incredible punch to cocktails like Bloody Mary. Moreover, this mix can also be used with other alcohols like tequila and fruit juices to make perfect drinks that will rock your beach vacation this summer!
Are you interested in learning about the spices/ingredients used in the old bay seasoning which make it so special? If so, just tap here and refer to this article.
05- With Eggs
Our topic leader can add a great kick to any of the egg dishes whether it's egg Benedict, scrambled or deviled eggs! If you make Egg Benedict, you can complement the dish with crab meat and old bay-infused Hollandaise sauce.
These egg dishes will make perfect breakfasts or brunches. And you can even throw a pinch or two into your regular omelet mixture for a real tasty tweak.
06- To Be Incorporated Into Marinades And Wet Rubs
You know that the potent ingredients used in old bay seasoning are made to complement seafood and meat. Thus, this blend will make a wonderful addition to wet rubs and marinades you use in grilled or roasted fish, shrimp, steak, pork, chicken, etc.
You can use hot sauce, olive oil, apple cider vinegar, and lemon juice as supportive ingredients, particularly when making marinades. So, if you are planning a backyard party this weekend, old bay can be your "bae"!
07- To Mix Into Ground Meat Mixtures
We're sure that you often come up with meatballs, sausages, fish/crab/shrimp cakes, or homemade burgers if you are a Mom who loves giving home-cooked goodness to your kids.
So, ground meat mixtures which are used to make these foods can get an incredible complexity of flavor if you add some from our subject leader. Try some with the minced beef, pork, chicken, crab, and fish to see how wonderfully everything comes together!
While learning how to use old bay seasoning, it might excite you if we bring some interesting facts about how this blend differs from adobo seasoning. For more information, click here and read this article.
08- With Sandwich Or Toast Spreads
The flavor profile of old bay seasoning pairs well with cream/cheese-based sandwiches or toast spreads and fillings. You can use tuna, minced meat, dijon mustard, lemon juice, dried herbs, and hot sauce as complementary flavors when making these spreads or fillings.
09- With Ripe Melon
When summer is around the corner, and if you search for fun ways to enjoy refreshing fruits, we will spill the beans! Who would have ever thought a pungent spice blend could go with ripe melon? 
But, let us tell you- allow your ripe melon slices to chill in the refrigerator for a few hours. Then shake some old bay onto them and enjoy. Thank us later for bringing the best summer snack ever!
Food is everything we are. It's an extension of nationalist feeling, ethnic feeling, your personal history, your province, your region, your tribe, your grandma. It's inseparable from those from the get-go.

Anthony Bourdain
10- To Mix In With Melted Butter
This all-purpose seasoning is versatile enough to go with the rich and creamy taste of butter. So, sprinkle some into your melted butter and brush over your corn cob, garlic bread, grilled shrimp, or meat.
11- With Hummus And Guacamole
While you can make new dipping sauces with our subject leader, you can also use this to upgrade the taste of regular dips. So, incorporate the mix into hummus and guacamole to make them more flavorful, vibrant, and spicy.
This way, you can put together amazing party dips that go well with tortilla or pita chips. Moreover, old bay-infused guacamole is great on toast when combined with crab meat or salmon.
All The Uses Of Old Bay Seasoning are Reasons to Make it a Kitchen Staple!
Thanks to its endless uses, this rich and flavorful seasoning mix is definitely an asset to your spice cabinet. It has the capability of enhancing many egg dishes, dipping sauces, sandwich spreads, ground mixtures, etc., apart from its conventional use of seasoning crab and shrimp.
Related Topics