You are mistaken if you ever thought that your jar of pickling spice is only meant to be an ingredient in pickle making. In fact, there are delicious other pickling spice uses that we hope to tackle through this SpiceRally episode.
Apart from its conventional usage, pickling spice mix can be incorporated into cooking in multiple ways such as:
The best is yet to come! So keep reading till the end to be an expert in using this flavorful blend of spices.
What Is Pickling Spice Used For Other Than Pickling? The 5 Best Ways.
The main purpose of this blend is to be used in pickling vegetables and fruits. But, it can be helpful in multiple ways when it comes to cooking.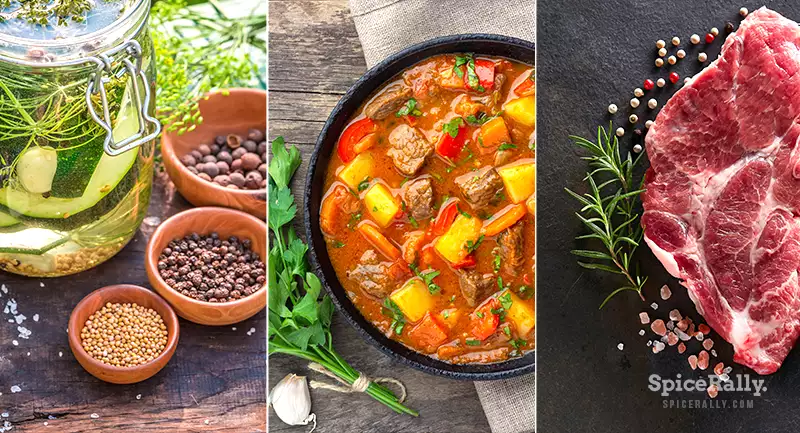 In fact, apart from its ability to endure the pickling process, this spice mix also adds great complexity to many meat, soup, stew, and rice dishes. So, check out how and when you could combine this blend with the signature dishes you make.
01- In Soups And Stews
If you crave a hearty bowl of soup or stew but are bored with the ordinary recipes, pickling spice mix can be the "secret" for a simple tweak! Interestingly, the warm and savory spices in this mix, like cloves, coriander seeds, bay leaves, etc., can add tons of flavor to your regular soups and stews.
Our subject leader could essentially complement types of meat like chicken and beef. In addition, it will also get along well with vegetables like carrots, celery, onions, cabbage, etc. 
The spices can be infused with the broth during the slow-cooking process of stews and soups to give an admiringly divine taste. So, why not try some tonight?
If you need to learn everything about pickling spice ingredients, just click on this link and read this article for more information.
02- To Flavor Stock
Our topic leader can add some extra punch of taste to your stocks if you love making them on your own at home. The flavor combination of this blend actually gives its best when incorporated with slow-cooking recipes or liquids that require a longer cooking period.
Therefore, add a spoonful of pickling spice into your chicken, beef, seafood, or vegetable stock and simmer for a sound amount of time to get the best stock ever!
03- As A Meat Dry Rub And An Ingredient In Wet Rubs Or Marinades
Experimenting with rubs and marinades for your meat is never a waste of time, especially in the summer! So, here's the trick to super tasty grilled or roasted meat and vegetables:
Grind your pickling spice and use it as a dry rub by combining it with salt and brown sugar. 
Or else, use the ground mixture with olive oil to be used as a wet rub on steak, ribs, chicken wings, etc. 
Moreover, you could also incorporate this mix with marinades and bake, roast, fry, or grill the meat to your heart's content!
However, you are free to adjust the quantities accordingly. And by grinding the spices, you can coat them evenly on meat and let their flavors infuse into marinades.
Did you know pickling salt is as important as pickling spice when making pickles or canned food? But they are way different from each other and if you need more information, click on this link.
04- In Rice Dishes
Do you need to come up with a special menu for your house gathering this weekend? Then, if you got a bottle of pickling spice at home, it can obviously do the magic for you!
If you plan on making a rice meal, you can start by making a small bundle with this blend in the center with a long piece of cheesecloth. Then, Using the extra inches of the cheesecloth as a string, place this sachet in the middle of the rice and cook through.
This way, you will allow our topic leader's rich flavor and aroma to infuse into the rice throughout the cooking process. Then you can make any recipe with flavored rice, such as Jambalaya, chicken and lemon rice, Persian rice, etc.
05- To Make Braised Meat Dishes
Making braised meat dishes is undoubtedly one of the best uses of pickling spice. The warm, potent, and profound flavors of cloves, bay leaves, cinnamon, mustard seeds, red chili flakes, etc., are perfect for braising meat.
What are your options if pickling spice mix is not available in your spice rack? Well, we have covered the best substitutes right in this article!
This blend complements meat like chicken, beef, pork, lamb, etc. Moreover, you can use supportive flavors and other ingredients like red wine, balsamic vinegar, mushrooms, and tomatoes for a better taste. Corned beef is one of the most popular and delicious braised dishes you can try with our subject leader.
My favorite comfort food would have to be braised beef. You know, beef, slow-cooked in a Dutch oven or in a slow cooker until it falls apart with simple mushrooms, some onions, and lots of fresh thyme and garlic.

Chef: Tyler Florence
Uses of the Pickling Spice In A Nutshell…
As you see, the pungent and fragrant ingredients of the pickling spice mix offer a depth of flavor to an array of recipes, unlike a typical pickle. Dishes like braised meat, hearty soups, stews, and flavored rice become real family treats that instantly call for a celebration!
Related Topics