As the name suggests, pickling spice is a blend of flavorful and aromatic spices used in making pickled food and in various soups, stews, braised meat, etc. So, what spices in pickling spice make it so special? Let's check that out in this episode.
This spice blend usually contains ingredients such as:
In addition to these spices, some commercial and homemade recipes could also contain cardamom, mace, dill seeds, star anise, juniper berries, etc.
Continue reading to learn how these ingredients bestow their flavors and aromas for an ultimate spice combination.
What Spices Are In Pickling Spice?
Unlike many powdered spice blends, the pickling spice mix is typically coarse with whole and crushed spices. This combination is full of flavor and aroma that could give a signature taste to many dishes other than pickles.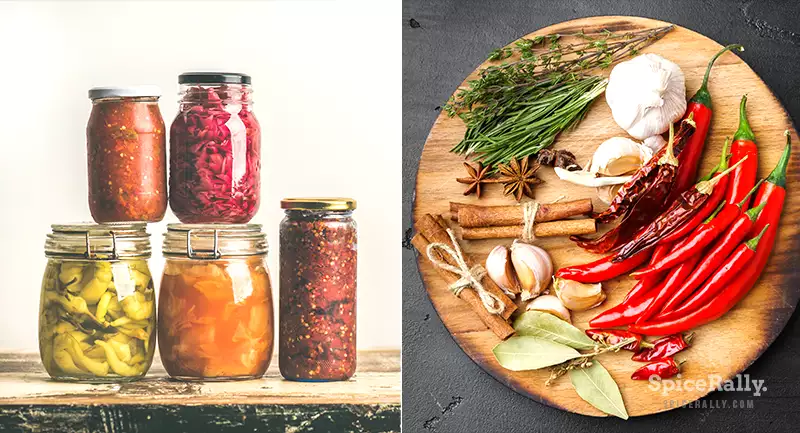 There can be slight recipe changes depending on the person and brand. But still, a set of spices often show up to give this blend its traditional flavor.
01- Allspice
Allspice is a wonderful creation of the world of culinary spices with a flavor combination of cloves, nutmeg, and cinnamon. In fact, this spice is potent and warm. 
Moreover, it pairs well with other ingredients in the mix, like coriander, ginger, and cloves. Together, allspice complements pickles, braised meat, soups, and stews.
02- Mustard seeds
Most often, yellow mustard is the kind which is incorporated into pickling spice. In addition to this, some recipes also include brown mustard seeds or a combination of both yellow and brown types.
However, this spice is mildly aromatic, bitter, nutty, and earthy with slightly intense flavor notes. Brown mustard seeds are more intense than the yellow. This element combines particularly well with coriander seeds, ginger, and red chili flakes.
Do you know that the ingredients in the corned beef spice packet are very similar to the pickling spice mix? To learn more, click this link and refer to this article.
03- Cinnamon
Cinnamon sticks are crushed to combine with the rest of the ingredients in this blend. This spice has an iconic flavor with sweet, earthy, and slight citrusy notes. 
Cinnamon literally pairs with most components in our topic leader, including cloves, allspice, coriander, etc. When paired with other spices, it could add a great flavor to many rice dishes, pickles, meat, and stews.
04- Coriander Seeds
Tiny coriander seeds are crunchy, fresh, citrusy, nutty and give the pickling spice mix a gentle undertone. This spice basically balances the overall taste of the mixture. 
Coriander blends well with other aromatics like cloves, allspice, and black peppercorns. It will collectively complement many soups, stews, vegetables, and rice dishes.
05- Ginger
Generally, ginger is incorporated into this blend in its ground form. Ground ginger might not be as intense as fresh ginger. But it gives a warm, pungent, sweet, and slightly peppery tone to the pickling spice mix.
This element becomes an ultimate flavoring ingredient when combined with other flavorings in the blend, like allspice, cloves, cinnamon, mustard, black peppercorns, etc. Accordingly, it will complement braised meat, pickles, soups, and stews.
06- Cloves
Whole cloves are among the most potent and primary spices in pickling spice. In fact, it offers an incredible fragrance with intense, astringent, warm, and bitter-sweet flavor notes.
Cloves are actually one of the best spices in this mix that could undoubtedly enhance the flavor of pickles, soups, stews, meat, and rice dishes. It essentially goes well with other flavorings in the mix, like cinnamon, black peppercorns, bay leaves, ginger, etc.
Did you know that you can prepare your own batch of pickling spices at home? Click this link to get a simple and super tasty homemade pickling spice recipe/step-by-step guide!
07- Red Chili Flakes
Unlike anything else,  red chili flakes could provide a dynamic kick and hue to our subject leader! This spice holds a depth of flavor with an earthy aroma and hot, fiery punch.
However, the heat level of red chili flakes could vary depending on the kind of chili peppers used. But it is generally hot since cayenne pepper is often used. This spice goes well with a majority of the ingredients included in the blend. And therefore, it significantly complements braised meat and stew dishes.
08- Black Peppercorns
With a distinctive peppery zest, black peppercorns bestow piney, woody, and warm undertones to this blend. Although some recipes use a mixture of peppercorns, black peppercorns are the most prevalent type.
This spice combines well with other ingredients in the mix, such as red chili flakes, cloves, coriander seeds, allspice, etc. Together, black peppercorns are an excellent addition to anything that calls for the pickling spice mix.
It is the small, trivial things in life that make a human happy… Like opening a pickle jar

Kanya A. Coffman
09- Bay Leaves
Crumbled or crushed, dried bay leaves are another staple included in our topic leader. Bay leaves function as a spice and a herb offering a warm, slightly sweet, and herbal flavor hint.
This element gives out its best flavor when infused into liquids and slow-cooked recipes. Consequently, it pairs well with black peppercorns, allspice, cloves, and ginger to work wonders in soups, braises, and pickles.
Other Ingredients In Pickling Spice
Apart from these key spices, our topic leader may also include optional ingredients like:
Fennel seeds
Dill seeds
Star anise
Mace
Anise seeds
Cardamom
Juniper berries
What will you do if you run out of pickling spice in your kitchen? Check out this article right here to discover the best substitutes you can use instead of this aromatic spice blend.
Concluding With The Zestful Spices In Pickling Spice…
All these spices, such as allspice, coriander seeds, mustard seeds, cloves, ginger, black peppercorns, bay leaves, etc., combine to make a genuinely flavorful blend. Hence, the pickling spice mix flavors many tasty dishes apart from its traditional incorporation into the pickles.
Related Topics