If you are a die-hard user of this seasoning blend, you might be a little disappointed when you don't have it in hand. Therefore, we decided to bring the best old bay seasoning substitutes that will offer a similar taste to the original product.
Among many of them, we picked the most suitable and easily accessible alternatives for old bay seasoning. They are:
So, keep reading if you need to see how these options work with relevant dishes and what quantities you'll need to use.
The 6 Best Old Bay Seasoning Substitutes 
The ingredients used in the original recipe of the old bay seasoning are actually well-guarded by its parent company except only 4 out of their 18 spices and herbs. And they are celery salt, black pepper, paprika, and red pepper.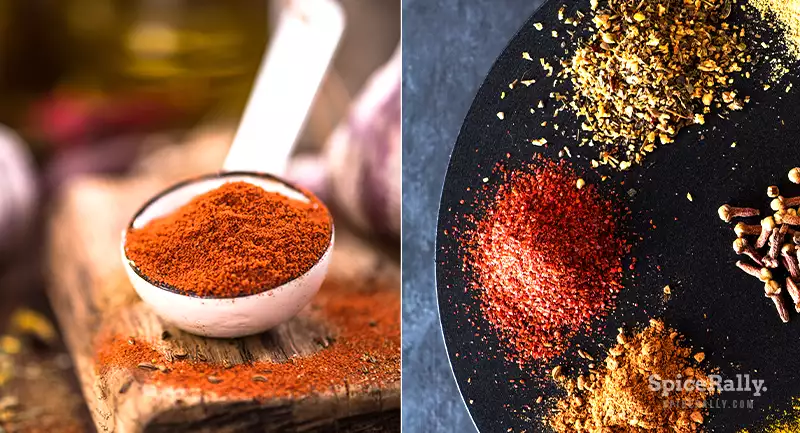 The other 14 ingredients have become successful guesses from culinary experts. So, we have chosen these substitutes to match those flavor elements accordingly. 
However, apart from the flavor approximation you get from these substitutes, the best thing is their versatility and convenience of availability.
01- Cajun Seasoning
This option is actually one of the best old bay seasoning substitutes with the closest flavor. You have the possibility of finding this in most grocery stores and on the spice aisle of any supermarket.
While these seasonings are pretty identical in flavor profile, they also share a set of some known primary ingredients like:
Paprika
Red pepper
Salt
Celery seeds
Hence, Cajun seasoning is a safe choice for you to substitute in a 1:1 ratio with anything that originally calls for our subject leader. However, if you are not very familiar with swapping, you can begin with a small amount and adjust the quantity as you go.
Although Cajun seasoning can be a good substitute for old bay seasoning, they have some distinctive differences that require your attention. For more information, click this link and read our article.
02- Crab Boil Spice Mix
Crab boil is another signature blend of spices made to season the water which you boil the crabs in. In addition, just like old bay seasoning, this option is also used to season other seafood, including shrimp.
Therefore, the flavoring elements in the crab boil spice mix typically match a lot with our topic leader. In fact, it contains similar spices like red pepper, paprika, celery seeds, and salt.
You can either make your own crab boil spice mix at home or buy it from the store. While it works as a replacement in many seafood dishes, you can use it in some meat dishes as well. 
This substitute can give some extra heat and a slight sweetness to your dish. Therefore, start with a small amount and proceed until you get your desired taste.
03- Celery Salt + Paprika
If you are a real spice enthusiast, chances are high for your spice rack to have these two ingredients. Celery salt and paprika are key elements in old bay seasoning. So, you can make a substitution that matches one teaspoon of our topic leader, by mixing 1/4 a teaspoon of paprika with 1/4 teaspoon of celery salt.
You can, throw in a pinch of red pepper powder/ red chili flakes and ground black pepper for a closer flavor approximation. You're able to use this replacement with anything that calls for old bay seasoning in their original recipes.
However, if you don't have celery salt but still have celery seeds, mix 1/4 teaspoon of celery seeds with 1/4 teaspoon of paprika and add table/kosher salt upon your taste preference. Being able to adjust as indeed is a bonus you get with this option!
04- Creole Seasoning
Like Cajun seasoning, Creole seasoning also could be counted as a possible replacement for old bay seasoning. In fact, Creole is very similar to Cajun, but has more herbs than it.
However, in terms of our subject leader, this option also shares some identical ingredients like red pepper, paprika, salt, and black pepper. But you don't typically get to savor celery seeds in most store-bought options of this alternative.
You can use this substitute as a seasoning in basic dishes. Nevertheless, the quantities you use would depend on your taste preferences. Hence, start with a small amount and proceed until you develop the desired flavor.
Did you know that Creole seasoning is different from old bay seasoning, even though it works well as a substitute for old bay? For more details, click here for a comprehensive article.
05- Seasoned Salt
Readily available and inexpensive seasoned salt can be found under many brand names. This is, in fact, one of the most convenient old bay substitutes that you can choose from a vast selection.
However, most seasoned salts contain the primary ingredients in our topic leader, like black pepper, paprika, red pepper, and celery seeds incorporated with salt. Therefore make sure you refer to the list of ingredients and pick one with the closest flavor.
Seasoned salts will essentially work well on meat, poultry, and seafood as a seasoning substitute. In addition, you can also use this on popcorn, salads, fries, soups, etc. Begin with a small quantity since seasoned salts are based on salt. You can always adjust the taste accordingly.
06- Pickling Spice
Pickling spice is not alien to the homes of pickle lovers! This option often shares some similar ingredients with our subject leader. In fact, many pickling spice versions include red pepper flakes, black pepper, and celery seeds.
However, this option does not typically include salt, and the texture is different as it usually contains the whole and crumbled spices. Thus, sometimes you may feel that it is a little less intense than the old bay seasoning. 
But still, you can grind some of the pickling spice mix and use it to season meat or seafood in place of our topic leader. Add some salt if you need and swap in a 1:1 ratio. If you are not sure about the amount, start with a small quantity and then increase as you go.
 Sharing food with another human being is an intimate act that should not be indulged in lightly.

M.F.K. Fisher
We Just Brought You The Best Old Bay Seasoning Substitutes!
If you have big plans to come up with any events in the summer, we hope all these replacements for old bay seasoning are real lifesavers! Cajun seasoning, Creole seasoning, crab boil spice mix, pickling spice blend, etc., are excellent swaps that will be great with your meat, seafood, and many more dishes.
Related Topics