Sambal Oelek, popularly known as "sambal," works incredibly tasty as a cooking ingredient and condiment. So, in this article, we wish to share 11 irresistible and smart Sambal Oelek uses in cooking that goes beyond the ordinary.
When using this sauce/paste as a cooking ingredient or a condiment, you can incorporate it in many ways, such as:
One single jar of store-bought or homemade Sambal Oelek can bring so much joy and savor to your table! And, of course- you are about to be surprised!
The 11 Unbelievably Delicious Sambal Oelek Uses
A jar of this vibrant red hot sauce/chili paste might already be lying in your refrigerator, or you might be hoping to buy one from your next shopping session. In fact, we would say that you could do wonders with Sambal Oelek!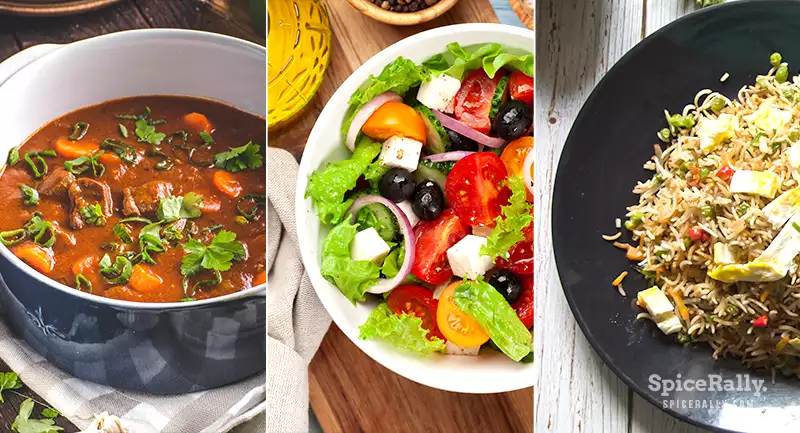 This blend's spicy, savory, and umami flavor profile can complement many dishes, bringing a tweak to the typical way they are made. So, let's dive in to discover the most engaging ways to use this Indonesian delicacy.
01- With Stew Dishes
Who wouldn't love to taste a warm, cozy, and flavorful dish of stew on a cold evening? Sambal Oelek can make it up all for you by adding some extra punch of heat, warmth, and taste.
A scoop from this paste/sauce will give you super tasty chicken, beef, fish, or vegetable stews. Cannellini beans, tomatoes, dried cherries, coconut milk, cream, etc., are some other ingredients that go well with the stew dishes you make using Sambal Oelek.
Above all, this sauce/paste is low on calories and contains zero carbohydrates. So, if you like eating healthy, it would be a perfectly nutritious addition!
02- In Meat, Fish, And  Some Seafood Dishes
Sambal Oelek can be a real game-changer when it comes down to most fish, meat, and other seafood recipes! Hence, it can effectively improve the taste of:
Chicken
Turkey
Lamb
Steak
Pork
Fish
Shrimp
Prawns
Seashells
Our topic leader can be incorporated with these food types when made as curries or grilled, roasted, baked, and deep-fried dishes. In addition, a scoop or two with ground meat or fish mixtures when making burger patties, sausages or meatballs will also give you a brand new taste experience.
In fact, the methods by which you could integrate this sauce/paste with your meat or seafood are endless. And, not only with these animal-based proteins, but you can also mix this with veg-proteins. 
Accordingly, tofu, soy chunks, and even paneer can be flavored with this savory relish! However, if you are a vegan, make sure you use a Sambal Oelek that does not contain shrimp paste, chicken powder, or any other animal traces.
What are the ingredients that make Sambal Oelek so delectable? To learn everything about the content of this chili paste/sauce, click here and read our article.
03- In Salads
A bowl of Sambal Oelek-infused raw vegetable salad will give you the pure taste of Asian savory food without a doubt! This is indeed a serious addition to salads, particularly made with:
Raw vegetables
Shredded chicken
Grilled shrimp
Corn
Beans
Avocado
Edamame
Kale, etc
If you are tracking a keto/low-carb diet, mixing some of this sauce/paste into your regular salad bowl will obviously upgrade your meal. You can either directly add this to your salad or combine it with a salad dressing or a vinaigrette.
Apart from fresh salads, Sambal Oelek would also be great with Soba noodles, pasta, and vermicelli noodle salads.
04- As A Soup Base
If you adore a cozy bowl of zesty soup, Sambal Oelek is the perfect guy! Creamy, coconut milk-based soups are really blessed if you give them a touch from this paste/sauce. In fact, this spicy delicacy will enhance the flavor of many soup dishes like:
Chicken soup
Tomato Soup
Asian Pork Soup
Lentil Soup
Spicy sweet potato soup, etc
While our topic leader gets along well with coconut milk, you can also try to mix it with your regular gentle soup dishes like sweet corn or nuanced soups like Pho. So, why not try it tonight?
05- To Mix With Vegetables
If you think vegetables are bland, whatever the way you make them, then you have never tried a dash of Sambal Oelek in them. It goes with most vegetables, such as:
Broccoli
Brussel sprouts
Eggplant
Bok-choy
Cauliflower
Mushrooms
Butternut squash, etc.
In fact, the preparation methods to incorporate this paste/sauce with veggies are simply boundless. While mixing Sambal Oelek with vegetable stir-fries is apparently the best way to use it, you could also try to employ this as a condiment with baked or fried mushrooms, cauliflower, etc.
On your way to learning about these interesting ways to use Sambal Oelek, we believe you'd be excited to know how Sambal Oelek differs from the red curry paste. So, we are ready to educate you with accurate facts from our article here.
06- With Rice, Noodles, Couscous, And Quinoa Dishes
Your family lunch is not going to be plain, the same old and ordinary if you got a jar of Sambal Oelek with you. 
If you are someone who would love to give a try on authentic Asian tastes, you can simply use this paste/sauce as a condiment with the regular rice or noodles dish.
If not, you can throw in a scoop or two into your classic fried rice, Nasi Goreng, fried noodles, couscous, or quinoa dishes for a real taste twist.
However, Sambal Oelek could work well both as a condiment and as an ingredient when it comes to rice or noodles. Thus, whoever likes it tangy and spicy can definitely go for a change with our topic leader!
07- In Sauces And Dipping Sauces
Would you believe if we say that Sambal Oelek can make regular sauces and dips insanely delicious? We insist that you try it on immediately because we know that you will never resist the taste!
You can try this on your slow-simmering sauces, pasta sauce, and gravies. In addition, simply mixing it with ketchup, mayonnaise, sour cream, greek yogurt, or cream cheese will give an incredible punch to your dips. 
And, try a dash with hummus to get the best dip you've ever savored. You can use Sambal Oelek-infused sauces to make different curries, pasta, and spaghetti dishes.
Moreover, if you try it on something like lasagna sauce, it will be a real spin on your fusion cooking journal.
What would you do if you ever run out of Sambal Oelek? What are the substitutes that can be used in place of it? To discover all the possible Sambal Oelek alternatives, just tap here!
08- In Marinades
Our topic leader positively works better with marinades that you make, particularly for chicken. But still, you can include it in pork, beef, shrimp, fish, and vegetable marinades too.
Sambal Oelek could make your roasted, grilled, fried, or baked meat, fish, seafood, or vegetables extra juicy and super flavorful. 
You can use bases like soy sauce, honey, oyster sauce, and olive to accompany this chili paste/sauce. A simple treat like Sambal Chicken Skewers can rock your small party or gathering at home! 
09- To Make A Tasty Twist On Margaritas And Cocktails
In cocktails and Margaritas- seriously! Incorporating this with beverages is actually one of the most remarkable and compelling Sambal Oelek uses.
This spicy chili sauce/paste can be an exciting flavor enhancement to some of your favorite cocktails like Bloody Mary. Moreover, mixing a dash of Sambal Oelek with some cucumber and a classic Margarita can give you an incredible summer shake!
In addition to these two drinks, there are possibilities where you can use our topic leader by mixing with some other alcohols like scotch whiskey/malted whiskey. It could all depend on how deep you need to go with your cocktail!
10- In Sandwich Spreads And Fillings
You know that a little amount of Sambal Oelek can go a long way in your food. The same effect can be created by mixing this with your regular sandwich spread/filling.
For example, as little as one teaspoon could literally turn your sandwich into another taste dimension. Sambal Oelek pairs well with chicken, eggs, pork, avocado, onions, and creamy bases like greek yogurt and mayonnaise when it comes to sandwich spreads or fillings.
You can mix some with classic mayonnaise and apply it to grilled cheese for an absolute flavor twist. The savoriness complements cheese and toasted bread, and you will savor the ultimate grilled cheese ever (thank us later)!
Let food be thy medicine and let thy medicine be food.

Hippocrates
11- With Eggs
Last but not certainly least, eggs with Sambal Oelek is obviously one of the best ways to taste it. When it comes to making eggs with this spicy delicacy, your options are simply endless.
You can make fried eggs, mix it with scrambled eggs or Shakshuka, and even make unique saucy dishes with boiled eggs. In addition, the regular plate of devilled eggs could also have a distinctive punch of flavor when you combine a dash of our topic leader!
We Just Unveiled The "Best" Ways To Use Sambal Oelek In Cooking For You!
We hope you learned that Sambal Oelek is a true alchemist who could make life-changing food experiences in your regular diet. It is obviously a super flavorful blend that could add an unexpected taste starting from a simple dipping sauce, egg dish, or spiced beverages to a bowl of nuanced rice or a noodle dish.
Related Topics