Spaghetti and pasta are gifted Italian foods that won the attention of people around the globe over a short time. It is actually kind of empty if that juicy red-hued sauce does not accompany your dish. So, what makes this condiment so delicious, and what spices are in spaghetti sauce? That is what SpiceRally hopes to focus on from the article this time.
This condiment is typically a tomato-based sauce with a few popular used varieties like vegan spaghetti sauce and meat-based. Some leading brands even sell no-sugar options that you can choose. However, this sauce generally includes spices such as garlic and black pepper. And some recipes even contain crushed red pepper flakes. Herbs like basil, parsley, and oregano also enhance the flavor of this sauce.
Hence, read the rest of this feature to learn how these spices and herbs contribute to the overall taste of this condiment you've been using or intend to use. We have an individually detailed spice and herb profile for each of them!
What Spices Are In Spaghetti Sauce?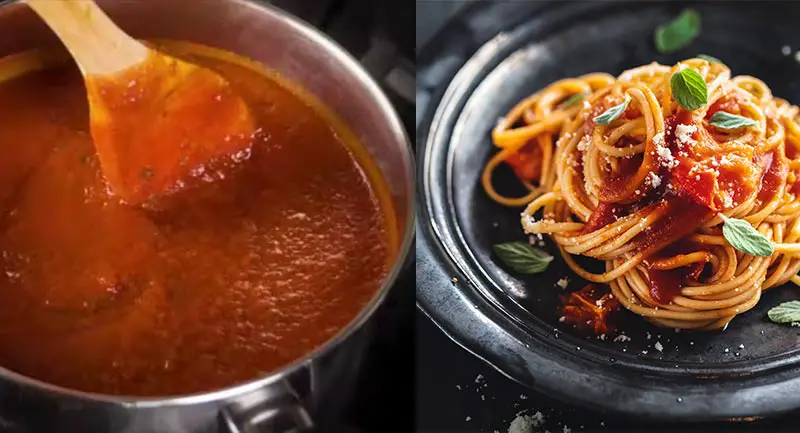 When conducting our broad research on this condiment, we literally found only a little about spices and herbs used in a regular store-bought one. The ingredient list usually says "spices", which is not so clear. 
However, when going through the popular recipes on the internet, we found that they also use some additional spices like crushed red pepper flakes.
So, we will bring them all. Just keep in mind that all the spaghetti sauce recipes will not contain all of these, but still, most of them would.
01- Garlic
Garlic is leading among the spaghetti sauce spices. Commercially prepared recipes generally contain garlic extract and dehydrated garlic. But homemade recipes would include minced garlic most of the time. Pungent and slightly peppery, garlic is very aromatic. And, it highly compliments the taste of onions and tomatoes in the sauce, which is the main ingredient of this.
Did you know that pizza sauce has similar ingredients to spaghetti sauce? If you need to know what they are, click here and refer to our post about pizza sauce and its flavoring elements.
02 – Black Pepper
If you make your own batch at home, you can use ground black pepper from scratch. And it is usually used together with salt-as the universal seasoning salt and pepper. The warm, woody, and spicy flavor of black pepper go well with other ingredients used in this, particularly with the herbs and tomatoes.
03 – Crushed Red Pepper Flakes
This spice is not a staple in the traditional recipe, but some recipes still include it. Red pepper flakes are often made from cayenne pepper. But it could also be made from serrano, jalapeno, bell peppers, or any kind of hot pepper. In fact, crushed red pepper flakes could give the sauce a perfect touch of heat if added.
White Chicken Chili is as hearty as spaghetti and includes a decent amount of spices and herbs. To learn more information, click here for a complete article.
What Are The Herbs Used In The Spaghetti Sauce?
01 – Oregano
What is even an Italian dish without oregano? Like garlic, oregano is a staple herb in Italian cuisine. However, in most recipes of this condiment, dried oregano is used more than fresh. 
It is highly aromatic, slightly bitter, herbal, and pungent in flavor. The flavor profile of dried oregano complements other herbs, spices, tomatoes, and onions used in this sauce.
02 – Basil
Basil is another traditional herb for the spaghetti sauce recipe that can be seen in many homemade versions. Some use dried basil, while some prefer using fresh basil chopped or torn. 
Generally, Italian cooking uses sweet basil, and it is fresh with a black pepper finishing and notes of anise and mint. This herb blends well with all the spices, herbs, and other ingredients included in this condiment.
03 – Parsley
Parsley actually gives the perfect fulfillment to the recipe, and it is used either dried or fresh. The earthy, clean, and slightly pepper flavor of this herb complements the taste of other herbs and spices like garlic. To get the best parsley flavor, you can use it fresh when making your own batch at home.
Nothing mitigates the throes of depression like a steaming plate of spaghetti and meatballs with sauce and grated parmesan cheese, with good fresh bread to wipe up

Paul Clayton
Other Common Ingredients Used In Spaghetti Sauce
Can crushed tomatoes
Tomato paste
Tomato sauce (optionally used)
Olive oil
Onion
Salt
Sugar
Chicken/beef broth or water- used in homemade recipes
Bell pepper (optionally used in homemade recipes)
Have you ever come across harissa paste in any recipes? If you have or haven't, the article we have here about this flavorful red-hued condiment will be really exciting for all you spice enthusiasts. So, check it out now!
Before We End…
So, if you ever thought about what spices are in spaghetti sauce, we hope you got well-answered from this feature. This condiment is indeed a flavorful tomato-based spaghetti companion that you cannot resist when you need to have the joy of an authentic Italian dish.
See you around with another spicy episode, and until then, let us know how you enjoyed this article with a comment down below!
---
Related Topics