Would you believe if we say that many delicacies that you have embraced dearly can be great Sambal Oelek substitutes? So, this article is dedicated to all those who were searching for a close and ultimate flavor replication of this spicy Indonesian relish!
The best replacements for Sambal Oelek include:
Are you ready to learn how these Sambal Oelek substitutes are going to save a dish or two? Let's dig in!
The 10 Best Sambal Oelek Substitutes
Sambal Oelek is a combination of zesty and spicy ingredients based on chili peppers. As mentioned earlier, it is used as a condiment and also a cooking ingredient. As a matter of fact, this paste comes together with main ingredients like:
Chili peppers
Garlic
Vinegar
Salt
Lime juice
Shallots
And some recipes might even include palm sugar/ brown sugar, shrimp paste, chicken powder, and tomatoes.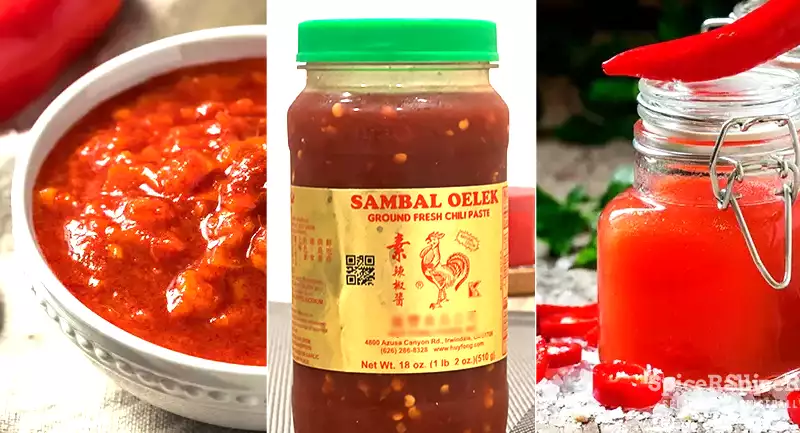 Accordingly, the Sambal Oelek substitutes shared below will give the closest flavor replication. Some alternatives could be used both as a condiment and as an ingredient, while some could only be employed in one way.
01- Red Harissa Paste
Red harissa is a spicy paste with a deep flavor. The base is red chilies and garlic, just like Sambal Oelek. But it also contains some other warm and flavorful spices like coriander, cumin, caraway seeds, and paprika.
Harissa is a great option to be replaced in stir-fried dishes, egg dishes, and any other dish where Sambal Oelek is being used as a cooking ingredient. However, using it as a condiment is not a very good idea due to its strong taste.
The smokiness and warming flavors of harissa can sometimes be a bit overpowering. Therefore, it would help if you begin with a small amount when substituting. This could help you balance the dish's taste and develop the flavor according to your preference.
Harissa is a flavorful staple in North African cuisine. If you want to discover what makes it so special and delicious, click here- we have all the facts you are willing to know!
02- Gochujang
Extremely popular in Korean cuisine, Gochujang is a type of red chili paste that you can easily find in supermarkets and many Asian stores. The base is red chilies like our topic leader, but we must insist that Gochujang holds a richer and more profound flavor than Sambal Oelek.
This Korean chili paste includes a lot of additional and exotic ingredients, such as:
Gochugaru (Korean red chili peppers)
Barley malt
Sweet rice
Mejugaru (fermented soybean powder)
Onion powder
Salt
With these flavorings, you could feel that the flavor of Gochujang could be much different than Sambal Oelek. But, thanks to its spiciness and zesty, salty, and savory flavor notes, it can be related to the taste of our topic leader. 
Accordingly, this option can replace tangy dishes like stir-fries and also could be excellent with ground meat mixtures and marinades. As you see, Gochujang could be literally deeper in flavor than our subject leader.
So, if you usually use one teaspoon of Sambal Oelek in a particular recipe, use only half a teaspoon of Gochujang until you develop the desired flavor.
Did you know that gochujang is also a possible substitute for Thai red chili paste? So, if you are inquisitive about discovering more alternatives for Thai red chili paste, click on this link and refer to this article.
03- Sriracha Sauce
This hot sauce is another one of the best Sambal Oelek substitutes you can easily find from anywhere. Or you might already have it at home! Its base flavoring is built upon hot red chili peppers and garlic. And moreover, it contains vinegar, salt, sugar, etc.
The flavor has a remarkable similarity to our subject leader, even though the texture of Sriracha can be a little different as it is less chunky.
Consequently, you can effectively use this sauce to replace any dish that originally calls for Sambal Oelek. That is, this works well as a condiment and also as an ingredient.
If you are interested in knowing more differences between Sambal Oelek and Sriracha sauce, we have a detailed article here for you.
However, some might feel that Sriracha sauce is sweeter than our topic leader. In such instances, you can make adjustments by adding a dash of soy sauce to balance the sweetness.
But, this will not impact the hotness of Sriracha sauce. Respectively, similar amounts could work well in any dish you wish to replace.
04- Tabasco Sauce
Aged tabasco peppers, salt, and vinegar do the wonders with this sauce. Like Sriracha, this is another alternative that you can easily find in any store.
The tabasco peppers meet a comparable spiciness to our subject leader. And therefore, this could be good enough as an alternative to most dishes that require cooking.
However, tabasco sauce could give a strong vinegar taste. In addition, the rich, savory notes of Sambal Oelek could be lacking. Therefore, when you substitute, be careful with the amount that goes in, and using a small amount at the beginning could be the best.
Moreover, if you need a more approximate flavor replication, try to mix some brown sugar (palm sugar would be best) and garlic powder in pinches. And this could also help to neutralize the strong vinegar taste of Tabasco sauce.
05- Thai Red Curry Paste
Thai red curry paste is a lavish blend of herbs and spices abundantly used in Thai cuisine. It shares some similar ingredients with our topic leader, like red chili peppers, garlic, salt, shallots, and shrimp paste.
In addition to these, Thai red curry paste also includes some exotic lesser-known ingredients like coriander root, galangal, and kaffir lime peel, making it unique in flavor. You can also savor coriander seeds and cumin notes, which we don't usually get in Sambal Oelek.
However, this curry paste can replace our subject leader as a cooking ingredient in many stir-fries, egg dishes, marinades, etc. Again, like many others on our list, this might not work well as a condiment replacement.
Nevertheless, you can work with a small amount at the beginning and then increase the quantity until you get the desired taste.
Thai red curry can be used in a medley of dishes in many different ways. If you are interested in learning the best ways to use this vibrant and spicy relish, click here.
06- Thai Red Chili Paste
To begin with, Thai red curry paste and Thai red chili paste are two different Asian treats. But, Thai red chili paste is as good as Thai red curry paste to be used as a substitute for Sambal Oelek.
Thai red chili paste is also popularly known as Nam Prik Pao. And the base flavoring of this paste is red chilies.
In addition, it comes together with other similar ingredients to our topic leader like garlic, salt, shrimp paste, and shallots. Also, most recipes would have sugar, tamarind, and dried shiitake mushrooms.
If you are interested in discovering more details about Thai red chili paste, click on this link and refer to this article.
In fact, Thai red chili paste is an excellent choice as a condiment substitute. It will complement pizza, rice, noodles, and spaghetti dishes, just as Sambal Oelek would do. You can also use this as a cooking ingredient to give a wonderful taste twist to stir-fries or meat dishes. 
This option could be good to go in similar amounts. Otherwise, you can begin with a small amount and work generously until you get the perfect taste. However, occasionally, Thai chili paste recipes might contain traces of peanuts. So if you have nut allergies, be careful when using this as an alternative.
07- Chili and Garlic Sauce
A bottle of chili and garlic sauce hardly runs out from our kitchens! This is actually a very familiar sauce to our heart, and interestingly this could be a great Sambal Oelek replacement too.
This alternative shares many common ingredients with our topic leader, like red chili peppers, garlic, salt, sugar, and vinegar. And if you got a bottle of this sauce, you can certainly use it both as a condiment and an ingredient replacement. 

Using similar amounts will not be a problem since chili and garlic sauce shares a similar flavor profile with Sambal Oelek. But still, this option could be a little sweeter. Hence, if you are not very familiar with using substitutes, using a small amount at first could work better with your dish.
Did you ever know that Sambal Oelek could be used in cocktails? This article has shared 11 such amazing ways to use Sambal Oelek in cooking. Click here!
08- Bomba Calabrese
This Italian delicacy is another good alternative to use as a condiment swap. If Sambal Oelek is unavailable, but if you come across one from this, do not hesitate to get one as it can go well with many dishes!
Calabrian red chili peppers essentially meet the spiciness similar to our subject leader. But, Bomba Calabrese carries a more vegetal flavor as it includes many vegetables such as:
Mushrooms
Artichokes
Eggplant
Therefore, you might find that this hot Italian sauce or spread could hold an in-depth and a different taste than Sambal Oelek. But still, you could alternate this for chicken wings, sandwich spreads, egg dishes, as a dip, etc.
Use moderately at the beginning, and you could add a dash of hot sauce if you prefer a closer flavor resemblance and more hotness.
Eating is so intimate. It's very sensual. When you invite someone to sit at your table, and you want to cook for them, you're inviting a person into your life.

Maya Angelou
09- Red Chili Flakes
Versatile and universal red chili flakes can be a decent last choice if you do not have anything else to use in place of our subject leader.
We bet most of you have this right now in your spice cabinet. Red chili flakes are easy to buy, affordable, and positively get along with many dishes.
This is a single spice, and you might be thinking about how this could meet an entire flavor profile of a flavor combination like Sambal Oelek.
Red chili flakes actually can relate to the hotness. But, since this is a dry spice, you might have to make some adjustments to get an approximate taste.
So, sharing a little tip- try to mix some vinegar, brown sugar (if needed), salt, garlic powder (or minced garlic), and lime juice with the chili flakes.
In this way, you can use this mixture with any dish that needs to be cooked and call for Sambal Oelek in the original recipe.
However, this alternative might not work well as a condiment replacement. And keep in mind that chili flakes can hold a solemn punch of hotness.
10- Homemade Sambal Oelek
You clearly don't have to bother about anything if you have enough and the required stuff to make your own Sambal Oelek at home!
Once you make a homemade batch, it will be as good as any store-bought one and could be used with anything that calls for our topic leader.
Simple Homemade Sambal Oelek Recipe
Although the traditional recipe uses Thai red chilies as the base, you can simply use any type of hot red chili peppers that you have at home. And things are more manageable since all the ingredients required for this recipe are available in our pantry most of the time. So, let's get going!
Preparation time- 10 minutes | Cooking time- 10 minutes | Additional time- 5 minutes
No: of servings- 16 | Total calories- 18 | Cuisine Indonesian
Spices Needed
One pound of red Thai chilies (washed and seeds and membranes removed)
Three minced garlic cloves
Other Ingredients
Three tablespoons of oil
Two tablespoons of vinegar (white vinegar/rice vinegar)
3/4 tablespoon of brown sugar (or palm sugar)
One tablespoon of salt
Instructions For Preparation
Heat oil in a skillet or a pan. 
Add the red chilies and garlic to the heated oil and saute for about two to three minutes or until the garlic is aromatic and the chilies are mellow.
Now, remove the chilies and garlic from the heat and transfer them to a blender jar or a food processor jar along with all the other remaining ingredients.
Pulse until well combined. If you think the paste is too thick, add 1-2 tablespoons of water.
Enjoy immediately or store in the refrigerator in an air-tight glass container for later use.
What do you really know about the ingredients used in Sambal Oelek? We are ready to share everything we know about this delicious Indonesian delicacy, no matter what you know and what you don't know. Click here for more information!
Summing Up
Substitutes can be an absolute blessing when cooking. Likewise, options like Sriracha sauce, Gochujang, red Harissa paste, chili and garlic sauce, etc., will be excellent replacements for Sambal Oelek. And also, the given homemade recipe is very simple to put together. So, what is your best pick? Let us know!
Related Topics