If you are a true Thai food lover, we are sure that Thai red chili paste is something you've longed to try at home! In fact, Thai cooks require this spicy and flavor-loaded blend with almost every savory food they make. So, here's the hands-on experience on how to make Thai red Chili paste at home using a few easy steps.
This chili paste is spicy, hot, and rich in flavor. It has a subtle balance of savory and sweetness that could add a great taste to many of your Asian dishes. So, if in case you can't find this at the store or find your store-bought option is not good enough, you can try this fresh homemade version and enjoy all its goodness! So, it's time to get spicy!
How To Make Thai Red Chili Paste At Home- Step-By-Step Guide
Thai red chili paste or popularly known as Nam Prik Pao, is an excellent addition to cashew chicken, traditional Tom Yum Soup, spicy ramen, Pad Thai- and you name it! This is traditionally made with Thai red chilies, but you can decide how spicy this is going to be depending on your taste preference.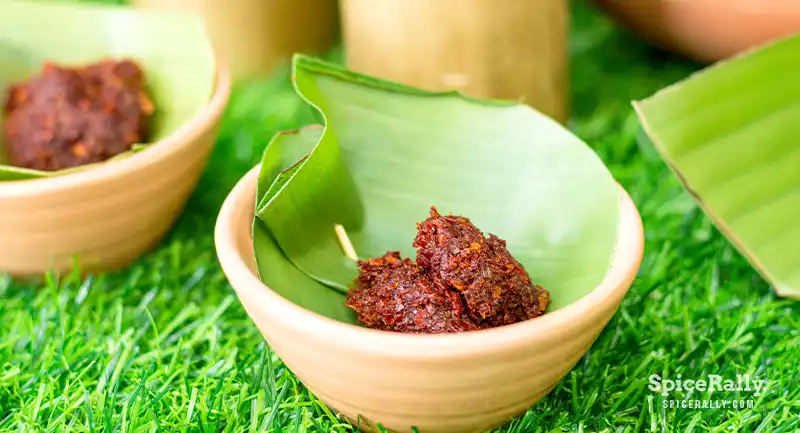 Preparation time- 15 minutes | Cooking time- 12 minutes | Additional time 10 minutes
Step 01
Get prepared with the required ingredients and equipment.
Spices needed:
8-10 large dried Thai red chilies
Ten peeled garlic cloves
Other ingredients:
Four heads of shallots (peeled and cut into big chunks)
Two to three tablespoons of tamarind paste or juice
One tablespoon of fish sauce
1/4 cup of vegetable oil
Two tablespoons of dried shrimp
1/4 teaspoon of shrimp paste (optional)
1/4 teaspoon of salt
Three tablespoons of palm sugar (finely grated and packed)
Equipment required:
A kitchen scissor
A skillet or a pan
Mortar and pestle or a coffee grinder
A food processor or a blender
Pot or a wok
A tight-fitting glass jar/container
Now since you've learned how to make Thai red chili paste at home, you might not probably want to miss out on our article on what Thai red chili paste is and what ingredients make it so flavorful. Click here and read our post!
Step 02
Get the cleaned and dried red chilies, split them, and pull the membranes and seeds (you can leave some of the seeds and membranes if you need your chili paste to be hotter). Then, cut them into large pieces using a pair of kitchen scissors. 
Step 03
Now, keep a pan or a skillet over medium heat and add the chili pieces to it. Stirring frequently, toast them until they are charred in some areas and smell smoky. (Do not increase the flame so that the chilies will burn)
Step 04
Remove the chili pieces from the pan and add the peeled garlic cloves and shallots to the same pan. Stirring constantly, toast the garlic and shallots until they are also charred and fragrant. Remove them from the pan and let them cool down for a while.
Step 05
Next, grind the toasted red chilies into a fine powder in a coffee grinder or a mortar and pestle. Add the dried shrimp into the same mixture and grind until well combined.
Ginger garlic paste is another Asian mixture which is as flavorful as Thai red chili paste. So, click here and get the step-by-step guide to making an easy ginger garlic paste at home.
Step 06
Now, add the garlic, shallots, chili-shrimp mixture, shrimp paste, fish sauce, palm sugar, salt, and tamarind paste/juice to a food processor or a blender. Scrape the sides down occasionally and blend well until everything is combined together. If you feel the mixture is dry, add half the amount of vegetable oil and blend.
Step 07
Keep a pot or a wok in low heat and add the remaining amount of vegetable oil to it. Then, transfer the chili mixture in the food processor into the warm oil in the wok and cook for about 10-12 minutes. Stir occasionally and continue cooking on low flame until the mixture is thickened to your desired consistency.
Step 08
Switch off the flame, do a taste check and adjust the taste with more flavorings if needed. Let your homemade Thai red chili paste cool down and transfer it to a well-fitting glass jar/container.
Tasty Notes From SpiceRally…
Even though we have taken Thai red chilies in our recipe, you can take whatever type of dried red chilies you like. It all depends on how hot and spicy you need your chili paste to be.
If you can't find palm sugar, swap it with a similar amount of dark brown sugar.
For the vegetarian version of this chili paste, leave out fish sauce, dried shrimp, and shrimp paste.
If you don't have tamarind paste or juice, substitute it with a similar amount of white vinegar. But you will then have a different taste.
You can keep this in the fridge for quite a long time and also freeze it even longer.
Related Topics