If you really need that fiery, spicy, and savory kick to your food, harissa is an ideal condiment that you could lay your hands on. It is a hot paste that comes from North African cuisine. And spices in harissa paste are the main elements that give its flavor and punch.
This relish is primarily a medley of hot chili peppers and a few other warm spices. The spices in harissa paste typically include:
And in some recipes, even black pepper and red chili flakes are used occasionally.
On that note, there's pretty much information waiting to be shared with you on how these spices flavor this red-hued spicy paste. So, make sure you read till the end!
What Spices Are In Harissa Paste?
SpiceRally came up with something interesting while doing our comprehensive research on this condiment. That is, harissa has not evolved much from its authentic recipe, unlike many other recipes.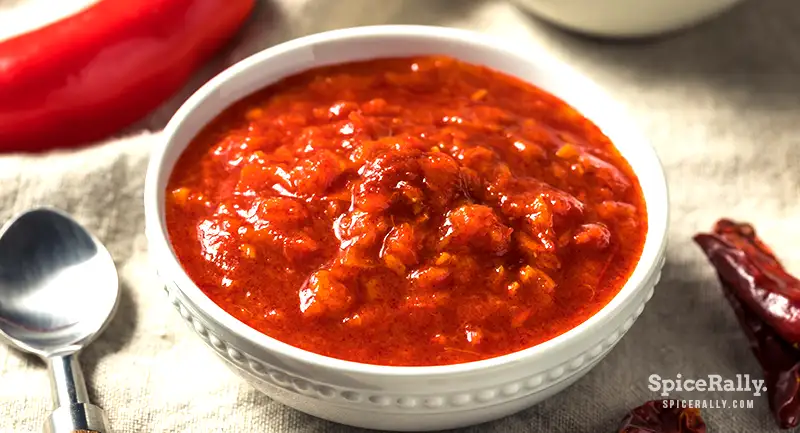 In fact, this condiment is based on hot red chili peppers, and they usually come in an assortment. This combo can include entirely hot peppers or a mix of mild, hot, or smoked peppers. However, other spices are staples in most store-bought jars and many homemade versions.
Down below is the list of staple spices that give soul to this incredibly flavorful condiment.
01- Red Chili Peppers
Red chili peppers are the heart of this paste. These are usually used pureed, and it is the main ingredient that provides the color and base flavor to this condiment.
Store-bought pastes can be hot and mild, and you can always make the decision when you make this at home. However, the hotness or spiciness predominantly depends on the red chili peppers used at the beginning. The most common types of red chili peppers used in this are:
Mexican red chilies
African bird's eye chilies
Guajillo chilies
Chiles de árbol
Chipotle chilies
All the other ingredients used in this dish are actually paired according to this element. And, in homemade recipes, we noticed that these peppers are being de-seeded to avoid the paste from being too hot. And some even use roasted red bell pepper for an added flavor.
02- Smoked Paprika
Smoked paprika is a signature ingredient used in most commercially made and homemade harissa paste versions. This spice has a woodsy hint and gives a unique smokiness to this dish together with a spicy bite.
However, the spiciness varies depending on the type of paprika used. And it can also be mildly hot or too hot. Smoked paprika complements the flavor of red chili peppers and pairs well with other aromatics used like garlic, cumin, and coriander.
Is smoked paprika really spicy? What do you think? So, to ensure what you know is correct about smoked paprika, click here for our smoky feature!
03- Garlic
Garlic comes down to one of the main spices in harissa paste. And, it is often used with other flavorings apart from fresh and powdered red chili peppers.
The intense, sharp, and savory flavor of garlic enhances the taste of this relish, emphasizing the flavor of other spices and red chili peppers used. It blends well with other ingredients like olive oil and spices in the dish.
Homemade versions employ fresh garlic cloves, and so do most commercially-bought ones. Fresh garlic stores the most flavor than any other versions like powder or granules. Thus, fresh cloves are often pureed with all the other ingredients.
04- Cumin
This spice is another standard ingredient coming from the traditional recipe. Cumin seeds are often dry roasted together with other dry spices to get their best flavor and aroma.
Some recipes include ready-made ground cumin, while most homemade versions use this spice after freshly dry-roasting and grinding the whole seeds. The warming, sweet and nutty flavor of cumin well complements the overall taste of this dish. Also, it makes a good team with other spices like coriander and caraway.
05- Coriander
Gently sweet and fresh coriander seeds have a lemony bite. The flavor of this spice intensifies once dry-roasted to be ground and used in this dish.
Coriander seeds are a perfect pairing with cumin and caraway. The best thing about harissa is this ideal combination of matching spices and ingredients. So accordingly, coriander becomes a happy member of this blend.
This spice is also a must-have in the traditional mix of this paste's spice blend, and it helps to complete the piquant kick of this dish as a warming spice.
If you've been trying harissa from the store so far and ever wanted to enjoy something made at home, here we have given you the opportunity! Click here for a simple homestyle harissa paste recipe.
06- Caraway
Caraway seeds are another proud part of the classic harissa paste. Although some homemade versions omit this ingredient, we still see it in the majority.
This spice has a refreshing and robust flavor. Its bitter-sweet, nutty elements become a close match with cumin complementing the overall taste of the chili peppers used in this.
Like both the other spices- coriander and cumin, this is also dry-roasted and ground with them to get its maximum fragrance and flavor.
Other Harissa Paste Ingredients
Other ingredients like salt and olive oil are also used as staples, apart from the spices in harissa paste. Extra virgin olive oil is typically used to build up the consistency and facilitate the mixture to come together smoothly.
Moreover, in some homemade recipes, we see some additional ingredients like:
Tomato paste
Lemon juice
White vinegar
And some store-bought ones include:
Rapeseed oil
Sugar
Balsamic vinegar
Onion puree

What Is Green Harissa Paste?
Green harissa paste is another popular condiment in North African cuisine. Although this hasn't gained its popularity all over the world as much as the ordinary reh-hued harissa, people still use it to accompany many dishes.
This relish is green in color precisely as its name suggests. The base ingredients are all green in color so that the paste gets its natural hue. It typically has a depth of flavor, packed with green herbs and spices.
We know that only learning about green harissa paste is not enough for you. So, we came up with a quick and easy homemade green harissa recipe for you. Click here for the feature.
Green harissa can be purchased from the store and made at home. The content might vary from region to region like any other dish. But, anyhow, a set of common ingredients are used with every version. Like traditional harissa, the pungency can also differ depending on the spiciness of the chili peppers used.
The spices and herbs that it generally includes are:
Spinach
Parsley
Coriander leaves (cilantro)
Serrano chilies/ habanero chilies/ jalapeno chilies/ green chilies
Garlic
Cumin
Coriander
Other ingredients may include salt and olive oil. However, these ingredients can vary depending on different versions.
If you learn to balance and match things in your life just like Harissa harmonies and approximate its flavors with one another, you'll win!

SpiceRally
What Is Rose Harissa Paste?
Rose harissa may sound exciting for you, and you might be already thinking that whether it contains any elements of roses. Well, proving your curiosity right, rose harissa actually includes dried rose petals and possibly rose water.
The rest of its content is pretty much similar to the ordinary harissa. But the addition of rose flower elements makes this condiment quite distinctive in flavor, giving it a floral touch and neutralizing the taste of chili peppers.
Is Harissa Paste Spicy?
As we made clear from the explanation above, this relish is generally considered a spicy one. And that is probably the first thought you get when you see this paste at a glance. 
The look itself of this is pretty hot and fiery red. However, as we mentioned before, the spiciness could vary from recipe to recipe, primarily depending on the red chili peppers used.
If you are a true harissa paste lover, this ultimate guide on harissa paste substitutes is a must-read for you. You are just one tap away from here to the best replacements of harissa paste that you can find on the internet!
Is Harissa Paste Gluten-Free?
This paste is basically a mix of chili peppers, spices, oil, and other flavorings. And, we do not see any gluten-related ingredient is used in any of the store-bought or homemade recipes. Therefore, usually, harissa paste is gluten-free.
This Red-Hued Harissa Is Pretty Amazing- Isn't That So?
This condiment is actually a unique blend of flavorful, matching, and zesty red chili peppers and spices. Variations like green harissa and rose harissa make it even extra impressive.
Dry spices in harissa paste play a significant role in complementing the red chili peppers and perfecting this dish's all-around flavor. So, if you spot a jar of this relish at the supermarket next time, do not hesitate to bring it home and use it with your favorite chicken or vegetable dish!
Related Topics