Thai red chili paste is a delightful condiment used to create delectable Asian-inspired dishes. But we should know what to use if we run short of this spicy companion. So, here're the 05 best Thai red chili paste substitutes!
You can use the following alternatives in place of Thai red chili paste:
So, let's take a quick dive into the article to learn how these substitutes will help you save a dish or two!
The 05 Best Thai Red Chili Paste Substitutes
You know that your meals are going to be often spicy and savory when you have a jar of Thai red chili paste at home. In fact, this condiment gives us a different vibe coming together with ingredients like:
Red chilies
Garlic
Shallots
Tamarind
Shrimp paste
Fish sauce
Sugar
Salt
Oil
There's actually quite a decent amount of alternatives that you could use instead of this paste. But, we will bring you the finest possibilities you can easily find and give the best flavor replication.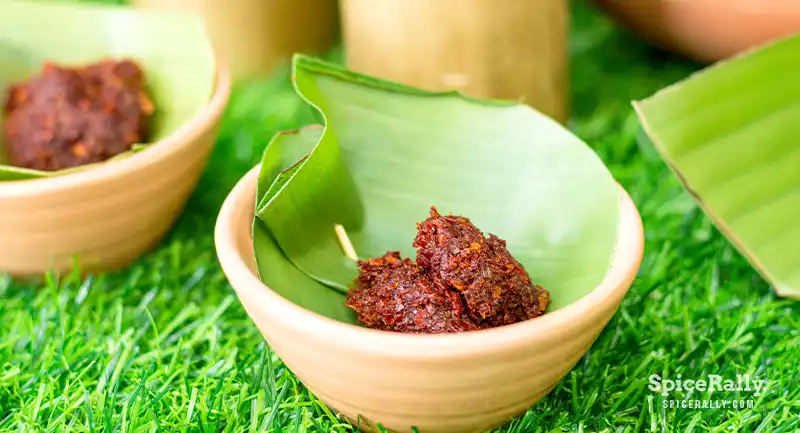 01- Thai Red Curry Paste
As the best possibilities come from the same root in most instances, Thai red curry paste can be taken as one of the closest options to use in place of red chili paste. But, red curry paste typically holds a more "curry" flavor with additional ingredients when compared to chili paste.
Nevertheless, they both share the same base flavoring: red chilies. In addition, this option also includes garlic, shallots, and shrimp paste which helps to get a similar taste to our topic leader.
However, Thai red curry paste is not usually used as a condiment. But still, you can replace it as a base for soups and stews or even use it in noodle dishes and meat dishes. Since this option has a much deeper taste, it is best to use a small amount in the beginning and then adjust the amount as you like.
Although Thai red curry paste is a great substitute for Thai red chili paste, they have some significant differences that you need to know. So, we have a detailed article explaining how they differ from each other- click here!
02- Homemade Thai Red Chili Paste
If you have the necessary resources and enough time, the next best option is to make Thai red chili paste at home. You can put together your own customized batch just as good as any store-bought option or even better!
In fact, you don't have to worry about the dishes or the amount like the rest of the alternatives mentioned on our list.
Thai red chili paste is great with bread or toast and can even be mixed into sauces and dips. In fact, there are a lot more ways you can use this condiment, so click here and refer to our article to find out more things to do with your chili paste jar.
03- Chinese Chili Paste
Chinese chili paste is another very popular condiment in Asian cuisine. This is an option you can easily find in the Asian section of the supermarket, and it usually comes under many brand names.
However, Chinese chili paste is less potent than Thai red chili paste since it usually contains red chili flakes, garlic, ginger, dried shrimps, oil, vinegar, and sugar. But it is good to go as an effective condiment and ingredient substitute for our topic leader.
Depending on your taste preferences, you can use more or less of it, particularly with rice and noodle dishes, stews, sauces, meat or fish dishes, bread, toast, crackers, etc. Sometimes, you can also get vegetarian Chinese chili pastes that come without dried shrimp or any other animal traces.
So, to help you with a delicious homemade Thai red chili paste, we have shared an easy yet versatile recipe in this article. Click on this link and get the step-by-step guide!
04- Harissa Paste
This option is a popular food in North African cuisine, and you also can get it effortlessly from supermarkets. Like our subject leader, red chilies are the base flavor of harissa. In addition, the texture and color are comparable to Thai red chili paste, along with its taste.
But harissa can be a little bit more spicy than this chili paste since it usually contains caraway seeds, coriander, ginger, paprika, and hotter chili varieties. Thus, you will have to be cautious when substituting since there is a probability that this option could overpower a particular dish if overused.
However, you can use this as a table condiment or dip and incorporate it into marinades, as a base for stews and soups, or even mix it into gravies and sauces. This alternative is also available in types like green harissa and rose harissa, but the classic harissa paste can be recommended as the most suitable replacement for Thai chili paste.
Asian food is very easy to like because it hits your mouth very differently than European food does. In European food, there may be two things to hit – maybe sweet and salty, maybe salty-savory, but Asian kind of works around, plus you have that distinct flavor that's usually working in Asian food

Tom Colicchio
05- Gochujang
Gochujang is the traditional chili paste of Koreans. This is also another easily accessible option made with red chilies as its foundation flavoring. And the authentic Gochujang contains the red chili type called "gochugaru," which can be way less spicy than the chilies that are commonly used in Thai red chili paste.
Moreover, this paste typically contains some unique ingredients like barley malt, sweet rice flour, fermented soybean powder, and sometimes koji. These components can be pretty exotic to those familiar with Thai red chili paste taste. Therefore, this option is better left as one of the last choices to use when you cannot find any of the other alternatives stated on our list.
Nevertheless, Gochujang is good enough to go with sauces, blend into marinades, spice up soups and stews, etc. It is best to stand on the safer side, start with a moderate amount, and then alter it as you develop the taste.
Wrapping Up With The Best Thai Red Chili Paste Substitutes…
There's actually nothing compared to the zesty kick that Thai red chili paste would add to our food. But still, you can always count on alternatives like Chinese chili paste. Thai red curry paste, harissa paste, Gochujang, or even try to make your own batch of Thai red chili paste at home whenever the original condiment is not around.
Relate Topics