Rich, mild, sweet, and flavorful Ceylon cinnamon, also popularly known as "true cinnamon", is a wonderful gift to the world of spices. Packed with nutrients and a lot of health benefits, Ceylon cinnamon is exotic and high in price when compared with other varieties of cinnamon.
Ceylon cinnamon basically comes from Spice Island, Sri Lanka, and the Sri Lankan government has set standards for this spice depending on its color, diameter, viscosity, essential oil content, and lacerations. Those standards are known as grades, and there are about ten primary grades that we wish to discuss from this article. They are:
Alba grade
C5 extra special
C5 special
C5
C4
M5
M4
H1
H2
Cinnamon quillings- No 1
Cinnamon quillings -No 2
So, we wish to discuss the facts about these Ceylon cinnamon grades, their market, and their uses, along with their importance in cooking and baking. Thus, by the end of this article, you will be fully equipped with everything you need to know about Ceylon cinnamon.
Ceylon Cinnamon Grades Chart
Sri Lanka is accountable for 90% of the world's premium quality cinnamon production. In fact, Sri Lankan cinnamon, Ceylon cinnamon or also known as True Cinnamon, is considered the best quality of cinnamon among all the other varieties for many reasons.
So, the table that we present to you below will give you a clear picture of the grades of Ceylon Cinnamon.
| | | | |
| --- | --- | --- | --- |
| Grade | Diameter | Whole sticks/Kg | Price/Kg |
| Alba | 6mm-7mm | 45 | $9.40- $72.89 |
| C5 extra special and special | 8mm-9mm | 30 | $8.50- $64.72 |
| C5 | 10m-12mm | 27 | $8.30- $62.27 |
| C4 | 13mm-14mm | 22 | $8.00- $59.00 |
| M5 | 15mm-17mm | 20 | $7.90- $58.19 |
| M4 | 18mm-20mm | 22 | $7.80- $57.37 |
| H1 | 12mm-22mm | 11 | $7.70- $56.55 |
| H2 | 13mm-25mm | 9 | $7.60- $55.74 |
| Cinnamon quillings- No 1 | Large cinnamon chips. Sizes may vary. | – | $6.70- $45.94 |
| Cinnamon quillings -No 2 | Smaller than H1 cinnamon chips. Sizes vary. | – | $6.30- $42.67 |
Actual Ceylon Cinnamon sticks are light golden in color and assembled numerous thin scraps of cinnamon bark rolled into a cigar-shaped cinnamon stick. Each and every Ceylon cinnamon stick is hand-rolled with excellent, dexterous practice to exemplar. Peeling this spice requires a lot of time and labor. And, each Cinnamon stick is delicately processed to various Cinnamon grades with this artistry.
Consequently, as we mentioned in our introduction, the government of Sri Lanka has set standards for cinnamon. Although all the cinnamon sticks are processed the same way, they are graded according to their color, diameter, lacerations, viscosity, and essential oil content. 
Graded Ceylon Cinnamon And Their Usage In Cooking
All the grades of Ceylon cinnamon can be used in cooking and baking in stick form or powdered form. In fact, the flavor and aroma that Ceylon Cinnamon could add to your day-to-day dishes will leave footprints throughout your culinary experience.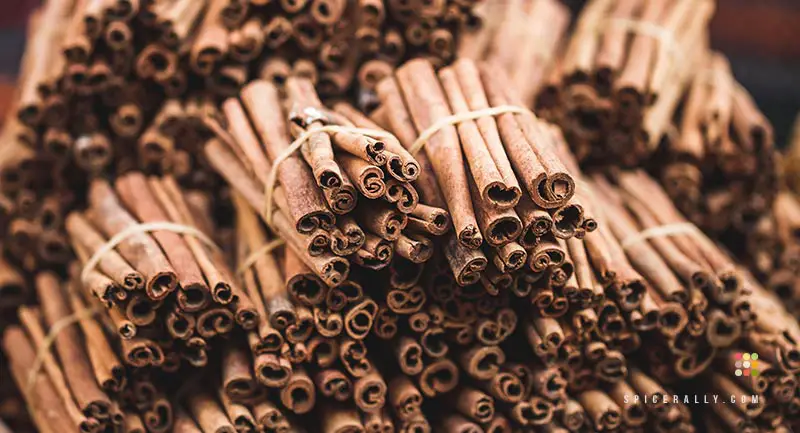 The unparalleled delicateness, rich and sweeter flavor that the top-graded Ceylon cinnamon would give is one of the main reasons they have become superior to any other cinnamon variety. 
In this section, we hope to bring you what grades and how these cinnamon varieties could savor your dishes.
01- Ceylon Alba Grade Cinnamon
Slender, exotic, rich-flavored, and extravagant Ceylon Alba Cinnamon is genuinely a high-end spice. It is best among the best, and no type of cinnamon was actually so far found on earth that could beat the quality of Alba cinnamon. 
Hence, if you get to use this lavish spice, consider it your Lady Luck! Alba cinnamon is very high priced, and you will rarely find it at your local grocer. The significance of this variety is mostly about its texture. And, the slenderness and its easily-crumbled nature are very versatile when cooking.
As an interesting fact, we see that Ceylon cinnamon Alba grade sticks are used in high-end hotels as a stirring stick in place of the spoon with hot coffee, tea, cocktails, and cider. In this way, they expect to infuse the rich cinnamon flavor into the drink you enjoy.
In addition to this particular occurrence, thanks to the mildness and sweetness of this spice it offers, Alba cinnamon is best used in beverages, desserts, and other sweet dishes in its powdered form.
Did you know that cinnamon is different from nutmeg, even though they are routinely used together in various dishes? Go to this article to identify how these two spices actually differ from one another.
02- C Grade Ceylon Cinnamon ( C5 Extra Special/ C5 Special/ C5)
The C-grade Ceylon cinnamon, or Continental Ceylon Cinnamon, is basically the next best quality after Alba. They are tan-yellow in color and have very high demand, and due to the smooth texture, distinctive and sweet flavor, which is highly comparable to Alba cinnamon. 
The slenderness may have very slight variations, but they are very similar to Alba in diameter. Just like Alba cinnamon, C-grade Ceylon cinnamon is on top of the list when it comes to export level and is best to be used in sweet dishes, desserts, and as sprinkles in lattes or included in hot chocolate in its powdered form.
And, when talking in terms of the market, like Alba, C-grade cinnamon is also rare and comes with a high price tag. However, when descending to the sub-grades, the price could decrease respectively. 
03- M Grade Ceylon Cinnamon ( M5/M4)
The M-grade Ceylon cinnamon, also known as Mexican grades, can be different from Alba and C-grades when it comes to texture and flavor. 
They have a more coarse texture, brown hue, and a powerful, spicy aroma when compared to Alba and C grades Ceylon cinnamon. In fact, they are considered less subtle, and most of the time, it goes in well with savory dishes like curries that include other spices.
However, they can still be challenging to find but not as rare as Alba or C grade and are relatively low in price compared to higher quality Ceylon cinnamon.
While Ceylon cinnamon comes in various grades and has multiple uses, powdered or grounded cinnamon is a form that comes with the utmost versatility in cooking. Click here to discover more details about cinnamon powder vs ground cinnamon. 
04- H Grade Ceylon Cinnamon (H1/H2)
H-grade Ceylon cinnamon, or Hamburg grade Ceylon cinnamon, is golden brown in color. This grade of cinnamon derives from more matured cinnamon bushes which makes a reason for them to become less mild, delicate, and coarser when compared to other higher grades of Ceylon cinnamon.
H-grade is generally thick and comes from the finest part of the rough cinnamon bark. However, this is popular in the South American market and is not rare or high in prices as much as Alba or C-grade Ceylon cinnamon. But still, it is relatively expensive than other types of cinnamon, like Cassia. 
Due to its less delicateness and spicy and robust flavor, it is best used with savory dishes than sweet treats or baked goods. Hamburg cinnamon grades go really well with the recipes that call for cinnamon pieces or sticks.
05- Cinnamon Quillings (No 1/ No 2)
Cinnamon quillings, also considered as chips, are actually offcuts or additional pieces of cinnamon gathered as a result of peeling and bailing the quills.
This form of cinnamon is best to be made into a powder or distilling bark oil. This grade rarely honors the export quality and is often sold inside the country itself. Since they are the sorted pieces or chips from the whole cinnamon quills, they are usually regarded as of lower quality and are not very high in price compared with other grades of Ceylon cinnamon. 
However, it can be used in an assortment of sweet dishes and desserts when powdered. Meanwhile, they come with the versatility to be used in savory dishes as pieces and even flavors your broth or make a lovely infusion to your pot of tea or coffee.
Health Benefits Of Ceylon Cinnamon
Whatever the grade it belongs to, Ceylon cinnamon is undoubtedly a powerhouse of nutrients that is rich in antioxidants and anti-inflammatory, antimicrobial, antitumor, cardiovascular, cholesterol-lowering, and immunomodulatory properties. 
Another plus factor for Ceylon cinnamon to be extra healthier is its ultra-low coumarin levels compared with other cinnamon types like Cassia, Saigon, or Korintje. Therefore, it is suggested that Ceylon Cinnamon is safer to be consumed than the other varieties that are relatively high in coumarin level.
Moreover, it could be your best bet to add sweetness to a particular recipe without additional calories since Ceylon cinnamon is low in calorie count. 
In addition to these benefits, Ceylon cinnamon can give the following health benefits to you:
It contains properties that could control and prevent diabetes.
It can help those who suffer from insulin resistance.
Aids in weight loss.
Fights against bacterial and yeast infections like Candida.
Helps treat Irritable Bowel Syndrome (IBS).
Lowers LDL (bad) cholesterol levels and triglycerides.
It helps to alleviate oral-related health issues like gum disease and tooth decay.
Contains anti-cancer properties and helps to prevent cancers like leukemia and colon cancer.
It includes a lot of Manganese which helps in bone building and preventing rheumatoid arthritis and osteoporosis.
Wrapping Up With Flavorful Ceylon Cinnamon…
Ceylon cinnamon is a sumptuous spice that proves the saying, "True things are rare". No matter whatever grade it falls to, Ceylon cinnamon has the capacity to flavor a dish like no other spice could do.
According to the grading system that the government of Sri Lanka has set, primarily the C5 grade and above grades are the most exported qualities out of all the other grades of Ceylon cinnamon. Not that the others are unsuitable to be shipped or not been exported, but those two grades are considered the premium qualities that get a lot of marks when it comes to exporting.